If you're looking for the top accounting bloggers or accounting blogs to follow, you've come to the right place.
Below, you'll find a hand-picked, curated list of my favorite 27 accounting blogs that all accountants, partners, small business owners, and firm owners should follow to stay ahead of the curve.
Without further ado, let's jump in.
Criteria Used to Compile the Best Accounting Bloggers List
Before we get into the list, there are a few criteria that I used to compile this list of best accounting bloggers. Each of the blogs below:
Must be updated regularly
Are geared for accountants running an accounting firm
Can be blogs from software companies, individuals, or media outlets
Get bonus points for providing actionable, helpful content
Must have written articles (ie. vlogs, podcasts, etc. aren't included)
With these simple criteria in place, let's proceed to the list!
The Top Accounting Bloggers to Follow
Here's the list in no particular order:
1) Accounting Today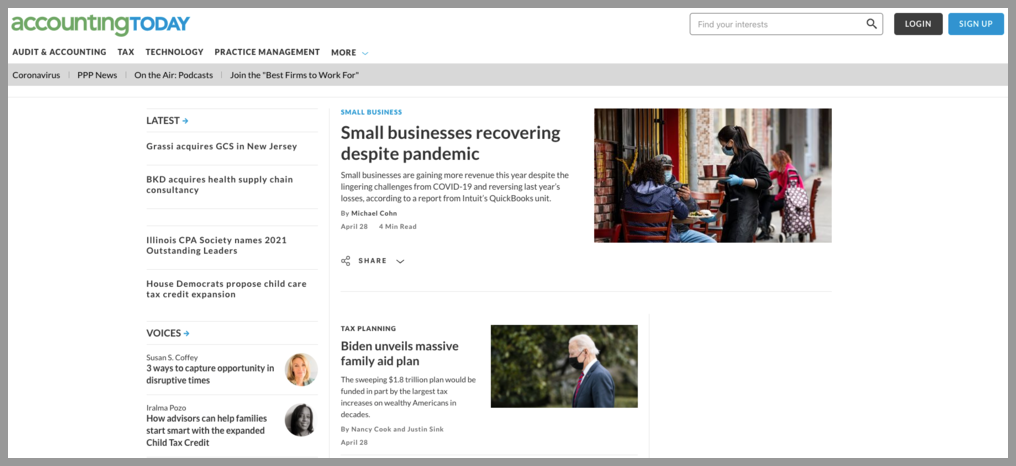 AccountingToday is definitely the juggernaut in the accounting blogging world. There's tons of new content released daily with an informative blog and current trends and something to suit every kind of accounting professionals' interest. I tend to get a lot of my accounting news from here.
2) AccountingWEB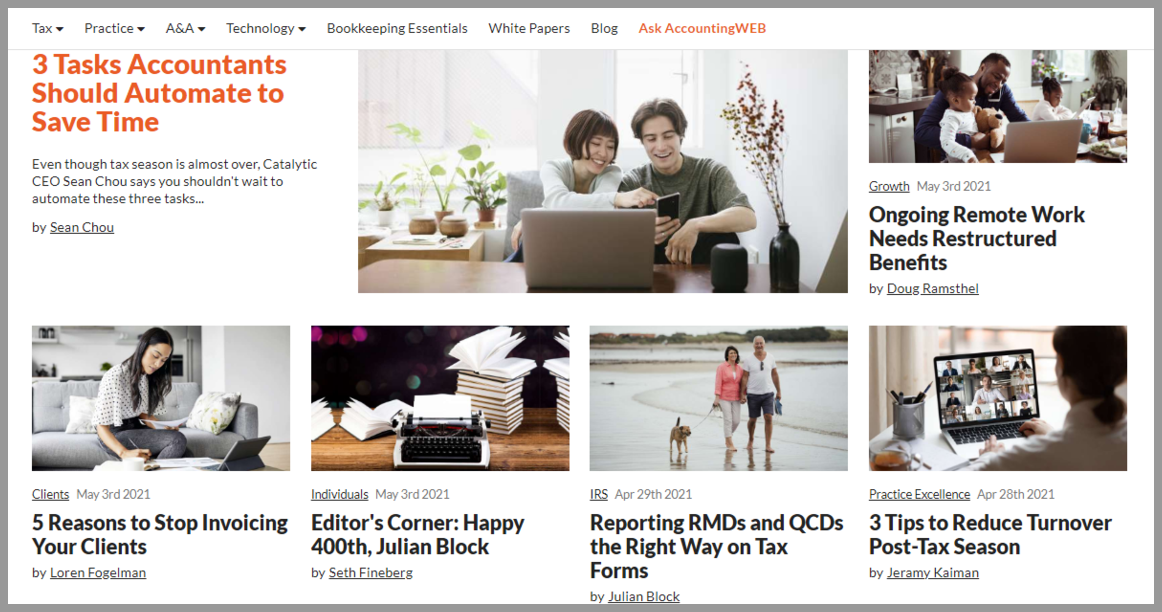 AccountingWeb is another very popular blog in the accounting business with a very big following. They are one of many that have the best accounting blogs and the content is skewed towards those running accounting firms and centers around more practical information.
3) Future Firm ®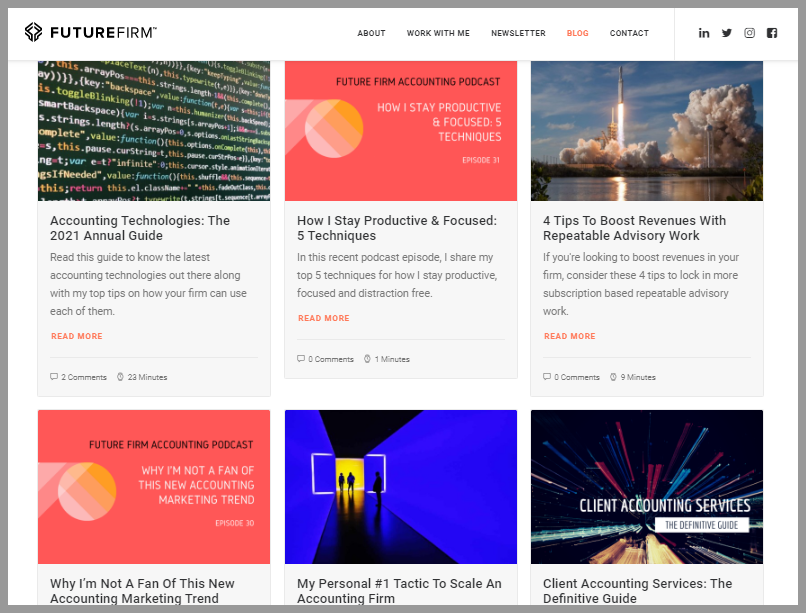 How can this list of accounting bloggers and best accounting blogs be complete without mentioning my very own Future Firm ® blog?
My blog is geared towards those running small to mid-sized firms who want actionable content to help quickly create a modern, scalable model, with content focusing on automation, technology, pricing, marketing, professional growth, and overall practice improvement.
4) Going Concern (and their Accounting Bloggers)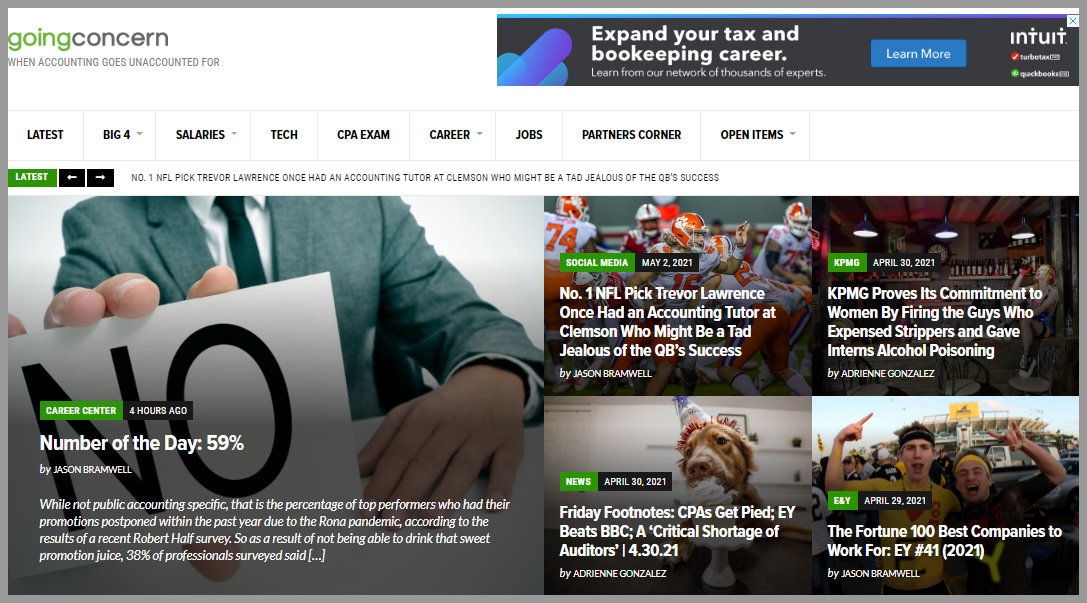 I'm a fan of the GoingConcern blog because it keeps things pretty light-hearted (and they tend to place a few digs on the Big 4). This blog, which also targets accounting students, focuses on accounting news though it does have a bit of a tabloid gossip column vibe to it at times, which does make it pretty entertaining for small business owners.
5) CPA Practice Advisor
With a US focus, CPA Practice Advisor provides valuable information on matters related to accounting, auditing, payrolls, tax advice, tax law, financial planning, accounting software, and all kinds of small business-related matters and business practices.
6) CPA Trendlines
Run by one of the biggest accounting bloggers and accounting professionals, Rick Telberg, CPA Trendlines focuses entirely on public practice. Most of the content is behind a paywall, but this blog focuses on some good studies released quite frequently that I enjoy.
7) Xero Blog
Obviously, the Xero blog will give you news on what's happening in their company and with their product, but there are also loads of great information and educational content, accounting blogs, and studies they release for a small business owner looking to run a modern firm.
8) Firm of the Future (and their Accounting Bloggers)
This blog by Intuit gathers all kinds of accounting bloggers together under the Firm of the Future banner to give updates not only in the world of Intuit and QuickBooks Online but also in the world of running a forward-thinking firm.
9) Blake Oliver (One of my Fav Accounting Bloggers)
Blake Oliver is one of the OG's in the world of cloud accounting and accounting technology, and his content is among some of the best out there. Be sure to sign up for his newsletter and to follow his podcast for your accounting solutions. Real good stuff.
10) Thriveal Blog
Jason Blumer runs Thriveal with his partner and he always has awesome content for modern firms on his blog. I share a lot of his values and his blog is a great place to digest content that helps you run a firm that you love.
11) TOA Global
You can tell that this company invests good money into content marketing because TOA Global's blog is filled with some of the higher quality articles you can find in the world of accounting blogs, with a heavy skew on team management and outsourcing.
12) Sage Advice
Brought to you by the makers of the accounting software product, Sage, here's a blog that has a bunch of helpful content for those running a firm.
13) Practice Ignition Accounting Blog
Practice Ignition has a fantastic marketing team, and it shows in its content. They have a great blog for accounting practice owners that want to leverage the latest small business practices, automation, and technology. Worth checking out.
14) AICPA Insights Accounting Bloggers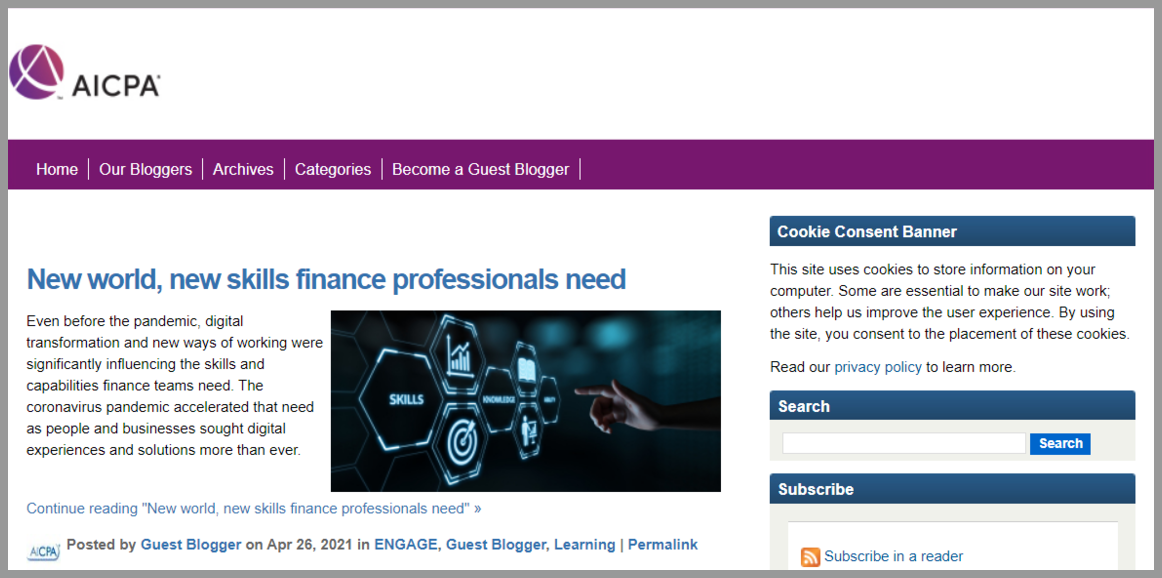 AICPA's accounting blogs are worth mentioning the size and scope of this organization, but professional bodies really need to dial up their blogging game in order to be as helpful as possible to their members. This blog does have a focus on accounting concepts along with general accounting and finance news.
15) CPA Canada Blog
Being a fellow Canadian accounting professional and member of CPA Canada, I'm once again inclined to include this as a blog to check out for all CPA Canada members. That being said, my comments are in line with 14) above. Our professional bodies need to be more helpful in keeping firm owners and small businesses ahead of the curve.
16) Dext Accounting Blog
This blog tends to skew on helping keep accountants and small businesses productive in their firms. Dext has blogs written by accountants, for accountants.
17) INTHEBLACK
In terms of professional bodies, INTHEBLACK's blog from CPA Australia's ranks is probably near the top in terms of fresh, helpful content. I also like a lot of the studies and accounting tips that are released on the blog which are usually ahead of the curve.
18) Karbon Blog
Karbon is a fantastic blog with all kinds of interesting content for accounting practices, centered around accounting processes with their skew towards productivity improvement.
19) Fathom Blog
In the accounting world, if you offer advisory services in your firm, Fathom has some great accounting bloggers on their team.
20) Journal of Accountancy
Journal of Accountancy is another accounting blog run by the AICPA with content ranging from tax, tax code to practice management to financial reporting to audit to financial accounting and a lot more accounting topics.
21) Accountancy Age
If you're looking for a non-US blog to give you different perspectives on what's happening in the accounting industry along with what's happening in tax and firm ownership, then you might want to check out this UK-based blog, Accountancy Age.
22) Heather Smith (One of the Original Accounting Bloggers)
Heather's official blog focuses on apps and technology but also showcases a lot of cool people in the profession.
23) Jetpack Workflow Blog
There's some good content for firm owners and small business owners on this blog by this accounting practice management software company.
24) Pixie Blog
Likewise, this accounting practice management software company also has some good content being posted on their blog as of late.
25) Jirav Blog
If you are offering or looking to offer advisory services, the Jirav blog has some nice articles about forecasting, modeling, and more.
26) Accountants Daily Accounting Bloggers
Want daily accounting blogs? Well, the title of this blog says it all! This one has an Australian spin.
27) Float Blog
For firms and small business owners engaged in, cash flow planning, forecasting, financial reporting issues, accounting and finance, and advisory services, Float is a good blog to check out.
Did I Forget Any Good Accounting Bloggers?
Is there something or other blogs I forgot?
Comment below and let me know!
I'll review this list and make sure it has up-to-date information. 🙂
---
Ryan Lazanis
Hi! I'm Ryan. I'm an entrepreneurial CPA that founded Xen Accounting, a 100% cloud-based accounting firm, in 2013. Following its acquisition in 2018, I started Future Firm to help accountants fast-track the growth of a modern, scalable accounting firm of their own.
Here are 3 ways for how you can fast-track your own modern, scalable firm:
1) Get my weekly newsletter that gives tips & trick to scale your firm.
2) Subscribe to the Future Firm Accounting Podcast for bite-sized, actionable lessons on how to scale your firm.
3) Join Future Firm Accelerate, my online coaching program that helps modern firm owners quickly scale.