If you want to see the best cloud accounting software apps all in one place, then you'll LOVE this ultimate list.
In it, I'll be sharing 147 of the best cloud accounting software apps on the market.
Each item in the list will contain a brief description and will focus on how you can level up your accounting automation.
While the list of accounting software is in no particular order, it has been grouped according to categories based on their accounting features so you can find the best accounting software apps that fit your interest.
Ready to dive in?
Let's go!
Quick Links
Cloud Accounting Software
Every small business needs the best accounting automation software to produce financial reports for decision-making and tax purposes. For small businesses today, web-based accounting software takes the cake in terms of ease of use and automation. Say goodbye to traditional double-entry systems. Below are some of the best cloud accounting software for small businesses.
1) QuickBooks Online
A true juggernaut in the small business accounting software space, QuickBooks Online is widely known across firms and self-employed business owners alike as one of the best accounting software products. Their web-based product is packed full of accounting features. Invoicing, bank reconciliations, bank and credit card feeds, financial reporting, managing accounts payable and accounts receivable, multi-currency, and the ability to connect to 100's of 3rd party apps to help small businesses automate all parts of the accounting process. You probably can't go wrong with the best-known web-based option.
2) Xero
Xero was born in the cloud and arguably created the first popular web-based accounting software for small businesses. It's no wonder they're often ranked as one of the best accounting software apps for small businesses. Their web-based software offers nearly every accounting feature a small business needs to get their accounting done. With 100's of 3rd party apps integrations as well, automation is what they're about. And their bank reconciliation module is second to none when it comes to ease of use and efficiency. Its wide range of accounting features makes Xero a real winner for small businesses and accountants, in fact, I built my entire firm on.
3) Wave Accounting
Can you beat free? Nope! And we're not just talking about a free trial. Wave Accounting is an entirely free web-based solution. A free multi-currency online accounting solution for small businesses. Perfect for those just starting and often ranked as one of the best accounting software systems for small businesses.
4) Kashoo
I like simple. Kashoo is simple. A dead-simple accounting solution for small businesses with bank and credit card feeds in fact. No double-entry accounting is required.
5) Sage Business Cloud Accounting
Sage has been around since the early days of small business accounting software. And now they have a web-based product too. If you're a Sage fan, check 'em out.
6) FreshBooks
The second-largest small business accounting software in North America, FreshBooks has carved a niche out for itself among self-employed individuals. Its strength is in its web-based invoicing module which makes managing your accounts receivables a breeze. And it's Canadian, so I must support! I also had the chance to interview their CEO in an episode of the Future Firm® Accounting Podcast, which you can check out here.
7) Zoho Books
Zoho is known more for its suite of productivity software for small businesses than its accounting and financial offering. But it also has Zoho Books, a multi-currency, web-based accounting solution of its own. Check out Zoho Books if you're a Zoho fan.
8) FreeAgent
Freeagent has been around since the early days of online accounting software. It takes a bit of a UK angle (seeing as it's based there).
9) MYOB
MYOB has been incredibly popular in Australia and New Zealand for many years, often ranked as one of the best accounting software systems. And now they have a web-based accounting software product of their own too.
10) KashFlow
Established in 2005, KashFlow has been on the cloud-based accounting software scene for quite some time. It's another UK-based app you might want to check out.
Bills & Expense Apps
Every business has expenses.
Previously, business expenses and receipts would require manual data entry to get into your accounting solutions.
No longer.
Simplify your financial management with bills and expense apps that offer the convenience of handling unlimited invoices.
Here are some of the best in the mobile app space that can help automate this process to help you track expenses — one of the biggest headaches in any accounting and financial process.
11) Dext
I love me some Dext. Ditch your shoebox of receipts and replace it with a sleek mobile app. Then snap pics of your receipts and accounts payable invoices. The mobile app extracts the data and syncs with the best small business accounting software apps on the market, eliminating manual data entry. That, plus other great financial automation and accounting features too to help you track expenses.
12) Hubdoc
Acquired by Xero in 2018, Hubdoc's claim to fame is its invoice fetching capabilities. Connect your suppliers to Hubdoc (ex: Google, your telecom provider, etc) and it will fetch your accounts payable invoices automatically each month, extract the data from the document, and sync it with your cloud accounting software to avoid manual data entry. And oh, hey look, here's a snapshot of my own Hubdoc account.
13) AutoEntry
Another popular receipt scanning option for those testing alternatives is to track expenses. AutoEntry was acquired by Sage in 2019, so expect to see some nice synergies if you're on Sage.
14) Expensify
Have employees that need expense reports generated? Check Expensify. Employees scan their receipts. They produce their reports online for approval. You can then sync with your online accounting software. Ditch spreadsheets for expense reporting and dealing with accounts payable manually to simplify your accounting and financial process. Plus, they have this pretty awesome Superbowl ad with 2 Chainz.
15) Datamolino
Here's yet another receipt and accounts payable scanning option. Datamolino integrates with Xero & QuickBooks Online, the biggest accounting and financial players. They price based on the number of documents they are processing each month.
16) ApprovalMax
Larger organizations typically have inefficient expense approval processes. ApprovalMax is a cloud-based tool to ease collaboration in this area, and it offers a free trial for QuickBooks Online and Xero users. Once expenses have been approved they can sync with your accounting solutions.
17) Entryless
A popular option for expense management, Entryless integrates with QuickBooks Online, Zoho Books, Xero & Sage Business Cloud. There is a free trial option you can try to see if its expense tracking accounting feature is the right fit.
18) MileIQ
This is a cool one. If you want to include mileage as a tax deduction, you have to painfully track your business trips. MileIQ will automate this by detecting when you're driving and adding the trip automatically to the mobile app. You can then sync the expense to your online accounting software all for a low fee per month.
19) Tallie
Tallie is another expense tracking mobile app that helps scan your receipts and send them to your small business accounting software. The mobile app is popular for its expense report creation feature and comes with a free trial.
20) Concur Travel & Expense
By SAP, Concur allows users to search for hotels, flights, car rentals, etc. From there you can make travel bookings, expense the item, create your expense reports and sync it with your small business accounting software.
21) Procurify
Do your accounts payable need to be routed through an approval process first? Then you should check out Procurify. Get all your bills & purchase orders into the mobile app, track the status of them there and route them through a pretty slick approval process before sending them over to one of their many integrations, such as QBO.
22) Expend
Get expenses into UK-based Expend and they'll process them and shoot them over to Xero (and QBO shortly enough). In addition to mileage claims and OCR receipt scanning, Expend's claim to fame lies within their prepaid Mastercard however. Give this to employees that may not need a full credit card and get expenses tracking and into your system easily. They offer a 30-day free trial for anyone interested.
23) Shoeboxed
Founded in 2006, Shoeboxed is an OG receipt scanning and expense automation app. They'll even send you prepaid envelopes to stuff your paper receipts in if you don't feel like taking a pic of your receipts yourself. You can take advantage of their free trial as well.
24) Vic.ai
Vic.ai is positioning itself as software that heavily leverages AI (something the best accounting software tools are relying on) to automate parts of the accounts payable process (processing, classification, approvals, etc).
Invoicing, Billing & Proposal Apps
What good is it to be in business if you don't get paid?
You and your clients need to send invoices and proposals and you need payment in your bank accounts.
The small business accounting software systems listed above provide basic invoicing and payment capabilities, but sometimes you need more than just that.
Behold the best invoicing, billing, and proposal apps that integrate with your online accounting software.
25) Practice Ignition
Have a modern small business accounting firm? You need Practice Ignition. I used this in my firm since the beginning (and even wrote a guide to pricing accounting services using Practice Ignition). Create proposals & engagement letters in seconds. Have all your invoices sync with your accounting software solution following acceptance. Also, opt to request credit card payment information from your client upfront to automate collections. It really smooths out the accounts receivable process and you can test it for your business with their free trial. Here's a quick walkthrough video I made.
26) Harvest
If a business is project-based and bills for time, Harvest might be a great option. Track projects, track time, all through a seamless online interface. And when you send invoices they will push through to your small business accounting software as well and collect credit card payments. Check out their free trial to see if it's the right fit.
27) Invoice2Go
Invoice on the go, literally. Use Invoice2Go's mobile app to send invoices from wherever and stay on top of your accounts receivables. Give their free trial a try to see if it works for your small business.
28) Quotient
Need a powerful quoting tool? Quotient allows you to send customized quotes that turn to invoices upon acceptance. They'll then sync to Xero or QuickBooks Online and there is a free trial available.
29) GoCardless
Here's a slick little app that I've been using myself lately to automatically collect payments via bank accounts. Integrate this with Xero, have your new client fill out a basic form, and then whenever you raise an invoice in Xero, the payment will be automatically collected in GoCardless from their bank accounts.

30) Chargebee
Chargebee is designed to be a billing platform for software subscription businesses. Get billing automated and pushed directly into your online accounting solution.
31) Recurly
Recurly is another popular credit card subscription billing platform to look into. It doesn't integrate with some of the best accounting software (Xero & QuickBooks Online) on their base tier.
32) Chargify
In my experience, the top 3 subscription billing apps to compare would be Chargebee, Recurly, and Chargify, so this one is worth looking into as well. Wanna see how it integrates with Xero? Check here:
33) Chargeover
Chargeover is another credit card subscription billing platform like the few listed above except they don't charge you based on a percentage of your billings.
34) GoProposal
GoProposal is an app targeted towards accounting firms to automate proposals and invoicing. Create your proposals & get those invoices into your accounting solution automatically after that.
35) PandaDoc
I use PandaDoc in my current business. I get to send proposals in a slick interface and provide pricing tables with pricing options, which I love. Currently, it syncs with Xero natively. A QBO integration is available through Zapier. There is a 14-day free trial available. Here's a quick vid I just whipped up:
36) Armatic
Armatic's an app that pitches itself as quote-to-cash functionality. Their system allows you to create quotes, get contracts e-signed, kick-off subscriptions, send invoices, and also collect payment (another useful tool for smoothing out your accounts receivable process). Additionally, they can handle the accounts payable process as well. Works with most of the best accounting software systems.
37) Proposify
Need another proposal app option? Here ya go! Proposify syncs with Xero & QuickBooks Online.
Job Apps
These kinda apps typically relate to businesses that need to manage lots of jobs. Think of architects, electricians, or a managed IT services company, for example.
These kinds of self-employed business owners have lots of projects and lots of jobs.
A system is then required to track these jobs and to help tie their invoices and expenses to these jobs. They may even need inventory to be tracked for materials for their jobs.
Because of this, you'll want to find a jobs app that can integrate well with your online accounting solution to avoid duplication of work.
38) Workflowmax
Not easy. Not intuitive. But powerful this system is. Workflowmax is popular for accounting firms as well (under the name Xero Practice Manager). Track your jobs, time, expenses, and invoices. Customize the income and expenses reports you want. Has a good integration with Xero of course. Check some of the integration points below. A mobile app exists as well to help you save time on the go. A free trial is available to help you determine if it's the right fit.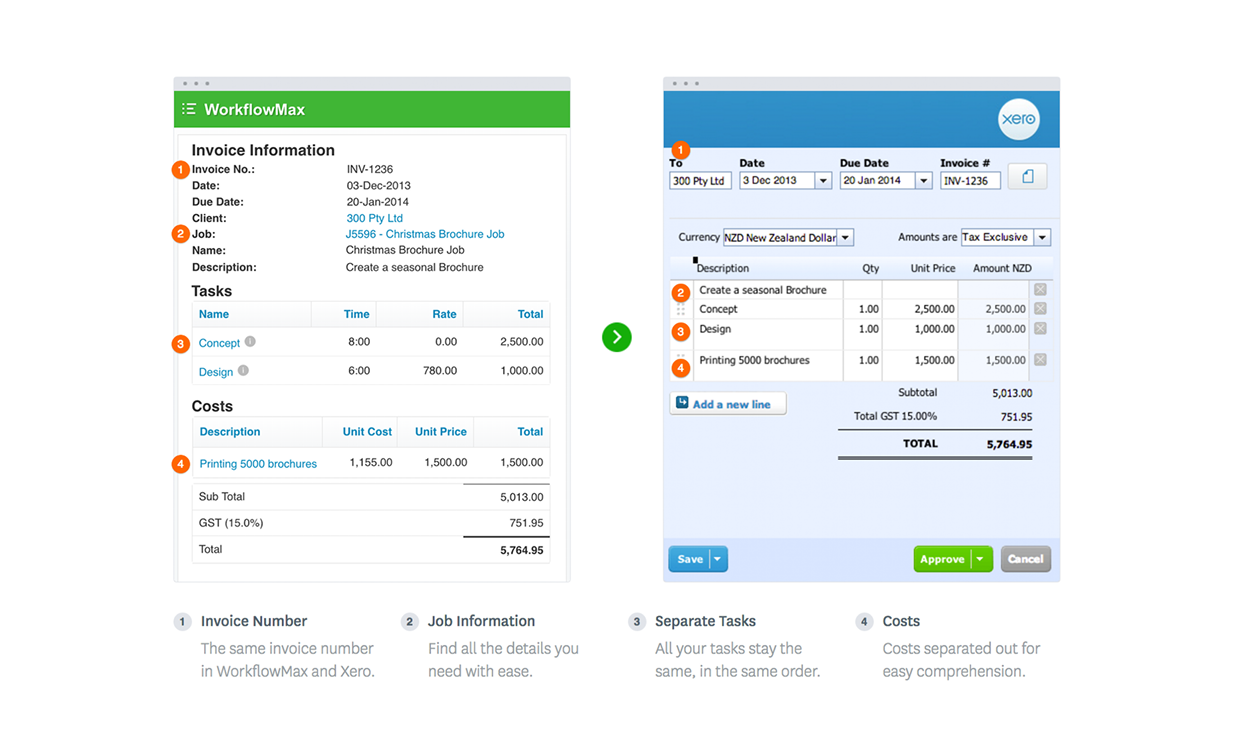 39) ServiceM8
ServiceM8 is an all-in-one solution geared towards trade industries. Schedule your jobs, manage them, issue quotes & invoices, receive payment & manage bookings. Then get pertinent financial management data over to Xero, MYOB, and QuickBooks Online. Test it out with their free trial.
40) Simpro
Simpro is another one-stop-shop app for trade and field service industries, where financial management is crucial. Worth comparing against ServiceM8.
41) Karbon
Karbon's a heavy hitter when it comes to collaborative workflow management for accounting firms. It combines email, discussions, tasks, templates, contacts, and more to give your team one place to work from. With a mobile app and integrations with apps like QBO, TSheets, Practice Ignition, GoProposal & Zapier, how can you go wrong?
42) Fergus
I'll pop another field service management app in here to help track jobs and save time. Fergus will also sync financial information over to your small business accounting software.
43) ProWorkflow
ProWorkflow syncs with QBO, Xero, FreshBooks, and MYOB. It's a full-on project management system to track tasks, deadlines, and projects. Put to use their free trial.
44) Accelo
Accelo brands itself as software to help automate professional service operations. Of course, your financial management information will sync to your online accounting app, but it can also help manage your projects, sales and even has a built-in help-desk (see here why I think help desk software for accounting firms is important).
45) Aero Workflow
Built by accountants, for accountants, Aero Workflow is a project management system that can connect to your QuickBooks Online account to pull in all of your clients and push time you logged against them to invoices in QBO. There is a free trial available for this accounting feature.
46) Client Hub
Built for accountants who want close collaboration with their clients in addition to the fundamentals of financial management. Within Client Hub, you can chat with small business owners, set tasks for each other, see which other accounting apps are currently in use & more. Most interestingly, it syncs with QBO cloud-based accounting software to pull in unreconciled bank items and set them as tasks for your clients to get back to you on. Awesome! And there is a free trial!

47) Jetpack Workflow
Popular with accounting firms to manage their tasks and projects, Jetpack Workflow has great integration with some of the best accounting software to pull in your clients, create projects, log time against those clients, and then push it back into QBO. Try it with their 14-day free trial.
48) Clio
In a law firm, financial management is extremely important as it carries legal ramifications.
Law firm clients need to manage their trust accounts and their law firm operations. Clio is the leader in this niche with some neat accounting software integrations. Below is a 10-minute overview video of Clio.
Clio integrates with cloud-based accounting software like Xero and Quickbooks Online to streamline law firm financial management. There is a free trial available.
49) Cliniko
Similar to Clio, except that Cliniko targets clinics and medical practitioners.
CRM Apps
Customer Relationship Management software, or CRM, is useful to manage customer relationships and interactions, typically during the sales process.
As such, turning accepted deals into sales invoices and getting them into your small business accounting software is something to consider when selecting a CRM.
Here is a handful that stands out.
50) Capsule
Looking for a super simple CRM to track your deals and sales pipeline? Also, need one that can integrate with either Xero, QBO, or FreshBooks. Capsule may be for you.
51) Pipedrive
I like Pipedrive a lot. It's one of the most popular sales pipeline apps on the market to help self-employed business owners track deals. It has a super-rich app marketplace as well (including a Xero integration).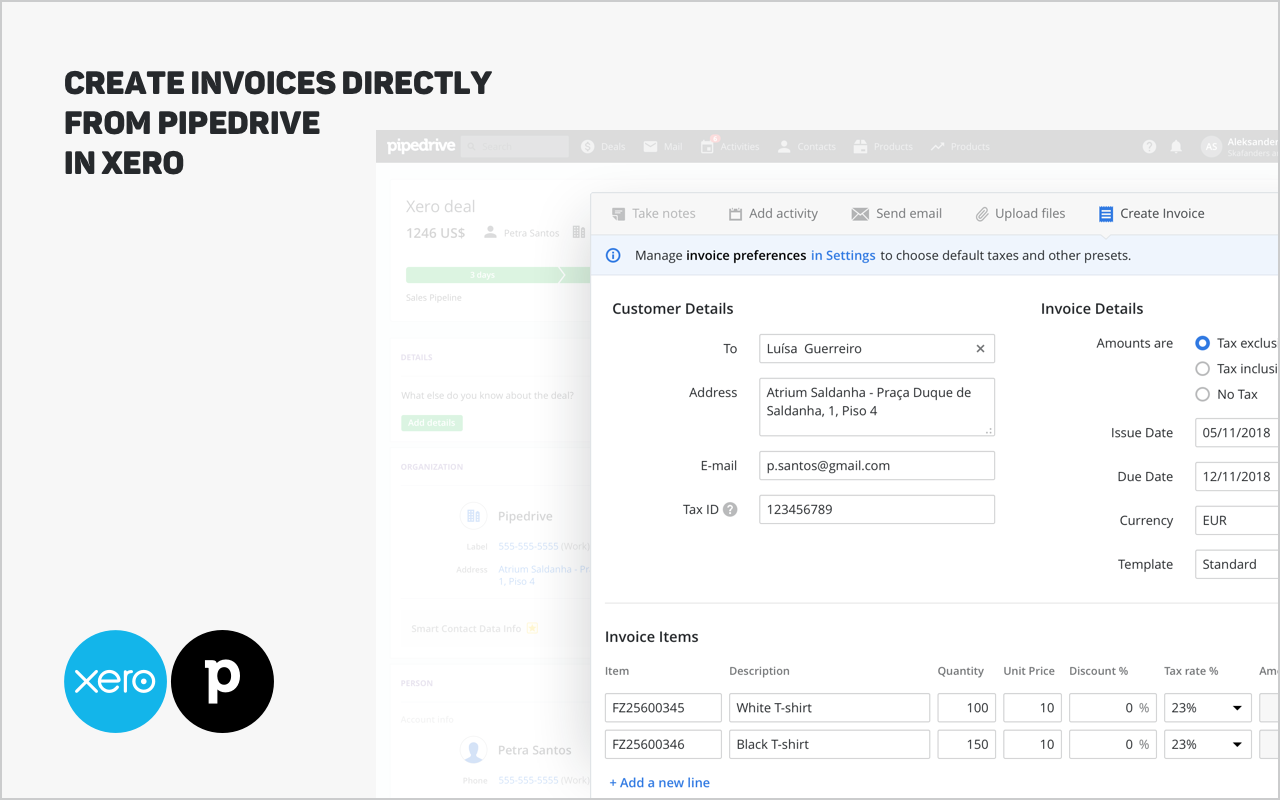 52) Zendesk Sell
Zendesk acquired Base CRM in 2018 which became Zendesk Sell. If you use Zendesk as a help desk, then Zendesk Sell will have some interesting integrations to leverage. And it plays well with Xero too.
53) Insightly
Insightly is more than just a leads management tool for self-employed business owners. It helps with marketing automation to attract leads. And it turns those leads into customers to manage your projects within the system as well. It integrates with QuickBooks and Xero cloud based accounting software.
54) Method: CRM
Branded as the CRM with the best QuickBooks integration. Method: CRM is a great option for small business owners wanting to manage their leads while in the Intuit ecosystem.
Accounts Receivable Apps
One of the biggest headaches in small business financial management is making sure you get paid what you are owed! If you or your clients have unpaid invoices adding up, you're:
Losing out on precious cash flow to help run your small business
Risking having to write those off one day (ie. not getting paid for goods & services)
Wasting time trying to collect
Luckily, there's a slew of pretty neat apps that can help automate the process of collecting your accounts receivables. Even better, a bunch of these accounts receivable apps will connect to your favorite cloud-based accounting solution.
Let's take a look at some of the more popular ones.
55) Invoice Sherpa
Invoice Sherpa is a veteran on the block. Connect it to Xero or QuickBooks Online cloud-based accounting software to pull in all unpaid invoices. Then you can schedule custom email reminders to shoot off to those who owe you money. Another cool thing is that Invoice Sherpa can also collect payment for you on these unpaid invoices. Along with managing accounts receivables, there are lots of other nifty accounting features and automations available for small business owners as well.

56) Debtor Daddy
Similarly, Debtor Daddy will pull in your unpaid invoices and shoot off custom reminders. They don't process payments like Invoice Sherpa but they do have plans to have their team call your clients for payment. If all else fails, they can send these unpaid invoices to collections, which is helpful for keeping track of your accounts receivables.
57) Satago
Integrating with Sage, Xero, QuickBooks, FreshBooks, Freeagent and more, Satago is another financial management option for businesses wanting to send automated unpaid invoice reminders, with the goal of cutting down on accounts receivables. They're in the UK, so they have some features geared towards UK-based businesses.
58) Chaser
A 2016 Xero app partner of the year, Chaser provides a lot of control over automated email reminders on unpaid invoices in your accounts receivable column. It also has a section geared towards showing you some analytics on your customers and how late they typically are. This feature can take a financial management headache and turn it into a positive.
59) CollBox
Collbox takes a bit of a different approach. First, they'll pull in your unpaid invoices from your small business accounting software. Next, you choose which invoices have made it into the accounts receivable category. Last, it will match you to the best collection agency for them to do the collecting. There is no monthly fee to use Collbox and you only pay a percentage if they collect.
E-Commerce Apps
Lots of small business owners these days engage in e-commerce type business activity. This means that they likely deal with e-commerce platforms like Amazon, eBay, Shopify, and others to process orders. The problem is that you may have 100's and 1000's of orders then residing on these platforms with sales information (customer name, address, dollar amount, etc), the taxes charged, and the corresponding platform fees.
What you then need is an easy way to get all of this information into your accounting software solution correctly.
So let's take a look at some of the apps that can help with this.
60) Shopify
Shopify is the largest e-commerce platform on the planet. E-commerce business owners love it. Luckily, it has native integration with Xero & QuickBooks cloud-based accounting software. Each time a sale occurs, it will send that over to your system as a sales invoice. For small-volume businesses, this works well. For larger volume businesses, it may be a problem, as all of these individual invoices need to be reconciled against any batch payment received in bank accounts.
61) A2X
A2X helps automate small business accounting for Amazon and Shopify e-comm businesses. If you have the problem listed above (ie. lots of orders to reconcile), A2X will solve that by creating summarized journal entries that reconcile to batch payments received.
Here's a 1-minute video of it in action:
62) Bookkeep
The Bookkeep app for Shopify-QuickBooks was started by one of my readers of Future Firm® Weekly Top 5. Starting as a bookkeeping firm dealing with lots of e-commerce businesses using Shopify, they decided to develop their own tool to help automate the process. The app batches Shopify activity into a daily journal entry that pushes into QuickBooks cloud-based accounting software.
63) Stich Labs
Stich Labs connects to a bunch of e-commerce platforms to help pull in sales from multiple channels and then push that into your accounting solution. It's a powerful system that can also handle inventory, wholesale management, fulfillment, and more.
Financial Services App
Small business owners rely on cash in their bank accounts and credit to survive. So it goes without saying that there are a ton of financial services out there to help with this.
Below I'll be listing a few of the top financial services apps that can integrate with accounting software for small business owners.
64) Brex
Brex is a new kind of corporate card. Apply easily online. Manage your team's spending via the web interface. Forward receipts into the app and have them automatically match up to the right transaction. Then send all this financial data into your accounting software. Boom.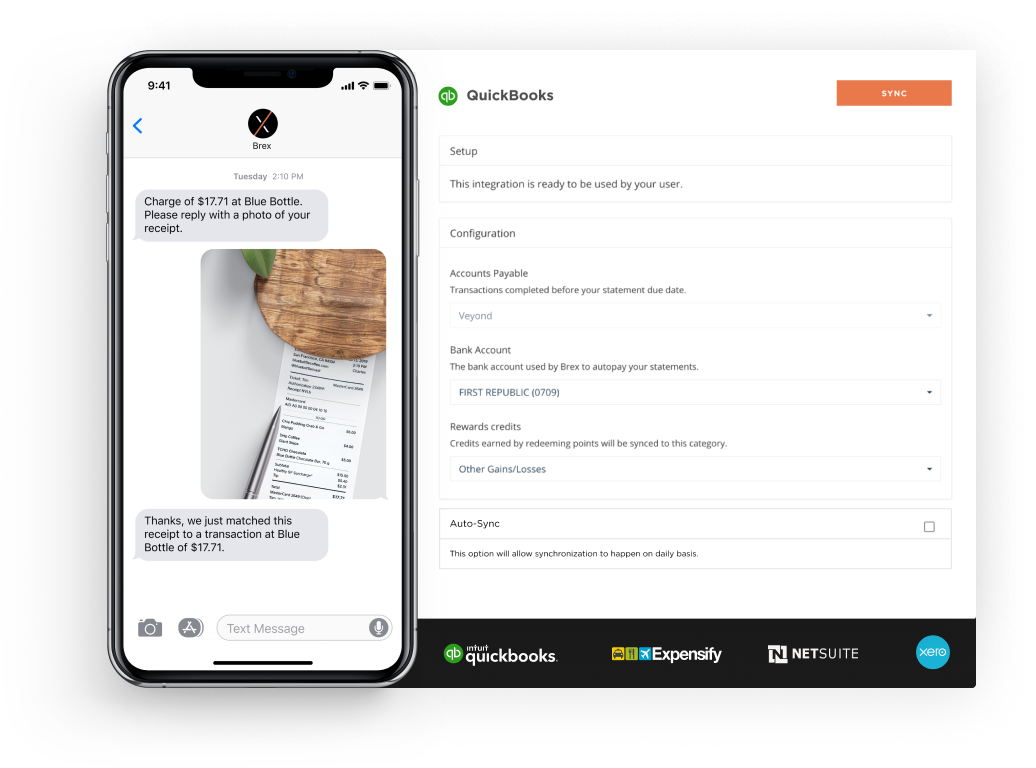 65) Fundbox
A big component in financial management is never running out of cash.
Need up to 100k in credit? Need it fast? Connect your online accounting software to Fundbox and in a few hours, you'll get your answer!
66) Kabbage
Similar to Fundbox, Kabbage can connect with your accounting system to pull in the relevant financial data to Kabbage. From there they say that loans of up to 250k can be qualified in as little as 10 minutes. Combining capital with accounting creates more options in financial management.
67) FundThrough
I've seen firsthand how FundThrough has helped some of my clients turn their accounts receivable into working capital. With a QuickBooks integration that pulls outstanding invoices into FundThrough, you'll be on your way to turning those tied-up assets into cash.
68) BlueVine
BlueVine gives you 3 different financing possibilities: lines of credit, terms loans, and invoice factoring. Like the others mentioned above, you'll connect your cloud accounting software to BlueVine to help determine the amount of financing you can receive.
69) Fundera
Kinda like an Uber for loans. Fundera will collect some information about your business and then connect you with a lending specialist. From there you can compare your lending offers and choose the one that's right for you.
70) QuickBooks Capital
With all the others having so much fun in the lending space, I guess Intuit had to join the party too. Business owners can apply for credit with QuickBooks Capital directly from within their QuickBooks account. Funding happens within 2 business days of approval. Here's how it works:
Inventory Management Apps
If your business has inventory, warehouses, requires purchase orders and/or manufacturer's goods, you'll need an inventory system.
The ones that come available in most online accounting software apps are super basic.
Below you'll find some of the more powerful options that integrate with the most popular cloud based accounting apps.
71) Unleashed
Unleashed has been around for as long as I have been in the accounting game. They track your inventory, have a mobile app for sales teams, calculate costs throughout the manufacturing process and integrate with a bunch of useful apps.
72) Cin7
Cin7 is an inventory powerhouse. It has a ton of features. They not only offer implementation and support services but also digital marketing to help you sell more of your products.
73) QuickBooks Commerce
Smack dab on their home page QuickBooks Commerce says, "Inventory management from supplier to customer." This means that they handle managing inventory, orders & fulfillment, some CRM functionality as well as providing some financial reporting and lite fixed asset management. I've always enjoyed the QuickBooks Commerce interface. Here's an interesting video walking through Tradegecko and the QuickBooks integration:
74) SOS Inventory
If you're looking for a QuickBooks-focused inventory management app, SOS Inventory may be worth checking into. Highly rated on the QuickBooks Apps marketplace.
75) LOCATE Inventory
With a ton of integrations available in addition to QuickBooks & Xero, you may want to consider LOCATE Inventory as an option to help automate your inventory management.
76) Dear Inventory
Another solid option for those with inventory is Dear Inventory. It boasts several 3rd party app integrations and also provides some point of sale (POS) functionality.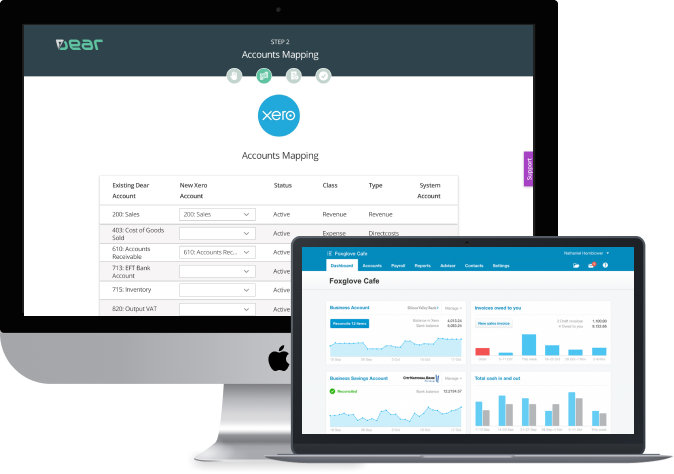 77) Current RMS
Have a business or client in the audio-visual rental equipment business? Well, there's an app to help manage inventory in that niche; Current RMS. Not only can you track inventory, but you can also see where your equipment is at all times.
78) Flowlens
Based in Ireland, Flowlens is geared for small assembly & build to order manufacturing businesses to help plan real-time stock requirements and purchasing, track jobs, customers, work-in-process & more, all while integrating with Xero, QuickBooks & Sage cloud-based accounting software.
79) Viberent
Cool name. And if you need another option for your rental business, check out Viberent.
80) Tidy
Not only does Tidy provide inventory management functionality for a variety of industries, but it also helps with job & project management as well. Works with Xero.
Payments Apps
Need to make payments? Need to collect payments? Here are some of the best options that link to online accounting software for small business owners.
81) Bill.com
In the US, Bill.com reigns supreme when it comes to streamlining payables and receivables. Get your invoices synced up with Bill.com through the online accounting software integration and have the payment sent directly through the platform electronically. The same goes for the receivables end of things. Here's an example of what can sync over: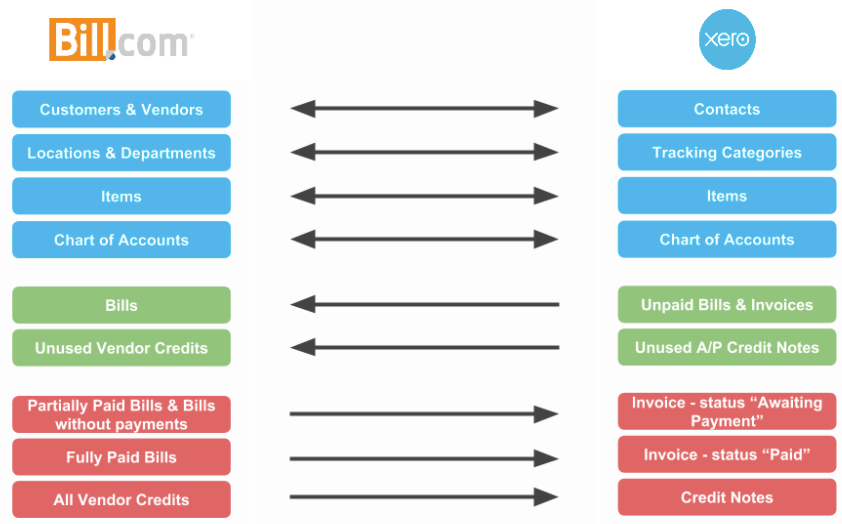 82) Plooto
Plooto works very much in the same fashion as above and has a foothold in Canada. Available in the US as well, they provide users with a platform to streamline payments workflows and to help get all of that financial data seamlessly into your cloud accounting programs.
83) Roger
Roger's pretty snazzy. Send your payables to the app and it will trigger workflows for that document depending on the "if this then that" actions setup. Actions include things like automatically paying bills, notifying co-workers and more.
84) Rotessa
I'm a big fan of Rotessa for subscription-based businesses that want to accept pre-authorized debit. Fees are much better than the few percentage points you'd pay on accepting credit cards. And they integrate with QBO & Xero. I was also featured in their "In the Clouds" series
85) Stripe
Stripe is a payment processor and they have an awesome partnership with Xero cloud-based accounting. First, by enabling the integration, you can accept credit card payments on your Xero invoices. Second, you can create a Stripe bank feed in Xero that records each transaction and the corresponding fees in real-time. You can find more details on the partnership in my blog post
here. Integrations also exist with others like Zoho Books
86) Veem
When it comes to sending and receiving fast payments, Veem has you covered. Integrating with Xero & QuickBooks, it's worth looking into for your payment options. Supported in over 100 countries.
87) uCollect
uCollect works exclusively with Xero. If you don't want to wait for your clients to pay your invoices, have them fill out a prior agreement and uCollect will process all the payments automatically according to the schedule you select.
88) Recur360
Here's an app that integrates exclusively with QuickBooks. Recur360 will automatically collect your receivables based on a set schedule. It integrates with various payment gateways to process your payments.
89) Checkbook
"Say Goodbye to Paper Checks" is Checkbook's tagline. The app provides a variety of ways to distribute payments electronically. It integrates with QuickBooks.
90) Beanworks
Upload your invoices to Beanworks. They'll code them for you. You approve them. And then have Beanworks release the payment. In fact, they promise that the whole process takes less than 2 minutes or the fees are on them. Works with Sage, Xero & QuickBooks.
91) Routable
As Routable's name suggests, the app can route payables through custom approval processes all the way through to settlement depending on how you set up your workflows. It also handles the collection of accounts receivables as well.
92) APtimise
Branded as UK's only end-to-end AP solution, APtimise will capture and automatically extract relevant invoice data, get it sent off for approval and get the invoice paid, all within their system. Integrates with Sage, Xero & QuickBooks cloud-based accounting.
93) Checkeeper
If you still (unfortunately) need to print checks, one of the best apps on the market is Checkeeper. It will pull in your accounts payable from your online accounting software and generate checks for printing after an easy setup process. Don't want to print and mail them yourself? Checkeeper can handle that as well.
Cloud Accounting Software Payroll & HR Apps
If you need to process payroll and have that data push through into your online accounting software for small business owners, then you'll want to check the apps below.
94) Gusto
Gusto is a full-on human resources platform. As a start, it handles US-based payroll needs. It also lets you sign-up for benefits, gives you time-tracking tools, provides access to HR templates (ex: onboarding processes, offer letters, etc), and gives you access to certified HR professionals. Here's how you can integrate Gusto into Xero:
95) OnPay
OnPay is another payroll & HR app worth checking out. It handles all US payroll requirements, automates the entry into online accounting software for small business owners, and more.
96) Payment Evolution
Here's a Canadian-based payroll and HR platform. Payment Evolution not only handles payroll for your business but can also help streamline business payments and lets you shop for health & dental benefits as well.
97) Humi
Humi is a Canadian payroll platform that also has a dedicated HR and benefits module to help manage all of your company's HR needs.
98) SimplePay
If you're looking for a cost-effective Canadian-based payroll platform, you can't beat SimplePay.
99) Wagepoint
Popular in Canada but also available in the US. Wagepoint is an easy-to-use payroll platform with great customer service. They also have apps available for time-tracking and vacation tracking.
100) Zenefits
Yet another high-quality app that handles payroll, benefits as well as provides tools to organize your HR back-office. Zenefits also has a ton of 3rd party integrations.
101) Knit Payroll
For Canadian business owners that need a full HR platform in addition to payroll, Knit Payroll might be a good option. And it integrates with QuickBooks Online & Xero cloud-based accounting as well.
102) Rippling
Rippling does something that the other apps don't. Its platform not only handles the various aspects of payroll and HR but also IT as well. When you hire (or terminate) an employee, you usually need to add/remove that user from various parts of your IT infrastructure (ie. add to this app, remove from this app, etc), which Rippling can handle in 1 click. You'll also have a place to manage their passwords as well as their devices.
103) Tanda
Integrating with cloud-based accounting software like Xero, QuickBooks & MYOB, Tanda is a platform to help your business with rostering for shift work, employee onboarding & attendance. It even provides labor insights. A powerful HR system.
Point of Sale Apps
When you have a retail location, you collect money in a variety of ways: cash, credit card, debit & check.
With so many banks and credit card transactions occurring throughout the day, it's important to have an app that integrates well into online accounting software for small business owners to send data from their POS to their general ledger. It's also helpful to have an app that handles bank reconciliation as well.
Here are some of the best ones.
104) Vend
One of the leaders in the cloud-based POS space, Vend is a nice interface that's easy to use. Use their app on Mac, PC, iPad or integrate your own hardware into it. All sales are logged in the system and ported over to Xero/QuickBooks once set up.
105) Square
Another slick POS system, Square has been around the block and back. Not only can it act as your POS system, but it can handle credit card payments through their dedicated hardware dongle. Data will push through to Xero, QuickBooks Online, or Zoho Books for cloud-based accounting software.
106) Lightspeed
Geared for restaurants and retail business owners, Lightspeed provides a modern cloud-based POS experience. It also has features to help with customer loyalty and payment processing. Connect it with cloud-based accounting like Xero or Intuit QuickBooks to get the sales automation you need. And they're based out of Montreal, Canada, my hometown, so I gotta show them love! Here's a vid of how to integrate the app with Xero:
107) Kounta
If you're in the hospitality sector and you're looking for a POS option, consider Kounta.
108) Airsquare
Whether you sell your products online or in-store, Airsquare helps you set up a website, provides the e-commerce solution for that website, and also gives you a POS app to put on your tablet for retail sales. Connects with Xero and Vend for those that need more POS functionality.
109) Amaka
Sync sales and payments transactions into accounting software for small business owners using the integrations from Amaka. Invoices are automatically generated from your POS system or e-commerce platform and mapped to the correct accounts, meaning bank reconciliation becomes lightning fast. You also have the freedom to track categories, support multiple locations, and back-date your sync to capture historical data..
110) Simple Salon
I'm a sucker for a cpa firms that niches well. Simple Salon is a POS system that also helps salons with their scheduling, marketing, appointments, payments, and more. Connects with Xero cloud-based accounting software to get your sales data through.
Cloud Accounting Software Financial Reporting & Analytics Apps
Cloud-based accounting programs do a lot of things well. But deep financial reporting on income and expenses, double-entry, and analytics of a business is not one of them. They can handle the basic financial reports well (ex: financial statements, accounts receivables reports, etc.), but if you're looking to develop financial models, budgets, cash flow projections, a KPI dashboard, or other professional services, forget it.
The good thing is that all of this data already resides inside your online accounting software. It just needs to be manipulated.
That's where some of the financial reporting and analytics apps come in. They'll connect to your accounting system, pull out the relevant data and automatically manipulate it to show you the desired results.
Let's look at some of the top apps in this category to help you deliver professional services.
111) Jirav
Jirav is known for its ability to easily create accurate 3-way financial models. It connects to apps like QuickBooks, Xero, Salesforce & Gusto to pull in a variety of financial data to help you construct the model. Following that, compare your budgets to actuals automatically through the integrations. KPI dashboarding is available as well. I mean, how cool does this look?
112) Float
Float has been in the game for a long time. It was the first automated cash flow forecasting app that I used many years back. It will pull data from most cloud-based accounting systems like Xero, Intuit QuickBooks, and FreeAgent to help build your cash flow projection automatically. I love the user interface and it also handles scenario planning (see video below).
113) LivePlan
When I created my business plan for my last firm, I used LivePlan. LivePlan provides a sleek cloud-based interface to get professional-looking business plans created. Of course, there's a financial component to all business plans. By integrating LivePlan with Xero or Intuit QuickBooks, some of these financial metrics can be produced automatically.
114) Fathom
Arguably one of the slickest looking dashboarding apps out there for offering professional accounting services, I've long been a fan of Fathom. It will pull in the relevant data via Xero, QuickBooks, or MYOB and produce awesome-looking financial reports. One of my favorite financial reports is Goalseek. Plug in your financial goals and it will tell you what you need to do to achieve them.
115) Spotlight Reporting
Another veteran on the block. Spotlight Reporting provides a bunch of tools to help create a variety of financial reports, dashboards, budgets, forecasts, and more. It also has features that assist to help consolidate multiple entities. Connect it with your cloud-based accounting software to get your data in real-time.
116) Helm
Run by 2 cool Canucks, Twyla, and Kelvin, Helm is another great option for automated cash flow forecasting. With a slick interface and a Xero and Intuit QuickBooks cloud-based accounting software integration, you'll be on your way to forecasting your cash flows in no time.
117) Dryrun
Looking for another cash flow forecasting option? Dryrun connects to cloud-based accounting software systems like Sage, QuickBooks & Xero to help build your forecast. Also, it connects to Pipedrive as well to help model out your revenues by importing things like deal values, expected close dates, and more.
118) CashFlowTool
Cash flows! Get ya cash flow here! CashFlowTool connects to Quickbooks Online cloud-based accounting software to help automatically build out your cash flow projections. They also provide the ability to create multiple scenarios.
119) Budgeto
Budgeto takes a bit of a different approach to building a budget. There are brief forms that ask for information on your products, expenses, employees, and debts. From there it will produce the budget for you. It also helps with scenario planning and connects to Intuit QuickBooks Online to help adjust your budgets each month. Check the app demo here:
120) Futrli
Futrli is another slick-looking app that syncs with your online accounting software. Firms can sign up to get a customizable dashboard for all their clients. Dashboards can contain actionable alerts, forecasts, a ton of KPIs, scenario planning, and more.
121) Qvinci
Qvinci is popular with larger businesses with several locations that need to report and consolidate financial reporting. Want to compare stores to one another? Qvinci can help here. Popular in the Intuit QuickBooks cloud-based accounting software ecosystem, but also connects with Xero & MYOB as well.
122) Syft Analytics
Budgets, forecasts, consolidations, financial reporting, and more. Syft Analytics is another option worth looking into.
123) PayPie
Focused on the QuickBooks cloud-based accounting software ecosystem, PayPie helps automate cash flow planning and financial analysis. Their dashboard has a nifty risk scoring feature that shows how risky lenders would view your company.
124) Figured
Have a farm? Need livestock and production tracking? Want a budget for your farm? Figured probably has this segment of the financial management market on lock. Works with Xero cloud-based accounting software.
125) VERIFYiQ
VERIFYiQ helps to automate file reviews. It will sync with Intuit QuickBooks for cloud-based accounting and highlight areas where the books may contain errors on the double-entry side of things. Great for financial management firms that want to cut down on time spent on file reviews.
126) DataDear
Accountants love spreadsheets! So what would financial management look like if you could combine your irreplaceable spreadsheets with Xero or QuickBooks cloud-based accounting? You can with DataDear! Push the data you need from your accounting system directly into your custom-built spreadsheets to develop the financial reports that you want, when you want.
127) G-Accon
If you're someone who prefers Google Sheets to Excel, connecting G-Accon to Xero or QuickBooks might just be for you. Have data exported from your cloud-based accounting software to G-Accon in the precise way that you want it. Then have it automatically emailed off to whoever you want. Neat.
128) Clarity HQ
Connecting to Xero & QBO, Clarity HQ is a pretty neat app that helps accountants provide advisory and professional services to their clients by providing them with insights into their clients' 7 key numbers. The cool part about the software however is that it's paired with a toolkit that allows firms to easily offer scalable and streamlined advisory services.
129) Power BI
A Microsoft product, Power BI is an incredibly powerful financial management dashboard app that connects with Xero & QuickBooks. Use it to create highly customizable dashboards to glean the insights you need.
130) Flowrev
Want to automate the tracking of deferred revenues and/or prepaid expenses in Xero or QuickBooks? Flowrev has you covered. First, it pulls in invoices from your online accounting software into their system. Next, you set the deferred or prepaid parameters (ex: contract length, etc). It will then create the journal entry required and push it to your accounting system.
131) ProRata
Acquired by the subscription billing app, Chargify, ProRata is another worthy option for tracking and automating deferred revenue recognition. Not only can it integrate with QuickBooks and Xero, but Salesforce and Stripe as well.
Time Tracking & Scheduling Apps
Many businesses charge by the hour and/or pay their employees by the hour. Additionally, many hourly employees need shift work scheduled.
But turning those hours into a sales invoice or using them to run payroll is not always handled efficiently.
Here is where integrations between cloud-based accounting software & time tracking and scheduling apps can be important.
132) QuickBooks Time Tracking
QuickBooks Time Tracking, formally TSheets, is one of the leaders in a time tracking software. Easily track time and turn that time into invoices or use it to run your payroll. Owned by Intuit, but integrates with a bunch of different apps, such as Gusto, Expensify, and even Botkeeper's automated bookkeeping platform. Many other features and automation are available.
133) Deputy
While Deputy handles time tracking, they've positioned themselves as the leading scheduling app for shift work. Tons of integrations are available to automate payroll and billing.
134) MinuteDock
MinuteDock is well known in the time tracking app space. Additionally, the app boasts invoicing, reporting as well as project management functionality. It also integrates with most web-based accounting software programs.
135) Time Tracker by eBility
Time Tracker by eBility not only handles employee time tracking but also has a built-in invoicing module as well. Integrates with most popular cloud accounting programs.
Cloud Accounting Software Conversion Apps
Looking to convert to cloud-based accounting software from a legacy accounting system? Here are some apps that can help transfer data over.
136) MMC Convert
Works with 20+ different kinds of accounting systems, MMC Convert helps to automatically migrate you from one to the other. Capable of moving all historical transactions into the software of your choice.

137) Jet Convert
Jet Convert performs an automated conversion to Xero for businesses on Reckon, MYOB or QuickBooks. Works only in Australia, New Zealand, and the US.
Cloud Accounting Software Backup Apps
Some are uncomfortable with all of your data stored in the cloud. You can manually export your data every so often. Or you can use an app to help automate the backup and export process.
138) Backup My Books
Not only can Backup My Books automatically download important reports daily but it can also restore or copy a new Xero organization if data needs to be recovered from a previous date.
139) Control-C
Control-C offers an online portal to view all of your exported Xero data or have it sync to Dropbox, GoogleDrive, OneDrive or Box. They also provide you access to unlimited historical data as long as you're with them.
140) Rewind
Over and above being able to backup your QuickBooks Online file, Rewind also gives you the option of copying a file. This could be useful for training, starting messy files over, testing apps, and more.
Other Cloud Accounting Software Apps
Just because something doesn't fit squarely into a category, doesn't mean it's not cool!
Here's a bunch of apps that integrate with various cloud-based accounting software products to help further your automation needs.
141) Zapier
The absolute connector app. Connect virtually any app you want to your online accounting software to push and pull the data that you want. Super flexible. Super easy to use. Take some time to play around with Zapier to automate tons of little tasks.
142) OneSaaS
OneSaaS is another app connector. Like Zapier, you can use it to connect 2 apps that don't sync natively.
143) Verady
If you have to deal with cryptocurrency accounting, you'll know that it's no fun at all! Verady's platform can connect directly to the blockchain to download your crypto transactions, sort them, help calculate gains/losses and then push the entries through to Xero and QuickBooks.
144) Gilded
Syncing with QuickBooks, Gilded is another app that helps to automate the cryptocurrency accounting and reconciliation process. You can even send invoices directly through the app with multiple payment options, crypto being one of them. Check 'em out.
145) Pinger
Connecting to QuickBooks, Sage & Xero, Pinger allows you to create "if this, then that" rules to help automate tedious accounting processes. Example: If your cash balance dips below $10,000, then Pinger can "ping" your Slack channel notifying you of this. There's plenty of flexibility available for a ton of other "pings".
146) Integromat
Someone in the comments of this post said that Integromat is the glue of the internet and 100x better than Zapier. With that kind of claim, I needed to look into it myself. Like Zapier, it's a connector app, but it also allows you to not only transfer data, but transform data as well. With 100's of integrations including those with your favorite cloud-based accounting software, it's worth looking into for financial management.
147) Synder
Synder will connect with payment processors like PayPal, Stripe & Square and get the data into Xero & QuickBooks Online, automatically coded and reconciled.
Any Cloud Accounting Software Apps Missing?
Whew. We made it through the list!
But, have I missed anything?
It's time for me to hear from you.
Drop a comment below!
---
Ryan Lazanis
Hi! I'm Ryan. I'm an entrepreneurial CPA that founded Xen Accounting, a 100% cloud-based accounting firm, in 2013. Following its acquisition in 2018, I started Future Firm to help accountants fast-track the growth of a modern, scalable accounting firm of their own.
Here are 3 ways for how you can fast-track your own modern, scalable firm:
1) Get my weekly newsletter that gives tips & trick to scale your firm.
2) Subscribe to the Future Firm Accounting Podcast for bite-sized, actionable lessons on how to scale your firm.
3) Join Future Firm Accelerate, my online coaching program that helps modern firm owners quickly scale.