Do you want to know how to start a bookkeeping business or accounting firm in 2023?
Great news, because this step-by-step guide will cover the critical 7 steps you'll need to follow to set up a modern bookkeeping practice and to land your first clients.
In fact, these are the very steps that I followed to help take my heavily bookkeeping-focused accounting business from scratch to sale in only 5 years.
In this guide, you'll learn:
How to set up a strategic business plan
How to create your core offering
Marketing your bookkeeping services to find new clients
Picking the right technology
… and more!
Ready?
Let's go.
Chapter 1 - Create a Strategic Plan
In this chapter, I'll walk you through creating a simple strategic plan to get your full-time or part-time accounting firm business up and running quickly in your first year.
You'll set up a long-term vision of what you want your own business to achieve and work backward to arrive at immediate priorities to focus on.
After completing this step, you'll have a clear path for your business in its first year.
Step 1 - Define Your Purpose
If you're starting a public accounting firm, you should probably know why you're starting it in the first place.
This "why" is the purpose of your firm and it's important that the purpose of your accounting services is incredibly clear to you, your team, and your clients.
Here's why your purpose is important according to Simon Sinek's famous TED Talk:
For example, when I decided to start my own accounting firm, my purpose was to provide small local business owners with an easy, pain-free accounting & bookkeeping experience.
Simple.
This simple statement helped become the gatekeeper for all other future decisions in the business. Without it, I would be steering a business without a rudder.
Step 2 - Define Your Target Market
After establishing the purpose of your accounting business, you'll need to establish early on in your first year exactly what your ideal client profile looks like.
I recommend developing a persona for your ideal client when talking about how to start an accounting business:
What industries are they in?
What challenges do they have?
How many employees do they have?
What are their revenues?
How do they think?
What do they appreciate?
Etc.
By developing a clear target client market, you'll be able to better focus your marketing activities which we'll later discuss.
Step 3 - Create a Long Term Target
When starting an accounting firm, if you're not crystal clear on what you are working towards down the road, prioritizing decisions, projects and initiatives becomes impossible.
To set up a long term target:
Choose a target date. It could be 5 years, 10 years, 20 years, etc. You pick the date that makes the most sense for you and your accounting firm.
Think about what you want your bookkeeping business or CPA firm to achieve by that target date. This should be a measurable, lofty goal.
Maybe it's numbers-oriented like hitting $1,000,000 in revenues or servicing 1,000 small businesses.
Or it could be something less numbers-oriented like the Susan G. Komen for the Cure's target of "a world without breast cancer".
Come up with yours and write it in your strategic plan.
Step 4 - Create a 1 Year Plan
Once you have a long-term target set for how you want to start an accounting business, you're going to work backward to create a 1-year plan for your full-time small firm.
To do so:
Pick your future date for the 1-year business plan.
Project your desired revenues for your business entity at that future date.
Project your profit margin at that future date (backed with a forecast).
Create 3-7 specific, measurable, and attainable goals to attain by that future date.
These are goals that are immediate priorities to ensure that your new bookkeeping business entity is on track to hit your 1-year plan which should be in line with your 10-year target.
Examples could be:
Hire an assistant
Acquire 50 new clients
Launch a website
Step 5 - Establish Your 90 Day Rocks
Let's now chop your 1-year plan into 90-day priorities (ie. rocks):
Like before, pick a future date, likely at the end of your next calendar quarter.
Look at the 3-7 goals you created in the 1-year plan and chunk those down into 3-7 specific, measurable & attainable priorities for you to attack in the next 90 days.
Write down your rocks to complete your simplified strategic plan.
Rinse and Repeat - How to Start a Bookkeeping Business
Starting your own business full-time and implementing a new business structure isn't easy, so don't worry if your small business plan for starting an accounting firm isn't perfect.
You will revisit your strategic plan every 90 days to update it and to reset your rocks.
Now let's get to the next chapter…
Chapter 2 - Create a Productized Service Offering
After your strategic plan for your accounting firm is in place, it's time to get your accounting and bookkeeping services out to the world. But first, you'll need a productized service that you can market to get clients.
This chapter will show you a great way how to create a productized service offering and why it's important when you start an accounting firm.
What is a Productized Service?
In starting an accounting firm, the combination of accounting and bookkeeping services, processes, and technology required to deliver an ideal outcome to the market you are targeting in a repeatable, systematic way would be a simple way to think about what a productized service offer is.
This will be a complete solution to provide to an accounting firm and small businesses.
So if your aimed market hates small business bookkeeping and your bookkeeping business' purpose is to provide headache-free accounting and bookkeeping services, then your productized service should contain everything necessary to provide your client with this experience.
Why Do I Need This If I Want to Know How to Start a Bookkeeping Business?
There are four reasons why I recommend taking the time to set up a productized service at the outset:
1) It's easier to get prospective clients by marketing your accounting and bookkeeping services as a complete solution versus marketing it as a commodity (ex: bookkeeping and accounting work).
2) Your small business will be far more streamlined if you only sell your core offering, as you can benefit from more standardization.
3) They're a great way to determine your baseline service level. Anything below this service level should be rejected. This will ensure that you only admit the right small clients into your accounting firm.
4) If you provide tax preparation services, they're a great way to avoid a crazy tax season. A hectic tax filing season exists because many accounting business don't have enough money coming in throughout the year, so they have to jam as many tax returns as possible into a short tax season just to bring in additional revenues. With a productized service offering, you can smooth out your workload throughout the year to eliminate this from happening.
Creating Your Productized Service Offerings
In starting an accounting firm business, I strongly believe that your bookkeeping and accounting services should be built into a subscription model on a monthly fixed fee basis for your small business, sole proprietorship, and limited liability company clients.
Your productized service should be broken down into 3 components:
Every core offering will contain professional services and accounting work.
In order to deliver your client's ideal result, what services do you need to provide?
Monthly accounting and bookkeeping services?
Tax services that you'll provide in tax season?
Financial statements preparation?
Monthly meetings to review KPIs?
A business plan or business structure consulting?
It's good to think about your productized service as gold, silver & bronze plans, kinda like this (courtesy of Bookkeeper360):
So go ahead and lay out what your gold, silver, and bronze services look like.
When you get clients, over and above the accounting work that you'll be delivering to them, they'll also need help throughout the year for ad hoc questions. Dealing with these ad hoc questions would form part of the support that you'll be expected to provide.
I don't advocate charging clients on a per-hour basis.
Instead, I recommend bundling different levels of support into your productized service.
Your bronze plan may just include email support for up to 3 questions per month, while your silver plan could include phone/email/Zoom support for up to 5 questions per month and your gold plan could include unlimited support.
It might also help to differentiate support based on levels of access such as junior bookkeeper support vs. senior bookkeeper support.
Now, add the different levels of support to your gold, silver, and bronze plans.
Without the right technology, you might as well pack it in right now.
In fact, using online, automated accounting technology was one of the keys to my success. Public accounting firms cannot provide a modern bookkeeping service without it.
And according to bookkeeping thought leader Jennie Moore of Moore Details:
"Apps are the connectors to create efficient systems that will help easily organize the required financial data for report creation purposes to help business owners to operate their small businesses and achieve their own business plan."
Meaning, technology cannot be ignored if you want to get bookkeeping clients, or even land your first client.
While you have a ton of different excellent cloud accounting software apps to choose from, in Chapter 5, I provide specific technology recommendations for two cloud accounting apps that you should start with.
Include these bookkeeping apps in your productized accounting and bookkeeping services.
Your Productized Service is a Total Solution
It's important that you are thinking of your own business as a complete solution to your client. You are not just providing accounting and bookkeeping services, you are providing much more than that.
Once you can get your head around that, marketing and explaining your accounting and bookkeeping services to prospective clients will become far easier.
Now let's move to the next chapter.
Chapter 3 - Market Your Services
You have a business license, a business name, business insurance, a strategic plan, and your core offerings in place. Now it's time to market your solutions to get clients.
I was able to grow my public accounting firm quickly by hiring certified public accountants and professional bookkeepers thanks to many of the marketing strategies that worked well.
Let's take a look at some of my favorite marketing strategies for the accounting industry.
Your website will serve a few two main purposes to help in your quest to find prospective clients.
1) It will show that you're a real business and give you some credibility.
2) Of critical importance, it will serve as a tool to turn visitors into potential clients to help you get bookkeeping clients.
To set up your website:
Step 1 - Choose Your Website Platform
When you want to know how to start an accounting business, you have lots of website builder options to choose from:
GoDaddy, Wix, Squarespace, etc.
For the long term though, there is no better platform than WordPress, especially if you plan on blogging.
Based on my research, when it comes to SEO (ie. search engine optimization) to help your website and web pages rank high on Google, WordPress comes out ahead.
Step 2 - Choose Your Web Pages
Whether you create your website yourself or hire a web developer, you'll likely need to determine what you want on your website and factor that into your startup costs.
Sometimes when you navigate to a website, you're faced with a million links to click in the menu bar. I recommend keeping options to a minimum and would suggest the following pages at a basic level:
Home page
About page
Plans
Blog
Contact
Feel free to add and/or remove pages as you see fit if you think it will help you find clients.
Step 3 - Write Your Webpage Content
Those who want to get clients should know that people don't read websites, they skim. So the content needs to be quick and easy to digest for a website visitor.
Home page
When it comes to your home page, I love having your value proposition hit web visitors right in the face.
Here's a great example:
The value proposition is clear, simple, and obvious for what they're promising you which is critical to finding clients.
Plus:
They also include a big bright button on their home page as their CTA (Call-to-Action) as a tactic to convert visitors into potential clients. I recommend you do the same.
Here it says, "get started", but it can say, "book a call" or anything along those lines…
A clear CTA on your homepage is just one tactic to help turn your website into a tool that converts visitors into potential clients.
Lastly:
To get clients, consider adding 3 more things to your home page:
1) Outline some benefits that small businesses can expect from your solution.
Here's an example from Pilot:
2) To get clients, showcase a simple "how it works" process so that visitors know the steps they'll need to follow to reach the benefits and outcomes that you have listed above.
Here's an example from Bench:
3) Add testimonials to give you some social proofing. If you're just starting your own cpa firm, you may not have any, but add some later when you do get them.
Bookkeeper360 does this well here:
About page
Your about page is a great way to demonstrate:
Who you and your team are
Your culture
Why you're capable of handling your target market's problems.
I think this is a good place to show off your personality.
Plans/pricing page
Next, showcases your core offerings that were created in Chapter 2.
To do this, set up a pricing table that breaks down your solutions in terms of what's included.
You may or may not opt to showcase your prices.
Here's a good example from the Bean Ninjas, an awesome accounting firm with a super cool culture (!) based out of Australia:
Blog & contact pages
Lastly, your blog and contact pages are pretty self-explanatory.
Your blog page will contain your blog posts while your contact page will provide ways for your website visitors to contact you.
Include social media links
Don't forget that your website should also include your social media links to your Facebook business page, Linkedin business page, Instagram business page, Twitter business page, and others.
Hit Up Local Networking Events
Be prepared to hit the streets to mingle with new business owners to acquire your first few clients and build professional network. Don't discount the power of word of mouth.
To get to know who's out there, there's no better way than attending local networking events to collect some business cards.
It's just a matter of finding the events your preferred market hangs out at and heading there with some business cards.
To get bookkeeping clients, get started by picking them up at some local networking events:
Check out Meetup.com and then head to their "career & small business" category to find events in your area:
In the beginning, you should have enough time on your hands to head to several of these a week to get some word of mouth on the streets and to get to know local businesses in the area.
Collect business cards from every new business owner you meet. The next day, hop on to LinkedIn, sort through them, and connect with all business owners you met and send a personalized message.
You're now starting a new strategy to grow your network through word of mouth and some of these business owners will inevitably turn to clients when they get to know you, which is perfect when you're starting a bookkeeping business or starting an accounting firm.
LinkedIn is my favorite social networking tool for those that want to know how to start their own bookkeeping business or how to start an accounting firm.
It's a great way to get bookkeeping clients so that you can:
Build your network online
Brand yourself
Share content that engages your target client
In fact, Jody Padar, thought-leader and accounting firm innovator, now currently VP of Strategy at Botkeeper, has over 200,000 Linkedin connections (yes!) to help grow her brand. She says the following about using Linkedin:
"Use social media like it's a golf course. Be professional but personal and build relationships. Deals get done over time because of the relationships built."
One caveat…
When looking to get clients, recognize that your ideal audience may not reside on LinkedIn.
For instance:
If you are targeting restaurant owners as bookkeeping clients, perhaps they're on Instagram instead. Always consider where your target market hangs out before engaging in any social media marketing activities.
In order to see results on LinkedIn to get clients, here are a few things I would recommend doing:
Step 1 - Update Your LinkedIn Profile
There are 3 basic things that should be on your LinkedIn profile:
1) A professional-looking picture of yourself
2) An "about" section that communicates who you are as a person and showcases your personality. I find writing in the first person is helpful and more personable rather than writing in the third person.
Here's an example of my LinkedIn about section:
3) Make sure your experience section is up to date. Ensure that you provide a brief background of what you did at the company as well.
Step 2 - Join LinkedIn Groups and Contribute
Here you're going to seek out LinkedIn groups on social media where your target market hangs out, you're going to join those social media groups and then you're going to contribute to them in order to help get bookkeeping clients.
By doing so, you'll start to get known in those social media circles and you'll start to get people connecting with you.
Your network will grow and some of these local businesses and small business owner contacts will turn into new clients eventually.
To get started:
1) Head to LinkedIn and type some keywords into the social media search bar that might describe the kind of new clients and business owners you're looking for.
In this example, I am assuming that you're looking for small business clients in Miami.
2) On the next screen, you'll be able to filter the results by groups and you'll see the following:
Target groups in this social media platform that have a decent amount of members and then join them.
Once you've been accepted into these social media groups, you'll have access to the exact kind of new business clients you're looking for.
3) Contribute to these social media groups that have accepted you by posting helpful, relevant content several times per week.
It could be your comments on a recent new tax credit, it could be articles you share that you think group members might be interested in, or any variety of that.
The key is that you're sharing useful information on the social media platform.
4) Avoid promoting yourself! This is a no-no on social media and this will turn people off.
If certified public accounting firms focus on sharing useful information in these social media groups, you'll get engagement and connections and you'll start to build up your profile in the online communities which will help you get clients.
If people start sending you LinkedIn connection invites coming from these groups and from local businesses, you know you're on the right track.
How to Start an Accounting Business: Start a Blog
Voila!
This is my favorite marketing strategy in the bookkeeping profession to get bookkeeping clients.
This is a longer-term strategy for certified public accounting firms, certified public bookkeepers, and bookkeeping businesses to create successful businesses, but I recommend planting the seeds now to reap the rewards later.
Here are the absolute basics when it comes to acquiring small businesses as clients from blogging when starting a bookkeeping business or starting an accounting firm:
1) Find topics that your target market is searching for using a tool like Ubersuggest. This tool will tell you how many people search for your topic (ie. keyword) each month.
As an example, you can see here that "small business tax deductions" is searched 1,900 times per month (ie. 22,800 times per year):
2) To get clients, write a well-optimized blog that increases your chances of appearing on the first page of Google. For example, if you're on the first page of Google for the above keyword, you'll get 1000's of hits to this single blog post each year.
You can see that the bookkeeping service, Bench, currently is #2 on Google for this keyword for their blog post:
Beautiful!
Landing your blog post on Google's first page will get you a nice flow of web visits and also help you get bookkeeping clients.
3) You'll then need a mechanism to convert these web visitors into prospective future clients and then eventually into new clients. You'll do this with a CTA (Call-to-Action) which asks your visitor to take some kind of action.
Partway down Bench's above blog post, you're hit with this CTA:
By clicking on "Learn More", you'll be prompted to set up a meeting with them.
A very good CTA can convert about 10% of your readers to clients to be. A decent CTA can convert about 2-3%.
Imagine you're bringing in 1,000 readers per month to your blog and you can convert 2% of them?
That's potentially 20 clients a month from a single blog post!
Now imagine that you have 10 blog posts performing like this…
There's a reason why I stopped most other marketing activities to focus on blogging as a primary strategy to find new clients after my first year of starting a cpa firm.
So how can accounting firms replicate this success to help get bookkeeping clients?
Simple.
Feel free to download my proven 15 Step Blogging Formula to see how certified public accounting firms can acquire tons of bookkeeping clients from your blog:
Paid ads, like Google or Facebook ads, can be a great way to bring you instant traffic to help you get clients for your accounting firm, which might sound appealing when you're just starting a bookkeeping business or starting an accounting firm.
The bad thing about Google and Facebook ads is that they can be super expensive and the traffic you get may not be the traffic that you want. Which means you would end up with the wrong kind of bookkeeping clients.
As you're figuring out your business in the early days, I feel like unless you have a very clear, compelling offering and super-tight sales processes, that you'll just end up wasting your money on Google and Facebook ads to get clients.
And if you do go down this route, unless you have experience running ads, make sure to hire someone competent in this area to help your find new clients and that you have a few marketing foundations in place.
Want More Marketing Tips for How to Start a Bookkeeping Business?
Chapter 4 - Implement a Sales Process
Good news! You now have new potential clients coming your way!
Now you need to find new clients with a simple, repeatable sales process.
This is a critical component to getting new clients so we can start filling your business bank account up 🙂
Let's take a look…
Step 1 - The Discovery Call
After potential clients contact you, you'll schedule a meeting for your initial consultation, aka discovery call. This is arguably the most critical step in the entire process to acquire and find new clients.
You'll want to accomplish 3 things in this step to help you get bookkeeping clients:
1) Understand their small business
You'll need to understand what the small business does, how they do it, and what actually needs to get done:
What line of small business are they in? And do they have a physical office space?
What does their cash flow look like and do they have a lot of accounts payable?
Do they have any estimated startup costs?
What kind of business expenses (ex: rental costs) do they have?
Does the small business have employees? If so, how many? Who handles their payroll?
Do they expect to hire employees soon?
Do they have a business bank account? How many transactions and bank statements per month?
Etc.
Here we are just understanding the small business itself which is a critical step to get clients. These questions can be templated.
2) Uncover pain points
You will never command a great price if you cannot uncover pain points and challenges that your prospective new clients are having as people will not value something unless it solves these pain points.
Then it's just a matter of tailoring your core offering around solving these pain points. If you can do that, you're one step closer to getting clients to sign up with you.
To uncover pain points:
Ask the right follow-up questions.
Here's an example:
You: Who handles your accounting and bookkeeping services? An accounting firm or yourself?
Prospective client: I do. It's very easy. It only takes me 5 hours per month.
You: Do you have any bookkeeping training?
Prospective client: No. My bookkeeping might not be totally accurate, but it's just not a big priority for me.
You: Seeing as you say your books not be fully accurate, how would it make you feel if the government audited your books?
Prospective client: You know, I guess I wouldn't feel too good about it at all.
With this interaction, you have uncovered a pain point, which then increases the value of what you're offering making it easier to get clients.
Conversely, without uncovering that pain point, potential clients would likely be more price sensitive.
If you want to master these kinds of questions, I really like a book called Spin Selling.
3) Provide a brief background of your business
As a final step, take 5 minutes to talk about yourself, your accounting firm, and why you do what you do. You can talk about your background, you can discuss how you help new clients.
Step 2 - Package & Price 3 Service Options
Today, I believe most new clients like a subscription model where they pay one fixed monthly price in return for a total solution.
Therefore I recommend putting together 3 custom service options in a gold, silver & bronze type approach for each prospective customer you have.
You can prepare something in Excel and convert it into a PDF or you can use something like Conceptboard, a visual whiteboard app, to put these together.
They should look something like this familiar image I showed in Chapter 3:
Make sure each of those 3 plans has a price attached to them.
Value pricing is not only my favorite way to price accounting work to get clients, but it's also Marnie Stretch's as well. Marnie is well known in the bookkeeping and accounting profession as a QuickBooks online expert and she likes value pricing as well because,
"What I'm paid is a reflection of my knowledge and not the ticking hands of a clock."
Sage advice to pick up and find new clients.
To read more about how you can set your prices, check out my guide on pricing your services.
Step 3 - Present Your Options
Next, set up a separate meeting to present the 3 service options you've created to your client to be rather than just blindly sending a proposal.
By presenting your pricing and service options in a second meeting, you'll be able to engage in a discussion around picking and selecting the right option for your client.
Step 4 - Formalize the Agreement
Of course, when you want to get bookkeeping clients, once your interested client chooses the service option they're happy with, you're going to need to send an official proposal to formalize the agreement.
In my guide on pricing your services, I provide good detail on the process around this and what technology I'd recommend.
Chapter 5 - Setup Your Technology
All-In on the Cloud When Wanting to Know How to Start a Bookkeeping Business
Just make sure you're basing your accounting firm business off the back of cloud technology and other amazing technologies!
The cloud allows you to work remotely (and to offer that option to your new clients) and automate your workflows while keeping your accounting secure.
These elements are crucial in 2023 if you want to know how to start a bookkeeping business.
Let's take a look at the main categories of technology that you'll need to set up at your bookkeeping business or accounting firm.
Note: This is not an exhaustive list of technology, but merely what you need just to get started to help you on your journey to get bookkeeping clients and set up shop.
Video Conferencing
When you get clients and establish a team, you'll want the option of being able to work remotely. And if you're working remotely with your new clients and/or your team, there is just no replacing a video call. The telephone won't cut it.
The most popular video conferencing app these days is Zoom.
A few reasons why:
Connecting on Zoom is easy
It handles multiple callers exceptionally well (see image below)
Screensharing is seamless
Meetings can be recorded and re-watched at a later point in time
Chat
If you're just working on your own, then you won't need this. But if you have a team, Slack is a killer chat app that replaces the need for email inside your company.
Instead of emailing your colleagues, you can just chat back and forth in the app, making communication much more real-time and eliminating a few steps when sending emails.
Plus, I also like the ability to:
Set multiple chat channels to segment conversations and people
Leverage 100's of 3rd party integrations to automate workflows
While some companies use Slack with their clients, I typically advise against that in most cases.
Email
Yup, you still need email to deal with your clients. Down the road, you might want to consider a help desk software to communicate with your client base, but I wouldn't recommend getting that fancy right out of the gate.
When it comes to email, my personal favorite is Gmail, mainly because I'm pretty invested in the Google ecosystem, though Microsoft Outlook would suffice.
VoIP Phone Service
When you run a fully virtual bookkeeping business, honestly, there's not much need for a phone. Email, Slack and Zoom will suffice. But when you get bookkeeping clients, you may also need a phone service over and above this, I would recommend setting up a VoIP phone service, which is basically an internet phone service.
You don't really need to buy expensive hardware either. Most of these phone services allow you to install an app on your smartphone so that calls are routed there.
RingCentral is a pretty popular, inexpensive option.
If you expect to find new clients in different geographical regions, consider getting a local number in addition to a toll-free number.
Want More?
Check out my post here on my 4 favorite communication apps.
Project Management Software
Practice management software is arguably the most important piece of bookkeeping software in your own accounting practice. you'll need something that tracks your tasks, deadlines and provides for one central place to communicate on work.
(You might also enjoy this article comparing the 17 most popular systems on the market).
Please don't run your small business on an Excel spreadsheet!
What do I personally look for in practice management software?
The ability to easily & quickly get tasks into the system
The ability to collaborate with your peers on tasks within the system
Plan my workload and capacity to ensure that the work I bring on can get delivered on time
Here are some of my favorite project management systems:
Teamwork
Teamwork is a real winner for a project management tool. Not only did I run my last own firm on it, but I also run my current business on it.
I recommend setting up all client clients as a separate project and within each project, you will have all tasks relating to that current client. Whether it be for client onboarding, bookkeeping, sales tax, ad hoc work, or any other tasks, they should all reside within the client project, just like below: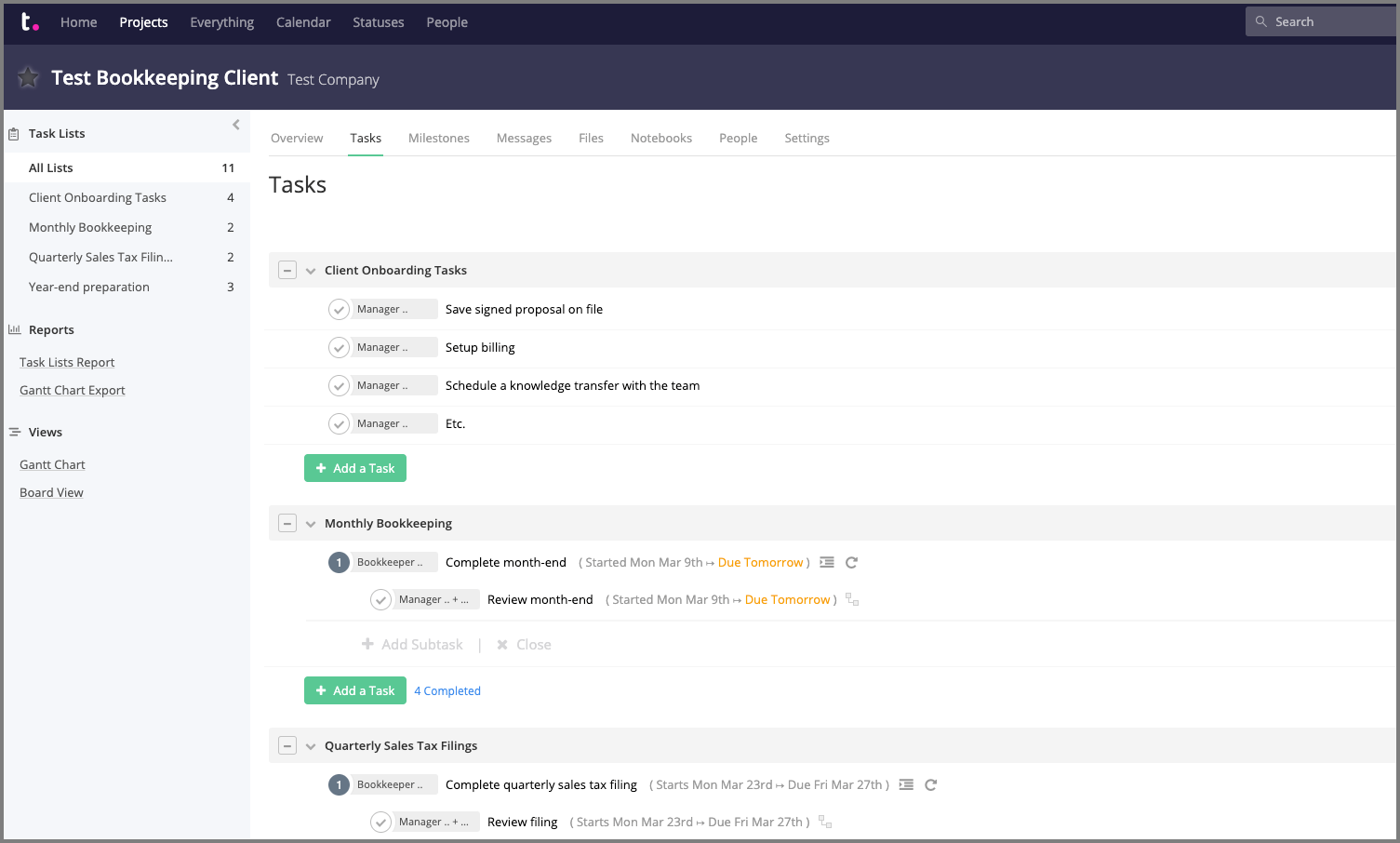 The nice thing about it is that you can set all tasks to repeat at a template level. Bookkeeping work and accounting work consist of repetitive tasks, so having repeating tasks are a great way to automate the creation of them.
I can also collaborate on tasks directly within the app. If I want to ask my colleague a question pertaining to March's month-end task for Client ABC, I can have an entire discussion about it at a task level:
Lastly, and maybe most importantly once your business grows, is that it has a wonderful workload planning section to help make sure you and your team don't get overworked:
Karbon
Karbon ain't cheap, but it's certainly slick and very popular with certified public accounting firms & bookkeeping teams.
One of the most popular features tends to be its "triage" functionality. It connects to you and your colleagues' email accounts to suck in all of your emails into a "triage" section of the app. By doing so, you and your colleagues can collaborate on emails together, you can assign emails to other team members and you can get one centralized view of communication across a particular client.
It's pretty cool.
Another interesting feature is that you can assign tasks to your clients (ie. send me your April 2020 bank financial statements) and Karbon will send automated reminders to your client base until they mark the task as complete.
Jetpack Workflow
Jetpack Workflow is a simple piece of bookkeeping software that probably has one of the lowest learning curves.
You will definitely want to check this system out as an option as it's incredibly popular for bookkeeping businesses and accounting firms.
Xero Practice Manager
If you plan to run your bookkeeping business or accounting firm off of Xero, then Xero Practice Manager could be worth looking into as it integrates very well into it. It's not as user-friendly as the options above but it's extremely powerful and many Xero users swear by it.
Cloud Accounting Software
Step 1 – Choose Your Cloud Accounting Software
Let's make this simple.
In 2023, I recommend picking and sticking with one of the following:
It's easier to standardize your own accounting business if you build processes around one of them. The more you can standardize, the more streamlined your business model will be when you get clients.
Small business owners don't care about which automated software they're on, so just pick the one you like best.
Ditch any and all desktop software.
I recommend those two systems because:
They are the two most mature cloud accounting products around.
They both have a very rich ecosystem of third-party apps. This is very important if you want to automate processes.
I personally built my entire accounting firm around Xero, though I know many businesses grow and successful accounting firms that build their operation around QuickBooks.
Pick the one you like best.
Step 2 – Get Certified
Based on whether you go with Xero, QuickBooks Online, or both, the next thing you'll want to do is get certified so that you actually know how to use the software.
Click here to get certified on QuickBooks Online.
Click here to get certified on Xero.
Step 3 – Choose an Expense Management App
A nice one-two punch to help automate accounting and bookkeeping services is to use cloud software coupled with an expense management app.
How it works:
Clients scan take a pic of their receipts with the smartphone app or email their electronic invoices into the app
The app will extract the data from the documents automatically into the relevant fields, like the supplier name, amount, etc. (ie. eliminate all manual data entry)
Each item will sync across to Xero or QuickBooks and post as an expense on the books there
As you can see, these apps will:
Eliminate shoeboxes of receipts being dropped off to you
Eliminate all manual data entry
My favorite app is Dex. They also have an expense report module so that you can prepare employee expense claims for out-of-pocket expenses.
How to Start a Bookkeeping Business - Other Software
What I listed above are the bare-bones basics.
But for those that want more technology suggestions, here are a few more:
Lastpass for password management
G Suite (G Docs, G Sheets, Google Drive, etc.) for basic productivity
Calendly for easy meeting scheduling
Rightsignature for e-signatures
Here's a list of 21 other apps that are must-haves for firms.
Laptop
I don't have a ton of suggestions here as there are so many models and it depends on if you're a Mac or PC person.
But get something with lots of RAM in order to power the cloud-based apps I'm suggesting above.
For work machines, I tend to stick with Lenovo Thinkpads or Macbooks (my current machine is a Macbook Pro which I'm enjoying).
Don't skimp here. This is your main productivity tool!
Dual monitors
If you're working from home, get two big monitors. I personally like two 24-inch monitors.
Headset
If you're going to be working remotely and holding video calls on Zoom, I highly recommend getting a good headset that is comfortable, but more importantly, has good microphone quality.
Personally, I upgraded my $50 Logitech H390 headset to the Jabra Evolve 75's (shown below), and then upgraded to the Blue Yeti mic in an effort to upgrade my microphone quality.
Whatever you do, please don't use your computer's internal mic.
Webcam
Again, with remote meetings, it's important that your clients and team can see you very clearly. So get a good webcam. Don't rely on your computer's webcam. Upgrade it.
I actually use a Sony a5100 camera as my webcam, which is overkill but also provides excellent picture quality.
A strong internet connection
It goes without saying that if you're going to be working online, that you'll need a solid internet connection. Upgrade your internet plan to something with decent download speeds (100mb/second+). I also use a wired internet connection as opposed to wifi as much as possible.
When I first started my business, I took out a lease on office space, but I quickly recognized that office space wasn't essential to the success of the business. And since then, I've been running my business remotely without an office space for years. I'll probably never sign a lease for an office space again  🙂
Chapter 6 - Deliver Your Work
Without a high-quality deliverable, your client will leave to go elsewhere.
The best way to help ensure you have a high-quality deliverable is to ensure that you have a strong process around the work you're delivering if you want to start your own business.
Since all those starting a cpa firm are different, I won't be able to provide you with detailed SOP's (standard operating procedures) here.
But I do have 3 tips that you can follow:
Tip 1 - Create Standardized Processes
By standardizing core processes, you'll be able to better streamline your operations and ensure quality control when delivering client accounting services (CAS).
To do this:
First: Identify your work delivery processes.
It should include everything you deliver to your client and you shouldn't have a ton.
Here are a few ideas:
Paying your client's suppliers
Processing payroll
Preparing & filing sales tax returns
Etc.
Second: Document the A-Z steps to complete the task.
For each process, create a step-by-step account for what needs to take place from the beginning of the process until the very end.
You should have one way to deliver the work, not 10.
And if you're looking for a visual way to showcase your workflows, Miro is a great way to do it. As an example, this is what part of my customer onboarding process looks like for my online coaching membership:
Tip 2 - Create a Knowledge Base of Documented Processes
All processes that you document will become your standard operating procedures.
Make sure these are saved somewhere and accessible for everyone at your business to view so that they can perform these tasks without your help.
Tip 3 - Update & Iterate Your Processes
Chapter 7 - Stay Up To Date
To run a successful business, make sure your business stands the test of time so you can consistently get bookkeeping clients, you'll need to engage in continuous improvement.
Below are a few ideas…
Stay Up To Date to Grow Your Business
Here are a few suggestions for how you can stay up to date:
FAQs
1. How much can a bookkeeper charge per hour?
Depending on their skills and experience, the hourly rate for bookkeepers ranges from $26.00 to $150.00 per hour. However, if you're opening a bookkeeping business, the preference is to charge recurring monthly fixed prices rather than hours. You can refer to the guide above to learn more.
2. How much can you make owning a bookkeeping business?
Annual profits of bookkeeping businesses vary, however, you can make anywhere from $10,000 to several million dollars a year. It will all depend on how you manage and scale your business.
3. Is a bookkeeping business profitable?
Bookkeeping is a profitable business to start for those with an eye for detail and a head for figures. Taking on the responsibility of assisting other business owners with their bookkeeping needs will become a part of your daily routine.
4. Can you start a bookkeeping business with no experience?
Yes, to start a bookkeeping business you should know how the systems work. It is definitely beneficial to have prior experience working in a finance-related field so you can provide quality service to your clients.
Here's a Tip:
Make a strategic plan to keep your personal life from getting in the way of your business goals. (i.e., keep your personal and business finances separate, personal assets)
I hope you enjoyed my guide on how to start your own bookkeeping business, accounting firm, or CPA firm.
Starting your accounting firm is challenging. But now I'd like to hear from you.
Which tip from today's guide did you like the most?
Will you be using Xero or QuickBooks Online?
Receipt Bank or Hubdoc?
Are you confident in strategies to start your own bookkeeping and get bookkeeping clients?
Will it improve your client's cash flow
Either way, let me know by leaving a quick comment below!
---
Ryan Lazanis
Hi! I'm Ryan. I'm an entrepreneurial CPA that founded Xen Accounting, a 100% cloud-based accounting firm, in 2013. Following its acquisition in 2018, I started Future Firm to help accountants fast-track the growth of a modern, scalable accounting firm of their own.
Here are 3 ways for how you can fast-track your own modern, scalable firm:
1) Get my weekly newsletter that gives tips & trick to scale your firm.
2) Subscribe to the Future Firm Accounting Podcast for bite-sized, actionable lessons on how to scale your firm.
3) Join Future Firm Accelerate, my online coaching program that helps modern firm owners quickly scale.