Do you want to know how to start a bookkeeping business or accounting firm?
Great news, because this step-by-step guide will cover the critical 7 steps you'll need to follow to set up a modern bookkeeping practice and to land your first clients.
In fact, these are the very steps that I followed to help take my heavily bookkeeping-focused accounting business from scratch to sale in only 5 years.
In this guide, you'll learn:
How to set up a strategic business plan
How to create your core offering
Marketing your bookkeeping services to find new clients
Picking the right technology
… and more!
Ready?
Let's go.
Table of Contents
What to Expect in This Starting a Bookkeeping Business Guide
11 Steps on How To Start a Bookkeeping Business
FAQs
What to Expect in This Starting a Bookkeeping Business Guide
While other articles will show you how to create a bookkeeping business, our article will show you how to create a systematized bookkeeping business that operates like clockwork.
One that gives you lots of free time, runs smoothly, and can scale easily.
We know it's possible.
We've helped people just like you do it inside of Future Firm Accelerate following a step-by-step system, just like Mae below.
Let's dive into what it takes to start a bookkeeping business 🙂
11 Steps on How To Start a Bookkeeping Business
Without further ado, let's get into the actionable steps that will guide you in building a bookkeeping business the right way.
Step 1: Pick Your Business Name
When it comes to naming your business, the purpose should be to establish a brand identity.
That being said, the idea is to come up with something that resonates with both your personal taste and connects meaningfully with your target audience.
I have written a blog post about 1000+ accounting firm name ideas.
Check out the different categories and hopefully, that may help you in naming your bookkeeping business.
Step 2: Define Your "Why" Statement
If you're starting a bookkeeping business, you should probably know why you're starting it in the first place.
The reason for that is because your clients and your team don't connect with what you do, then connect with you you do it, as Simon Sinek has famously said:
My advice?
Keep your "why" statement simple. It's the compass that will guide not just your firm but resonate with your team and clients
Step 3: Identify Your Target Market
After establishing the purpose of your accounting business, you'll need to establish early on what your ideal client profile looks like.
To give you an idea, check out how Enkel does it:
Here's a guide that can help you identify your target market:
Define Your Niche: Identify industries or sectors (e-commerce, small businesses, startups, or specific sectors) where your expertise aligns best.
Research Your Competitors: Analyze other bookkeeping businesses and see who they are targeting.
Geographic Focus: Determine if your services are location-specific or if you can serve clients globally.
Demographic Analysis: Consider the demographics of your ideal clients, such as age, income level, and business size.
Or, visualize what your ideal client looks like and assemble around 10 bullet points about what they would have in common,
This should be a good starting point, but if you want some concrete examples, check this article on accounting and bookkeeping niches that we wrote.
Step 4: Create Your Business Targets
Next, we want to start clarifying your goals.
We want a business that serves your ideal lifestyle, not one that chains you to your desk.
In order to achieve this, we need to engage in proper planning.
To know what I should be focusing on right now in my business, I need to reverse engineer where I want to end up.
Here's how you can do it:
Clarify Your Ideal Life: How much money do you need to be happy, how much time off per year, and how many hours do you want to be working? Get really clear on this.
Create a One-Year Plan: Establish 3-7 broad goals that your business needs to achieve in order to be on track for your ideal life.
Break Down The Plan Into 90-day Priorities: Set 3-7 specific priorities your business needs to hit in the next quarter to be on track for your One-Year Plan.
Periodically Revisit and Update Your Strategic Plan: Do this every 90 days to adapt to changing circumstances and refine your goals.
Step 5: Package Your Services
I strongly believe that your bookkeeping services should be built into a subscription model on a monthly fixed-fee basis.
Your productized service should be broken down into 3 components:
Component 1: Services
It's good to think about your productized service as gold, silver & bronze plans, kinda like this (by Xendoo):
Here are a couple of reasons why you should consider this approach:
Simplifies the sales process
Three options provide more chances to land a client
Clients may opt for higher-priced packages when positioned strategically
I recommend you to visit this blog post on 3-tiered pricing if you want to know why this approach is ideal.
Component 2: Support
To address client inquiries throughout the year effectively, consider offering different support levels at various price points.
To get an idea, check out this package from Prosper Plan:
Adding this to your packages will also help prevent unintentional provision of free advice.
Component 3: Technology
Technology cannot be ignored if you want to get bookkeeping clients, or even land your first client.
It's easier to standardize your bookkeeping business if you build processes around one of these two software tools:
Learn more about packaging your bookkeeping services by checking out this blog.
Step 6: Create Your Website
An effectively crafted website plays a crucial role in transforming visitors into valuable leads and clients.
In creating your bookkeeping website, there are a couple of things you need to consider, including:
Concise, Client-Centric Copy: Focus your messaging on what your target audience is looking for and keep it short
Showcase Social Proof: Helps establish credibility
Leverage CTAs: To encourage visitor interactions that can lead to conversions
Modern Design: Contemporary visuals can impact client engagement
Here's an example of a website that used the recommendations I listed:
If you want to get more insights and examples on how to create a website for your practice, feel free to check out my blog post about accounting websites.
Step 7: Market Your Services
Launching a successful bookkeeping business requires a strong marketing campaign, with a large part of clients likely to come from effective lead-generation efforts.
While there are a lot of strategies you can use, I would recommend the ones listed below to get your first few clients:
Networking
One of the most effective ways to acquire clients is professional networking. Here are a couple of reasons why:
It serves as a dynamic avenue for cultivating word-of-mouth recommendations and referrals, amplifying the potential for business growth.
Networking goes beyond the exchange of business cards or LinkedIn connections as it creates an environment where genuine relationships are nurtured, paving the way for organic connections and potential clients
Before heading to any networking event, ensure your social profiles are up-to-date. As you'll probably gain new connections, making a positive impression is crucial.
I recommend you use a professional headshot, an appealing background banner, and a brief statement about your role.
Also. before attending networking events, craft a concise 60-second pitch detailing who you are, who you assist, and your role.
Keep in mind that a professional appearance fosters trust. While it may seem simple, perfecting your pitch requires practice.
Set Up Your Local SEO Profile
About 46% of all Google searches are looking for local information.
As such, it's highly recommended to set up your Google My Business account properly to leverage your website for local SEO search results.
If you're not certain if this strategy is worth considering, check out this post:
This could be the easiest marketing strategy but also can be the most effective in getting your first few clients.
Find Referral Opportunities
Starting a bookkeeping business is one thing, but, building a client base is an entirely different challenge.
As a newcomer in financial services, gaining trust and credibility is challenging. However, you may bypass these roadblocks via referrals.
You can seek referrals from those you meet at networking events.
Joining forums can also be fruitful, as you'll encounter posts such as this inside Future Firm Accelerate:
I'm not guaranteeing you'll land clients just from this, but leveraging the power of referrals could be the push you need to make meaningful connections, build trust, and potentially score that crucial first clientele.
Edit Your Email Signature
One of the simpler strategies I recommend is editing your email signature.
It has the potential to function as a discreet yet impactful marketing tool because:
Allows for integration of unique marketing messages
Showcasing your credentials and achievements
Promoting upcoming events
If you're subscribed to my newsletter, you'll notice that I am using this strategy quite regularly.
Here's an example:
You may want to visit my Marketing for Accountants article for more strategies to expand your bookkeeping business.
Step 8: Implement a Sales Process
Marketing is just one aspect of client acquisition.
The other part you need to have is a simple, repeatable sales process to land any new clients you've attracted.
The process is comprised of:
1. Discovery Call
After potential clients contact you, you'll schedule a meeting for your initial consultation, aka discovery call.
This is arguably the most critical step in the entire process of acquiring and finding new clients (and making sure to avoid these mistakes).
You'll want to accomplish 3 things before or during the call to help increase your chances of locking them in:
Understand their business
It's important to be familiar with what their business is about.
Here are some of the questions that need to be answered:
What line of business are they in? And do they have a physical office space?
What does their cash flow look like and do they have a lot of accounts payable?
Do they have any estimated startup costs?
What kind of business expenses (ex: rental costs) do they have?
Does the small business have employees? If so, how many? Who handles their payroll?
Do they expect to hire employees soon?
Do they have a business bank account? How many transactions and bank statements per month?
Etc.
These questions are important to understand your scope of work.
Uncover pain points
Your next line of questioning should be about uncovering pain points and challenges.
How much does their bookkeeping bother them?
Is lack of insight into their numbers holding them back? And if so, by how much?
Etc.
Landing a client at a great price has everything to do with putting forth a solution (ie. service offer) that solves their problems!
When it comes to asking the right questions to uncover value drivers, Spin Selling is a great book:
2. Package & Price 3 Service Options
Next, you want to use the 3-tiered packages you created from Step 5 of this article. Tweak them according to the needs of your client and attach prices to them.
They should look something like this familiar image I showed earlier: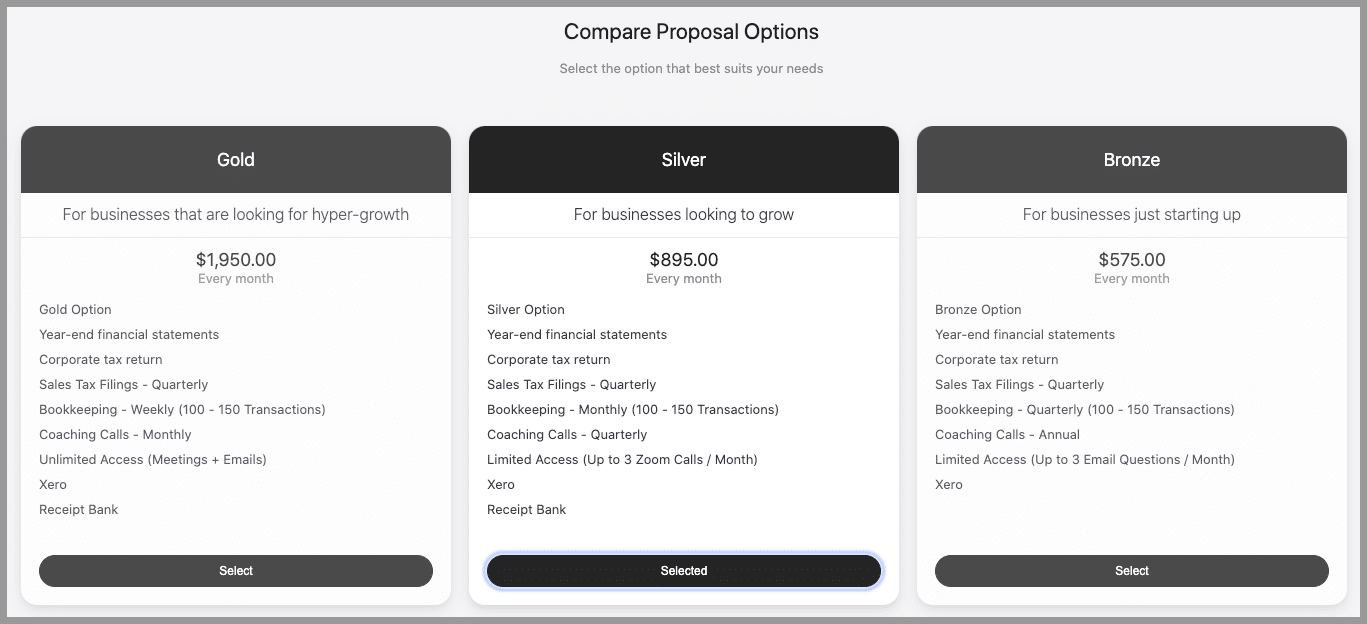 Pricing can be tricky, but essentially, consider the maximum price that you think your client will pay for this solution.
Also consider:
Does this price make sense for your client?
Does this price make sense for you?
Check out my Guide to Pricing Accounting Services blog post to get more details on how to establish your prices.
3. Present Your Options
Next, set up a separate meeting to present the 3 service options you've created to your client to be rather than just blindly sending a proposal.
By presenting your pricing and service options in a second meeting, you'll be able to engage in a discussion around picking and selecting the right option for your client and handle any objections they may have on the spot.
4. Formalize the Agreement
Of course, when you want to get bookkeeping clients, once your interested client chooses the service option they're happy with, you're going to need to send an official proposal to formalize the agreement.
This is especially important to protect from out of scope work!
Step 9: Setup Your Technology
It's easy to get overwhelmed with choosing the right apps for your bookkeeping business. In this step, I'll share the apps I recommend for streamlining and enhancing your operations.
Whichever apps you choose, ensure you're basing your bookkeeping business off the back of cloud technology.
The cloud allows you to work remotely (and to offer that option to your new clients) and automate your workflows while keeping your data secure.
Here are my app recommendations for your bookkeeping business:
Cloud Accounting Software
As I mentioned earlier, pick and stick with one of the following:
Standardize processes around one automated software, as clients are indifferent to the platform.
I built my accounting firm on Xero, but both systems support successful operations.
If you're looking for other options, feel free to visit my comprehensive cloud accounting software apps list blog post.
Expense Management
A nice one-two punch to help automate accounting and bookkeeping services is to use cloud software coupled with an expense management app.
It'll help you to:
Eliminate shoeboxes of receipts being dropped off to you
Drastically reduce manual data entry
My favorite app is Dext. They also have an expense report module so that you can prepare employee expense claims for out-of-pocket expenses.
Project Management Software
You need something that tracks your tasks, and deadlines and provides for one central place to communicate at work.
(You might also enjoy this article comparing the most popular systems on the market).
Here are some of my favorite project management systems:
1. Teamwork
Teamwork is a real winner for a project management tool. Not only did I run my last own firm on it, but I also run my current business on it.
I recommend setting up all client clients as a separate project and within each project, you will have all tasks relating to that current client.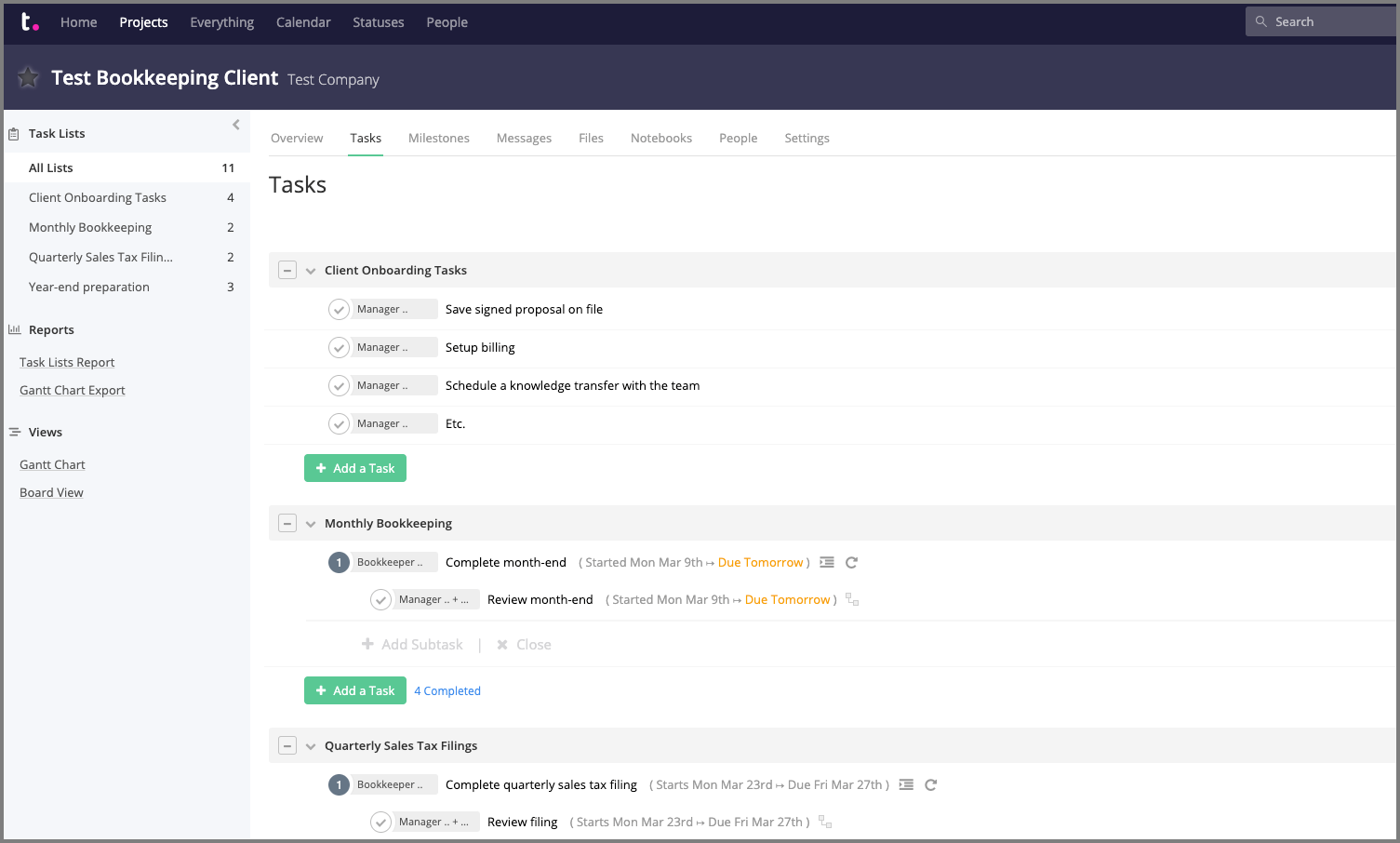 The nice thing about it is that you can set all tasks to repeat at a template level. This feature is a great way to avoid creating bookkeeping tasks manually.
2. Karbon
Karbon ain't cheap, but it's certainly slick and very popular with certified public accounting firms & bookkeeping teams.
What's impressive is that Karbon comes equipped with a diverse range of pre-loaded workflow templates, allowing you to select one that suits your needs without starting from scratch.
Karbon also offers a Workflow feature, presenting a visual representation of the status of specific jobs or client work through a Kanban board view.
Communication Apps
When you get clients and establish a team, you'll want the option of being able to work remotely. And if you're working remotely with your new clients and/or your team, there is just no replacing a video call. The telephone won't cut it.
The most popular video conferencing app these days is Zoom.
A few reasons why:
Connecting on Zoom is easy
It handles multiple callers exceptionally well (see GIF above)
Screensharing is seamless
Meetings can be recorded and re-watched at a later point in time
Google Meet is a strong alternative to Zoom, as it mostly has the same features.
Email Management and Chat
You'll need email to deal with your clients, and a software like Slack for fast communication within your team.
My personal favorite is Gmail, though Microsoft Outlook would suffice.
In one of my podcast episodes, I recommended 3 tools that can help manage the flood of emails you receive on a regular basis.
If you want to have an email management tool with chat features, I suggest you go for Missive.
It's the one we're using at Future Firm and so far, Missive has been very reliable and intuitive to use. 🙂
Hardware
1. Laptop
I don't have a ton of suggestions here as there are so many models and it depends on if you're a Mac or PC person.
But get something with lots of RAM in order to power the cloud-based apps I'm suggesting above.
For work machines, I tend to stick with Lenovo Thinkpads or Macbooks (my current machine is a Macbook Pro which I'm enjoying).
Don't skimp here. This is your main productivity tool!
2. Headset
Invest in a comfortable headset with good microphone quality, ranging from $50 to $100, especially for remote work and video calls on Zoom.
3. A Reliable Internet Service
Ensure a reliable internet service with a minimum download speed of 100 MB/second.
Opt for a wired connection over WiFi if possible for optimal performance.
Step 10: Implement Your Processes
This step focuses on implementing straightforward processes to facilitate seamless workflow and delegation.
By establishing easy-to-follow processes, you address both issues. Confidence in delegation increases as your team adheres to defined processes, ensuring work meets your standards.
Below are some tips on how you can implement your processes more efficiently:
Tip 1: List & Prioritize All Your Processes
Make a list of all tasks and processes that you'll have in your business and rank which ones are most important.
You'll want to prioritize process improvement in those areas first.
Tip 2: Document Your Processes
Use tools such as Google Docs or Word to comprehensively document your process, outlining each step in detail from start to finish.
Ensure the instructions are thorough and detailed enough for a complete stranger to successfully execute the task solely by following the document.
There's also a shortcut for this tip, which is recording Loom videos.
Here are some reasons why it's such as popular practice:
Although documented processes are the quickest to consume, if time is a constraint, consider recording Loom videos as you guide through the task. Store these videos centrally for your team's convenience.
Audio and video can convey more emphasis on certain aspects of the tasks/processes
Step 11: Engage in Continuous Learning
Just like most industries, bookkeeping undergoes regulatory changes, tech trends, and evolving client expectations.
As such, you need to have the commitment to be as up-to-date as possible.
Here are a few suggestions for engaging in continuous learning as you start and grow your bookkeeping business:
Join Online Communities
This is a highly effective and convenient way to engage in continuous learning and connect with fellow professionals in the bookkeeping industry.
Future Firm Accelerate is my favorite because it's the one I founded 🙂
With over 800 modern bookkeeping and accounting firm owner members from across the globe, it's a great place to connect with others to share best practices and become updated with the latest industry trends.
You can also check out my best forums compilation article to discover more online communities worth joining.
Subscribing To Podcasts
By subscribing to podcasts relevant to bookkeeping and accounting, you can seamlessly integrate learning into your daily routine, staying informed, inspired, and equipped with the knowledge needed to succeed in your business.
If you read until this part, you may have noticed that I have mentioned my podcast episodes a couple of times. Feel free to check them out.
I also recommend The Accounting Podcast, hosted by Blake Oliver and David Leary:
They talk about a lot of bookkeeping and accounting topics, interesting news, etc.
If you're looking for more, check out my curated list of accounting podcasts.
Sign Up For Newsletters
Many newsletters include educational articles, case studies, and insights from experts.
A good place to start would be signing up with the apps you're using.
Some newsletters offer exclusive access to learning resources, such as webinars, whitepapers, and e-books. These resources provide additional opportunities for in-depth learning.
And, if you're interested in getting the latest tips, content, and templates for your bookkeeping business, you might want to check out my weekly newsletter:
FAQs
1. How much can a bookkeeper charge per hour?
Depending on their skills and experience, the hourly rate for bookkeepers ranges from $26.00 to $150.00 per hour. However, if you're opening a bookkeeping business, the preference is to charge recurring monthly fixed prices rather than hours. You can refer to the guide above to learn more.
2. How much can you make owning a bookkeeping business?
Annual profits of bookkeeping businesses vary, however, you can make anywhere from $10,000 to several million dollars a year. It will all depend on how you manage and scale your business.
3. Is a bookkeeping business profitable?
Bookkeeping is a profitable business to start for those with an eye for detail and a head for figures. Taking on the responsibility of assisting other business owners with their bookkeeping needs will become a part of your daily routine.
4. Can you start a bookkeeping business with no experience?
Yes, to start a bookkeeping business you should know how the systems work. It is definitely beneficial to have prior experience working in a finance-related field so you can provide quality service to your clients.
Here's a Tip:Make a strategic plan to keep your personal life from getting in the way of your business goals. (i.e., keep your personal and business finances separate, personal assets)
Now It's Your Turn!
hope you enjoyed my guide on how to start your own bookkeeping business, accounting firm, or CPA firm.
Starting your accounting firm is challenging. But now I'd like to hear from you.
Which tip from today's guide did you like the most?
Will you be using Xero or QuickBooks Online?
Receipt Bank or Hubdoc?
Are you confident in strategies to start your own bookkeeping and get bookkeeping clients?
Will it improve your client's cash flow
Either way, let me know by leaving a quick comment below!