Are you considering Jetpack Workflow to help your firm minimize administrative workload and standardize processes?
If you're still sitting on the fence about whether this accounting software is the right fit for your firm, this review might just be the deciding factor you've been looking for.
Check it out!
Table of Contents
What is
Jetpack Workflow

?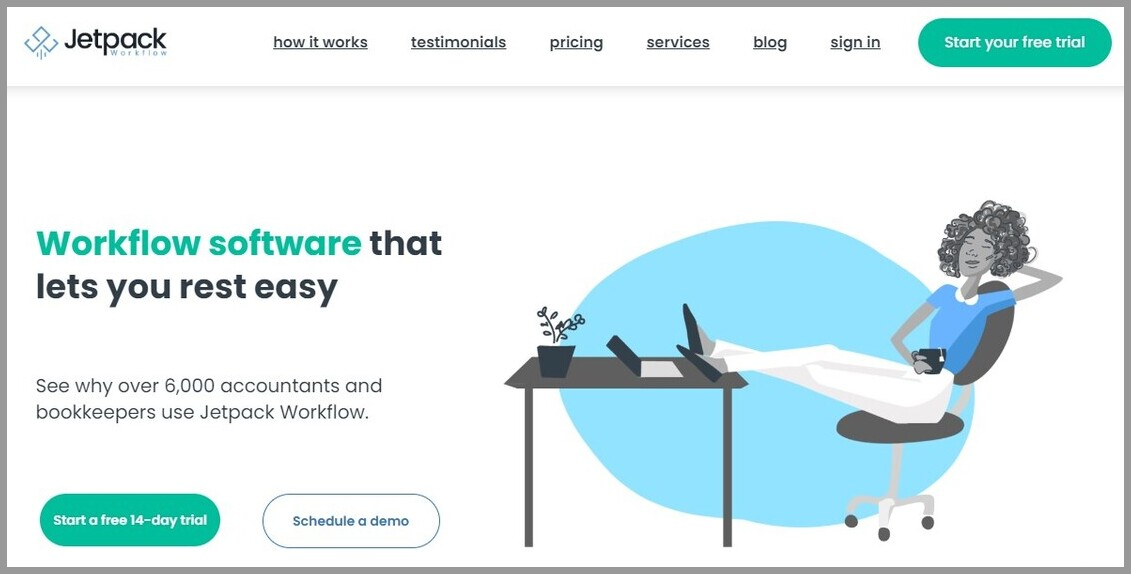 Jetpack Workflow (JPW) is a cloud-based software solution designed to help accounting firms standardize, track, and automate their workflow processes. With JPW, accountants and bookkeepers can streamline their work, complete more tasks, and reduce the risk of missing critical steps.
Jetpack Workflow Features
While other similar software products boast more features, Jetpack Workflow still has enough functionalities to empower accounting professionals in small and medium-sized firms.
An Overview of Jetpack Workflow
JPW lets you create work templates, automate deadlines, track progress, and view all of your tasks in one place. With unlimited storage included in every plan and the ability to forward emails to automatically create work from your inbox, Jetpack Workflow makes it possible to maintain a high level of organization and efficiency.
Once you log in, you'll see the navigation bar that consists of multiple tabs:
Dashboard: Gives you a bird's eye view of the jobs and hours of your team
Jobs: You can access all the jobs, tasks, and templates here
Calendar: Deadlines are highlighted in a calendar format
Clients: Information about your clients is available on this tab, including the jobs and tasks associated with them
Reports: Provides a progress report on the jobs and tasks for a certain period
By default, you are on the dashboard tab, where information such as the number of jobs and hours is displayed and separated out into time frames.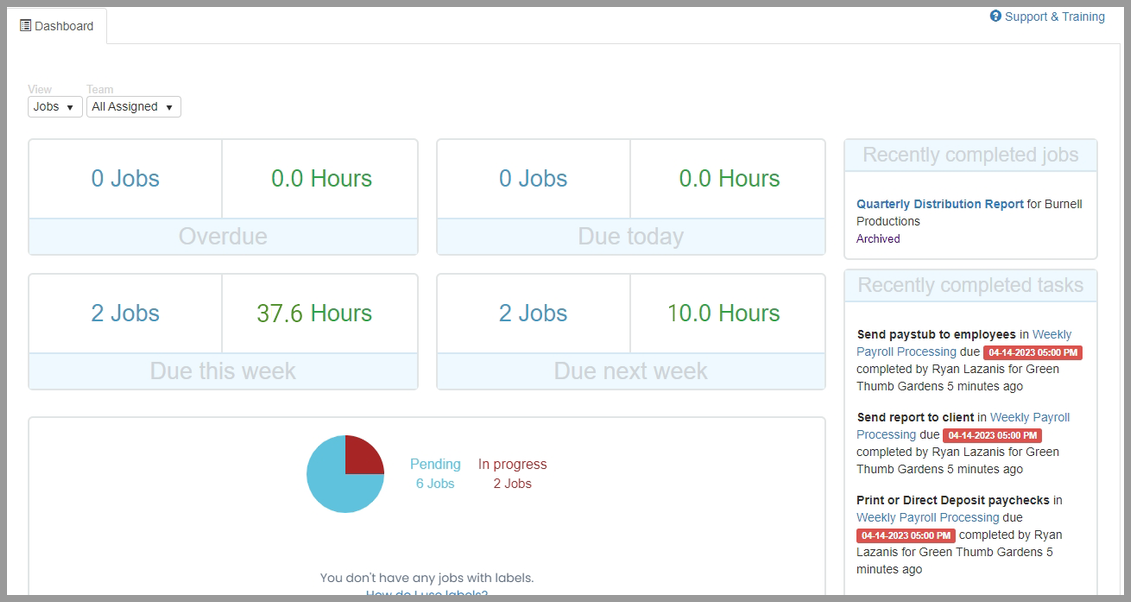 These time frames cannot be updated but you can customize the view by changing the View and Team dropdowns on the upper-left side, just below the Dashboard text. Navigating the dashboard is intuitive, so I doubt you'll have a hard time getting familiar with it.
Just below the time frame panels is the status section, where a pie chart showcases the number of pending and in-progress jobs. Active labels are also available in this section, which are customizable statutes you can use to flag the jobs that may require more attention.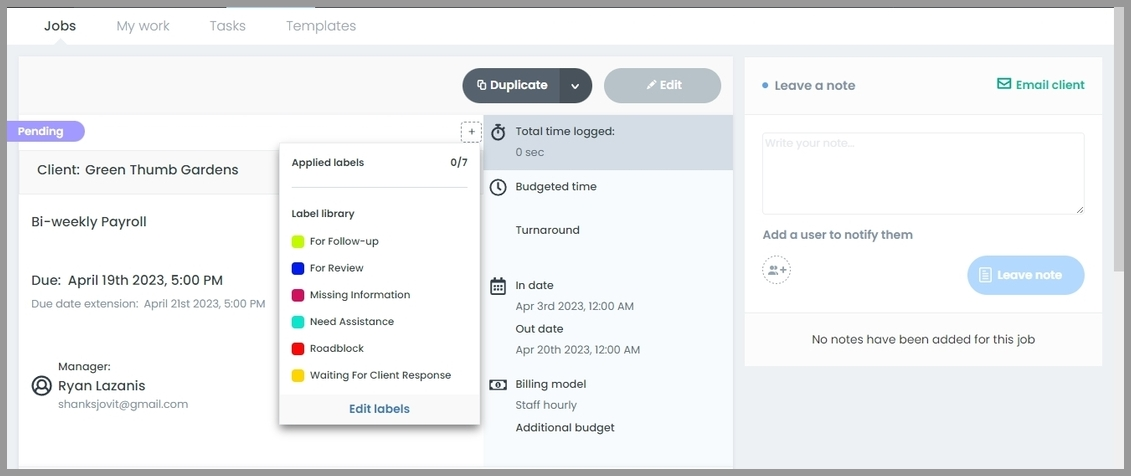 By hovering your pointer over your profile name, you'll see:
Workflow Library: Contains the custom task templates
Manage My Team: Overview of your team's workload, progress, and deadlines
Manage My Billing: Showcases your billing information and current plan
Edit My Profile: Change your name and login credentials
Settings: Update your company name, currency, labels, time zones, and more
Task & Project Tracking
In one of my podcasts, I mentioned that task and project management tracking is the most important element of evaluating an accounting workflow software product. If you're having a hard time with this part of the app, chances are it is not worth integrating into your firm.
Fortunately, adding and monitoring work in Jetpack Workflow is quite straightforward.
You can create a job without setting up a template, but you'd be better off if you do so. Utilizing templates can help repetitive tasks become scalable.
Check out this template I set up for payroll processing: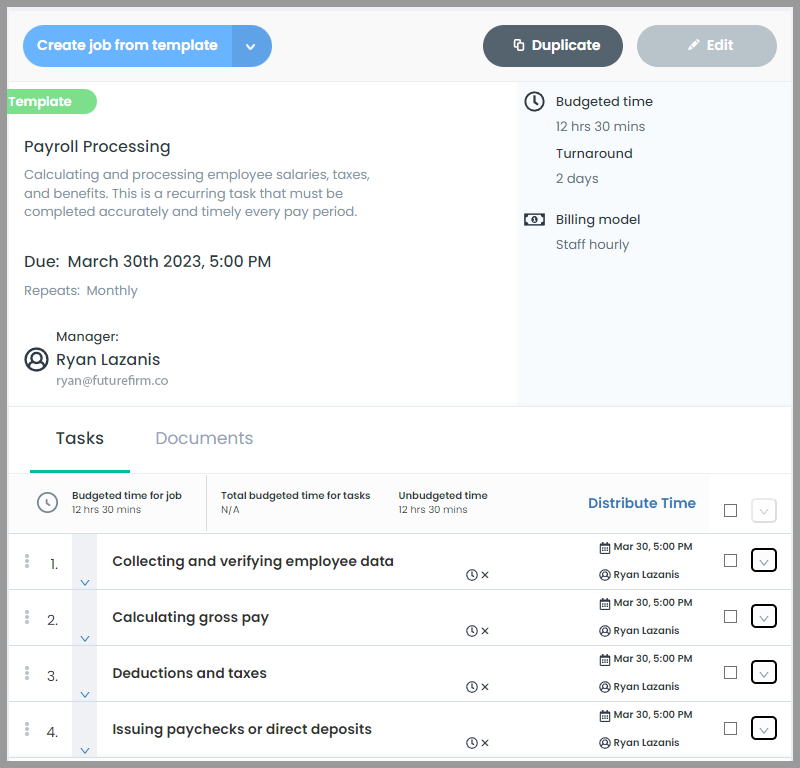 Jetpack Workflow currently has 70 custom-fit templates that are designed with bookkeepers, CPAs, and other accounting professionals in mind.
For example, you can use this template to standardize your client onboarding process.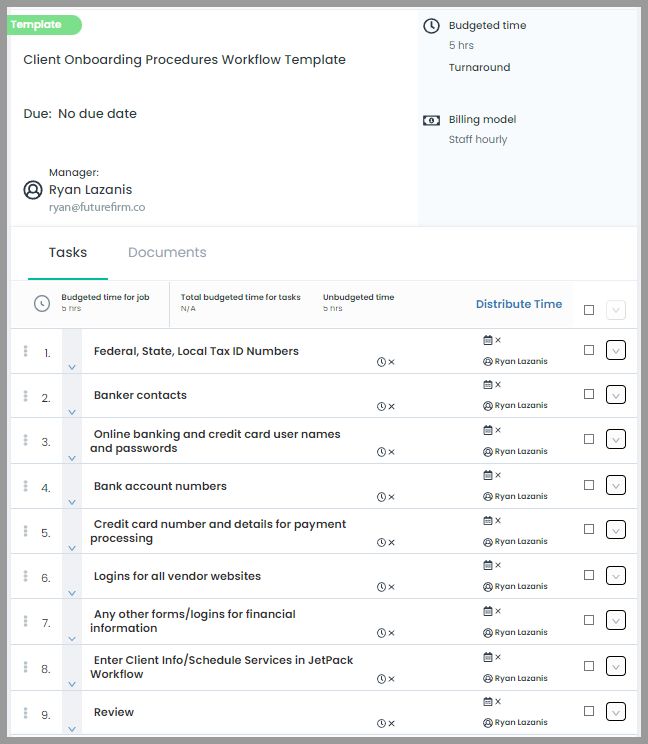 To add templates, open the Workflow Library, choose the template you need, and click add.
All the templates you created or added are displayed on the Templates tab on your Jobs page. This tab also shows you the number of tasks created with a certain template.
Once you created a job from a template, there are some features worth pointing out:
You can communicate with your team about the job by leaving a note on the right side.
Time budgets, in-date, and expected turnaround time can be set to track progress.
There's also a time tracker that you can expand for more detailed tracking.
Additionally, labels can be set to show where the job or task is in a workflow. You can use up to seven labels per job.
Once you're managing several clients, meeting deadlines is becoming more difficult to accomplish. Jetpack Workflow has due date tracking features to help you monitor tasks that require immediate attention. You can use the advanced search bar and custom filters to check all instances of a particular type of work.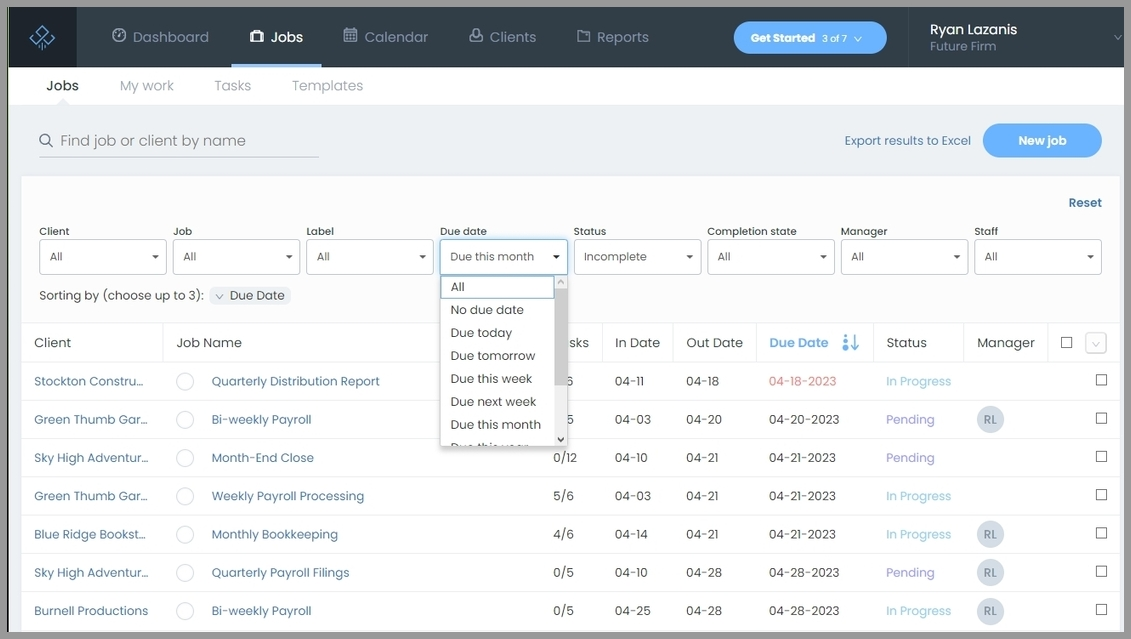 Collaboration
JPW offers a variety of team collaboration and document management features. These functionalities can help manage complex tasks that require input and coordination from multiple team members, such as tax preparations or financial statements.
The collaborative element offered by Jetpack Workflow can facilitate better communication and streamline workflows, leading to improved accuracy and efficiency. Let's take a look at some of its features you and your team may find handy.
Email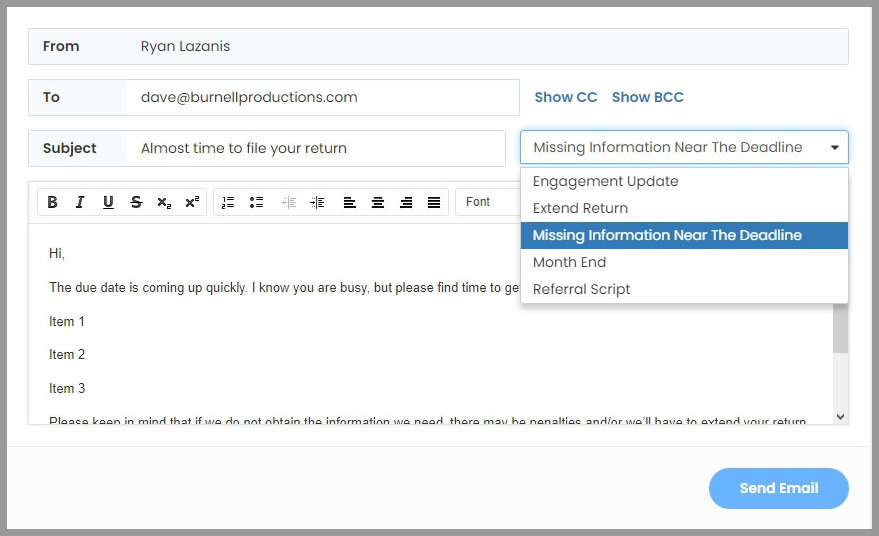 Jetpack Workflow offers a convenient feature that allows users to send emails to their clients directly within the app. One of the benefits of this feature is the ability to use email templates for recurring email reminders, such as advising a client to pay a balance owed.
However, it's important to note that relying solely on email communication may not be ideal for some users, as it can lead to the loss of conversation history within their inbox.
You can integrate your Gmail or other email accounts with JPW. Still, the functionality is not as comprehensive as what's offered by other practice management software options out there such as Karbon.
Notes
This has been mentioned briefly in the previous section. One of the useful features offered by Jetpack Workflow is adding notes. This feature provides a helpful way to provide additional context and details for ongoing tasks or projects, which can help streamline communication and improve efficiency.
For instance, you can use the notes feature to leave specific instructions for your team member working on financial statements. Another one would be delegating or endorsing tasks if an employee is on leave.
You may also leave notes within the client management record.
Notifications

With JPW's email notification system, you can receive notifications when you are assigned a job or task, when a task is triggered for you to work on, and when there are state changes to managed jobs or tasks. Additionally, you can be notified when new notes are added to managed jobs.
This feature is helpful in keeping you up-to-date on important project details.
If your team is working on preparing a tax return for a client, you can set up email notifications to ensure they won't miss anything easily.
Client Collaboration
One of the aspects JPW needs to improve is client collaboration features. After assigning a task to a client, they will receive an email notification in a generic format.
The email will appear like this: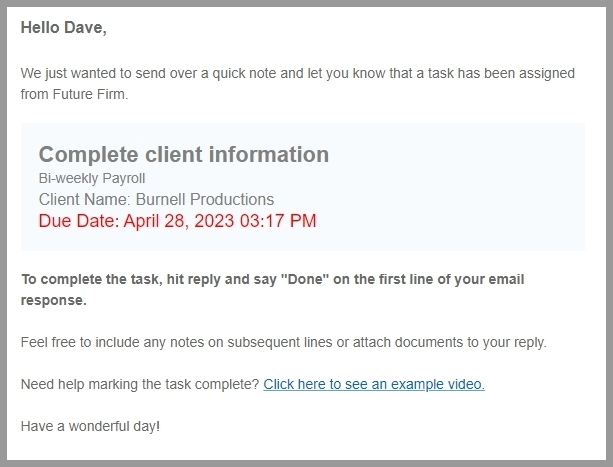 Based on this email, document management leaves a lot to be desired. The client has to do it the old-fashioned way, which is attaching files and sending them to you.
Some accounting and financial management tasks may involve multiple parties to complete, so it would be beneficial to have more robust collaboration functionalities within the platform.
The issue with Jetpack Workflow is that client communications are mostly restricted to email exchanges, which can be tedious and outdated. Compared that Karbon, which allows access to a secured client portal, with a shared communication timeline, and @mention and comments feature.
Time & Billing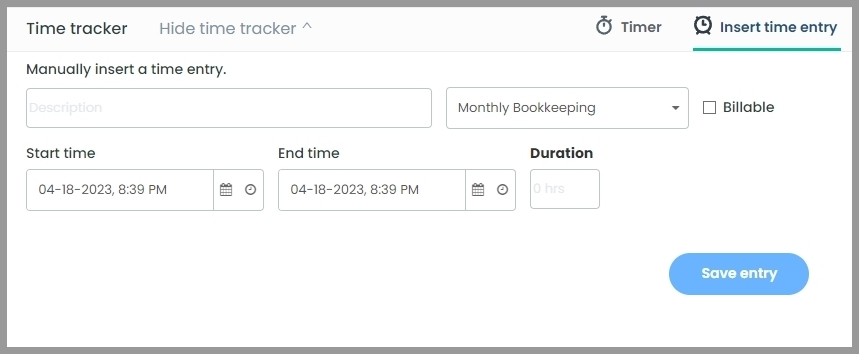 JPW offers a user-friendly and efficient time-tracking feature for accounting and tax practice management. You may add time entries at the job level, ensuring that time spent on each task is accurately recorded.
Unfortunately, Jetpack Workflow doesn't have a built-in invoicing feature like in Canopy or Taxdome. Instead, it only offers an accounting invoice template saved in a Google Drive.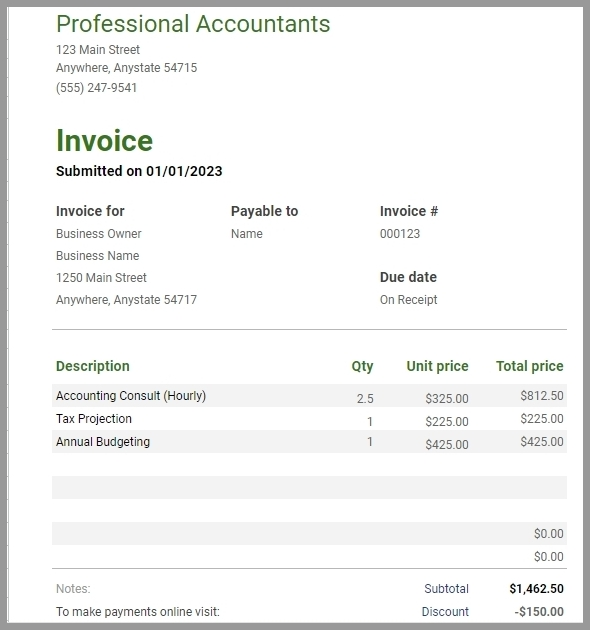 You may add elements such as:
Unique invoice number
Date
Company information
Description of the services or goods provided
Discounts
Subtotal
Notes
Reporting
JPW's reporting feature provides basic yet useful functionality through its dashboard and jobs list. The dashboard displays hours overdue and expected hours due in the week, aiding in capacity planning.
This is what your progress report may look like: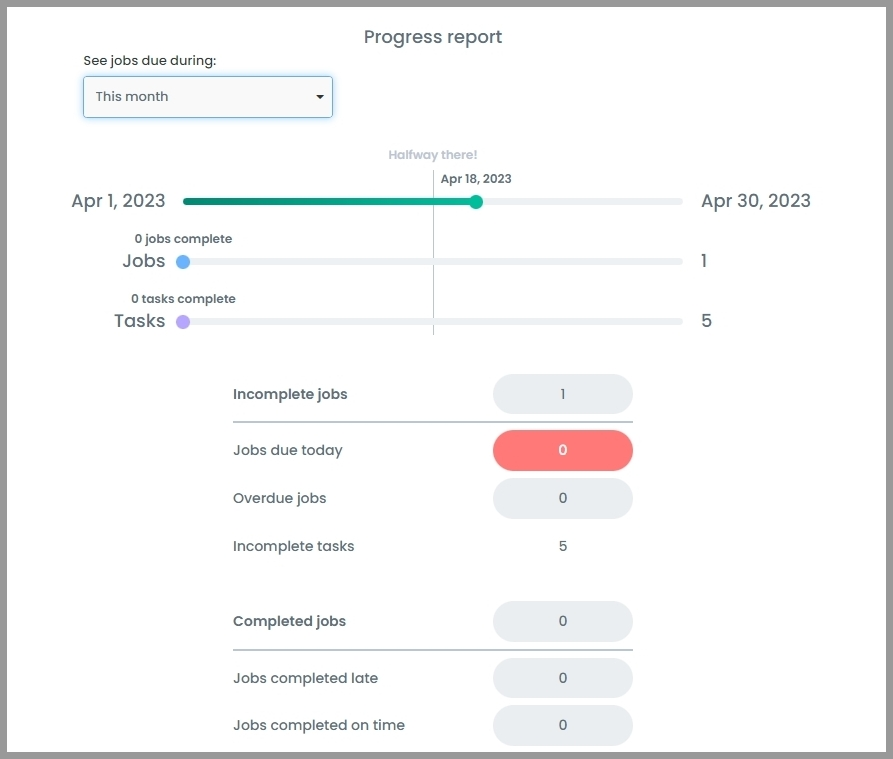 Although there is still room for improvement in this area, the project report offers a comprehensive overview of the firm's status, while other reports can be downloaded and modified in Excel format.
Overall, while JPW's reporting features may not be the most advanced, they may still provide a solid foundation for monitoring and analyzing your firm's performance.
Integrations

The software offers a few key integrations to help streamline tax practice management and accounting.
Jetpack Workflow integrates with Zapier, which allows for automated workflows with over 2,000 apps. You also sync it with QuickBooks for various accounting processes.
User-Friendliness
Despite the limited number of advanced features, Jetpack Workflow is still one of the more popular choices for tax practice management thanks to its intuitive and user-friendly interface.
Unlike other cloud-based apps that require a complex setup and some time to get the hang of, Jetpack Workflow is a practice management software that even those new to accounting software will find easy to use.
Jetpack Workflow Pricing
JPW has two pricing plans for their software – Organize and Scale.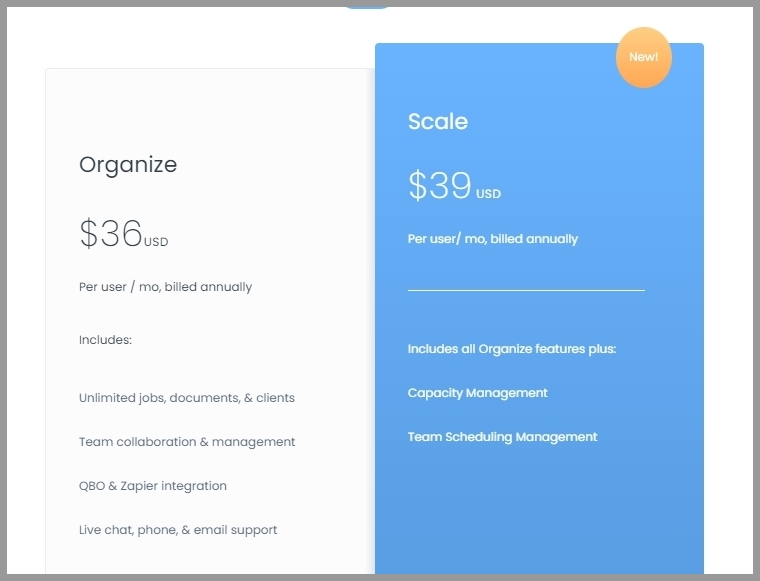 Both plans include access to all features and support and training, including unlimited jobs and integrations, with no credit card required for the free trial. The Organize plan costs $36 per user per month for an annual subscription, while the Scale plan costs $39.
If you prefer a monthly billing cycle, Organize is priced at $45 per user, while Scale is priced at $50.
It also offers paid options to simplify the process of setting up and using the software. The starting price for additional Jetpack Workflow support services is $299.
Jetpack Workflow Alternatives
Choosing the right tax practice management software can be a daunting task, and Jetpack Workflow is certainly a strong contender for many accounting firms.
However, in this review, I pointed out certain areas that Jetpack Workflow can certainly improve on. As such, check out these alternatives that may fit better with your processes.
Canopy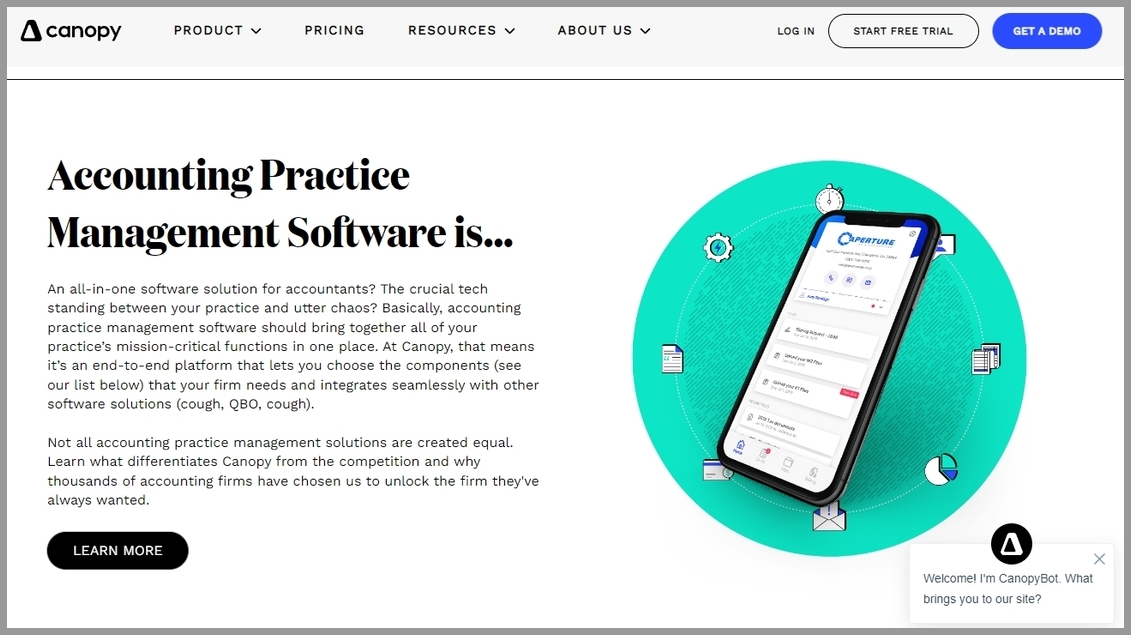 Client collaboration is arguably the weakest feature of Jetpack Workflow. If you're looking for more comprehensive functionalities, Canopy got you covered.
It provides centralized client communication and performs bulk actions. You can eliminate the need for internal emails and easily manage client interactions on a centralized client record.
Karbon
Karbon is a comprehensive practice management solution that's perfect for accounting professionals. It offers features that go beyond just workflow management and are designed to help you manage your business more efficiently.
With a multitude of tools and features, including an integrated email inbox and client portal, it wouldn't be unreasonable to conclude that it pretty much surpasses JPW in essentially all aspects.
Client Hub
File management is not one of the strengths of JPW. That's not the case with Client Hub.
With Client Shared Folders and Internal Folders, you can easily organize files for clients and internal use. Plus, the Auto-Downloader feature automatically downloads files for local access on Windows or Mac.
If you're interested in other alternatives, check out our practice management software options guide.
Conclusion
I hope you found this Jetpack Workflow review informative and help you decide if it's the practice management software your firm must have.
Now, I want to hear from you.
Which features of Jetpack Workflow stand out to you?
Do you have any questions or concerns that I didn't address in this review?
Have you used Jetpack Workflow before? If so, what was your experience like?
Feel free to share your thoughts below!
---
Ryan Lazanis
Hi! I'm Ryan. I'm an entrepreneurial CPA that founded Xen Accounting, a 100% cloud-based accounting firm, in 2013. Following its acquisition in 2018, I started Future Firm to help accountants fast-track the growth of a modern, scalable accounting firm of their own.
Here are 3 ways for how you can fast-track your own modern, scalable firm:
1) Get my weekly newsletter that gives tips & trick to scale your firm.
2) Subscribe to the Future Firm Accounting Podcast for bite-sized, actionable lessons on how to scale your firm.
3) Join Future Firm Accelerate, my online coaching program that helps modern firm owners quickly scale.