Taxfyle & Worklayer are two interrelated products aiming to solve a few common issues accounting firms face: staffing & capacity.
So I was happy to chat with their CEO, Ricky Lavina, about how these products are helping firms move into the future and tackle these issues head-on.
Ricky's a super smart dude that brings an interesting perspective on the future of work in accounting firms, especially since he's a CPA that once worked at PwC.
Below you'll find the podcast interview along with an overview of both products and how they're helping accounting firms.
Let's go!
Taxfyle Overview
Taxfyle can be described as the Uber of the tax world. As at the time of writing, there are 2000 US-based CPA's and EA's on the platform that are able to provide on-demand tax services to those looking to file their taxes.
Taxfyle not only offers assistance to individuals looking to file their taxes but also provides accounting firms with the option to plug into their pool of gig workers.
This approach very much resembles Uber, which I find super interesting.
How Does Taxfyle Work?
After creating an account here, you'll be asked a few simple questions before being able to submit a job to be completed by their pool of gig workers on the platform.
Some of the questions are around the kind of tax software you use, whether you require any background checks on their gig workers & information about the job at hand (timing, complexity, etc), just to name a few.
Following that, usually within 90 seconds, your job is matched up with a pro that's able to fulfill it.
Directly on the platform, you'll be able to share files back and forth as well as communicate on the work being done.
From my discussion, the platform seems quite flexible depending on the firm's unique requirements.
As these are not your full-time workers, in the podcast episode interview itself, Ricky also discusses some interesting ways for how Taxfyle maintains consistency and quality of work.
How Does Taxfyle Help?
The biggest benefit that I see from Taxfyle is the ability to tap into an on-demand pool of professionals to get work done when you don't have the capacity on-hand to deliver it. In that sense, you can get instant scalability.
The other benefit that I can see is that you may be able to cut down on your firm's recruitment activities. So instead of having to hire and retain a full-time, part-time or contract worker, you now have a fourth option, which is to simply plug into Taxfyle's gig worker pool.
In the interview, Ricky also talks about how Taxfyle is helping firms increase their margins.
What Services Can Taxfyle Handle?
Certainly, the focus of Taxfyle is on US tax preparation.
The platform is not limited to tax work however as they can handle bookkeeping and certain payroll filings.
Down the road, Taxfyle wants to expand into other service lines.
Who is Taxfyle For?
Taxfyle is really for any firm that wants to outsource work in line with the services described above.
I actually see this as a great fit for firms outside of the US that need to fill in gaps for any US work that needs to be completed here and there throughout the course of the year. Not only can you answer your client's needs, but you can also make a margin on this work as well.
What Does Taxfyle Cost?
Each work request is priced separately.
It is an upfront fixed price dependent on 2 major factors: the complexity of the work and turnaround time.
The price is provided after answering a series of questions and that price won't change once the work commences.
Worklayer Overview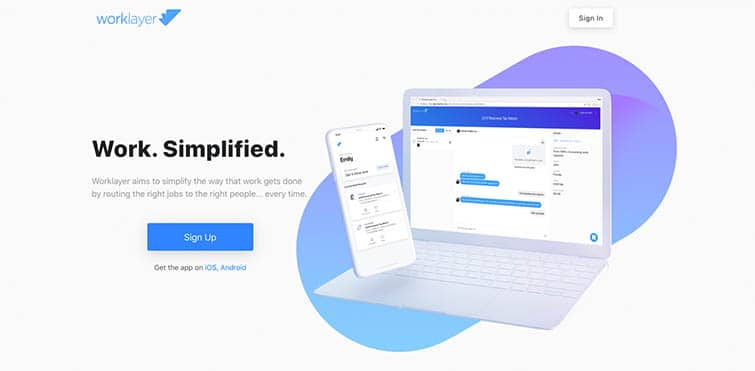 With more and more tax pros and tax filers joining Taxfyle, the company needed a way to efficiently route work & tasks from those requesting it to those preparing it. Worklayer was therefore created to solve their own routing workflows first. The company then decided to roll this out to accounting firms.
Described as a command module for accounting firms, Worklayer is a tool that helps firms efficiently route work within an organization. Essentially, they are efficiently matching needs within a firm with available supply.
How Does Worklayer Work?
Worklayer can be used with or without tapping into Taxfyle's gig worker pool.
If you are an organization that just needs to match work with existing supply but want to do it more efficiently, then Worklayer can be used as a standalone product.
If however, you want to achieve the above and also tap into a pool of pros on Taxfyle's platform to actually outsource some of your own work, some firms do this as well.
When a firm is onboarded, a unique workspace is created specific to that firm in the platform. If you choose to plug into Taxfyle, you'll see the available tax pros within your workspace.
From there, you can place work orders on the platform and get good analytics on the work being performed, how long work is taking and just about any other kind of KPI that you want to track on the job.
How Does Worklayer Help?
The big selling points of the platform appear to be two-fold.
First, being able to route work to the right people at the right time is all about increasing the efficiency of delivering work.
Second, as you'll see in the PwC example below (and as Ricky describes in the interview), they are aiming to help firms increase utilization of their staff.
Who is Worklayer For?
At the moment, Worklayer is mostly geared towards larger, more-enterprise grade firms.
As an example, Worklayer ran a pilot project with PwC in Australia.
A problem the firm was seeing was that team members assigned to files would sometimes be waiting on clients, thus providing them with idle capacity. And with Australia being a huge, spread-out country, PwC sometimes had a hard time tapping into that idle capacity nationwide.
Worklayer helped solve this problem by allowing PwC to implement a system that helps route the right tasks to the right people by looking at who is able to take on work right at that very moment.
As a side-note, when asked about the results of the pilot, Ricky mentioned that it went very well and that they were looking to expand it.
While Worklayer is currently geared towards larger firms at the moment, the company is aiming to provide solutions to any firms that have multiple offices or a remote workforce.
What Does Worklayer Cost?
Ricky mentions in the interview that there is a license fee to use the platform. I'm not sure on exact pricing, though I believe it's custom depending on the firm's situation.
My Discussion with Taxfyle's CEO
Show Notes
1:45 – What is Taxfyle? And what is Worklayer? Their CEO describes both of these products.
4:10 – Taxfyle and Worklayer function together. Ricky describes the dynamics between the two.
7:00 – I ask about the typical firm profile signing up with Worklayer's service. Ricky goes on to talk about some firms just utilizing Worklayer as a work routing tool while other firms are not only routing work, but sourcing work from their pool of tax professionals on the product to actually get work done.
9:45 – If a firm wants to tap into their pool of gig workers, what does the onboarding process look like?
15:10 – What services can Taxfyle deliver?
16:35 – I ask Ricky which services are harder to Uberize than others. Side note: Note everyone thinks that accounting services can be Uberized as discussed in another podcast episode here.
19:35 – PwC in Australia is utilizing Worklayer to solve some of their problems. Ricky describes how it's helping.
21:38 – I ask about how Worklayer & Taxfyle ensure consistency of work quality when dealing with gig workers.
27:46 – Ricky discusses the main benefits firms are seeing on their platform and which firms are not well suited for the platform.
34:48 – Where is the company seeing the largest uptick? The gig workers wanting to join the platform or the firms wanting to tap into the gig economy? According to Ricky, the supply will always be in front of the firms and he explains why.
37:55 – Ricky and I discuss QuickBooks Live (more info on QuickBooks Live can be found in my QuickBooks Connect summary post) and his views on how they're trying to Uberize bookkeeping services.
43:40 – Ricky chats about what's still too archaic in public practice.
47:35 – Wanna learn more about Taxfyle to outsource work at your firm? Click here to request a demo. If you want to modernize the work routing in your firm, click here to request a demo as well.
Subscribe to the Future Firm® Accounting Podcast:
---
Ryan Lazanis
Hi! I'm Ryan. I'm an entrepreneurial CPA that founded Xen Accounting, a 100% cloud-based accounting firm, in 2013. Following its acquisition in 2018, I started Future Firm to help accountants fast-track the growth of a modern, scalable accounting firm of their own.
Here are 3 ways for how you can fast-track your own modern, scalable firm:
1) Get my weekly newsletter that gives tips & trick to scale your firm.
2) Subscribe to the Future Firm Accounting Podcast for bite-sized, actionable lessons on how to scale your firm.
3) Join Future Firm Accelerate, my online coaching program that helps modern firm owners quickly scale.