Online accountant forums can be a valuable resource for accounting professionals looking to expand their knowledge, connect with peers, and stay up-to-date on industry trends.
In this post, we'll explore the benefits of participating in online forums for accountants and enumerate which ones are worth joining.
Let's go!
What are Accounting Forums?
Accounting forums are digital communities usually populated by firm owners, CPAs, tax specialists, and other financial experts.
As discussed in one of my podcasts, members of these communities are free to ask questions, share tips, and get advice and insights from other pros on various issues and topics related to the industry.
All kinds of accounting topics, from taxes to software recommendations and business strategies can be discussed.
As such, joining accounting forums can be valuable, even if you're a vet or just starting out. Let's learn in the next section the primary reasons why professional accountants should consider being members of these online communities.
Why Join Accounting Forums?
I already hinted at the general benefits of joining accounting forums. Without further ado, let's check out the core reasons why becoming an active member can be a transformative step for your professional growth.
1) Find Clients
Within accounting forums, members actively participate and engage, with some even sharing potential new clients. Check out this screenshot below taken from Future Firm Accelerate:
This interactive environment acts as a powerful catalyst for discovering and connecting with clients or referral partners who are in need of assistance with tax services, financial filings, and various other financial processes.
By immersing into these forums, members can tap into a network of potential clients, establish valuable connections and expand their client base.
In all honesty, this single benefit alone is more than sufficient to persuade you to join online accounting forums. The potential to find new clients in these forums is nothing to scoff at.
2) Collaborate With Like-Minded Individuals
Accounting forums offer more than just a platform for discussing technology.
They also provide a unique blend of personal connection and professional networking. You'll find peers who understand the daily triumphs and challenges of anything associated with the industry.
Engage in casual conversations, swap stories, and build lasting relationships that extend beyond the virtual realm.
By doing such, you'll not only enhance your knowledge and stay abreast of industry trends but also cultivate valuable professional networks with other members who share your passion and drive.
These connections offer a support system, foster camaraderie, and present potential partnership opportunities that may take you one step closer to your goals.
3) Improve Skills
Accounting forums act as knowledge exchange hubs, where members are welcome to ask others how to become more effective in tackling various processes.
In this screenshot from Future Firm Accelerate, a member seeks recommendations for improving skills in interpreting financial statements and communicating with clients in a non-accounting language.
This showcases the potential of how accounting forums help enhance your knowledge and skills, where members can seek advice and learn from others who have faced similar challenges and discover helpful recommendations, articles, books, videos, workshops, and more.
4) Enhance Professional Reputation and Visibility
Accounting forums can serve as advertising platforms for firm owners and managers to enhance their professional reputation and increase their visibility within the industry.
By actively engaging in discussions, sharing your expertise, and providing valuable insights to fellow members, you can establish yourself as a trusted authority and thought leader in the community.
When you consistently contribute valuable content, offer thoughtful advice, and participate in meaningful conversations, you build a strong personal brand that resonates with other professionals in the field.
This can lead to increased recognition, referrals, potential collaborations, and business opportunities.
5) Get Technical Help
Several accounting processes may require complex technical knowledge to accomplish. Sure, Google or AI can help, but advice coming from peers can be more reliable.
Within accounting forums, you have access to a diverse community of accounting and finance professionals qualified to provide technical help and tips.
Whether you need insights or advice on accounting software recommendations, best practices on using tools, or troubleshooting assistance, fellow members are eager in offering solutions based on their personal experience.
Best 14 Accountants Forums
With a myriad of choices available, I understand that selecting the forums to join can be confusing. To simplify your decision-making process, I have compiled a list of top accounting forums that are worth exploring.
1. Future Firm Accelerate
As we begin our list, I can't help but put Future Firm Accelerate. I can practically hear you saying, "Of course, you'll put yours up here!"
I get it, but let me assure you, I can justify this arrangement. While I have a personal connection to it, Future Firm Accelerate has earned its place among the top accounting forums and coaching platforms, many thanks to its community of over 700 members.
As the founder behind this platform, I have witnessed firsthand the incredible value it offers. Several active members are more than happy to share their questions, advice, insights, progress, and more.
To give you an idea of how members help or respond to queries, here is an example:
As you can see, I personally participate in the discussions and provide insights and support to members, ensuring a detailed, engaging, and fruitful experience for everyone inside the community.
Other things to highlight about Future Firm Accelerate:
Access to online courses, templates, and coaching to help firms scale up while working less
Members often use their real names and pictures
Access to a mobile app to participate on the go
The forum is restricted to members only
2. Accountant Forums
When it comes to dedicated online spaces for anyone in the accounting profession, one community that stands out is AccountantForums.com.
This forum has been around since 2008 and still has decent web traffic. Anyone can sign-up for membership without any type of subscription obligation. Browsing the forums also doesn't require you to log in.
Accountant Forums has almost 19,000 members (wow!), which primarily consist of industry professionals, teachers, and students.
I would say that its accounting discussion topics are pretty diverse. In this screenshot, you'll see a variety of questions asked by members. Just like in most forums, members can get accounting tips, technical support, and industry news.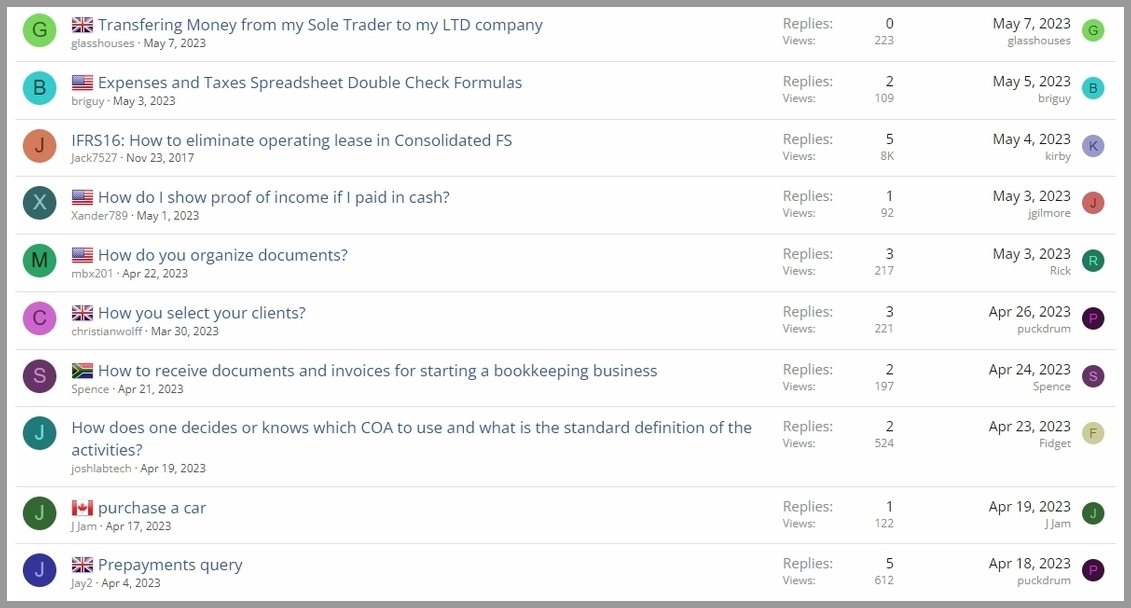 Members have their stats under their names, including the date joined, the number of messages, and their reaction score.
In theory, those with hundreds of interactions and a longer tenure as a member may provide more reliable advice and recommendations, especially VIP members.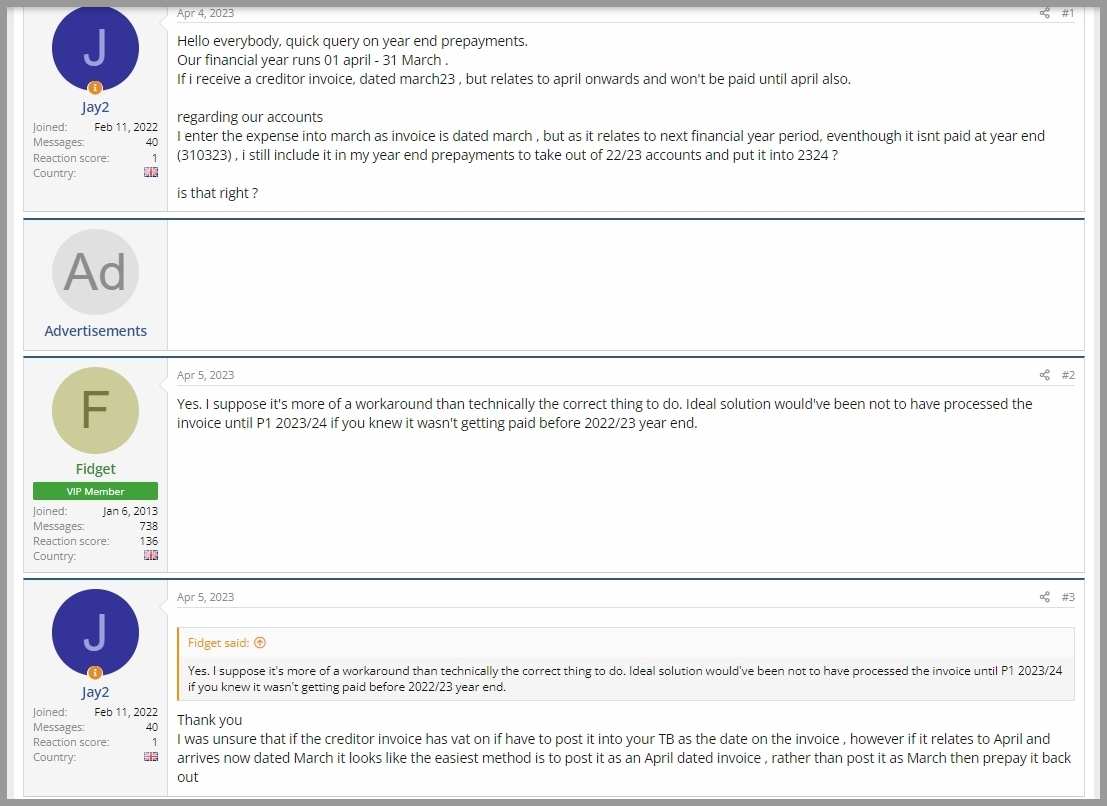 While Accountant Forums offers a valuable platform for accountants to connect and share knowledge, it's important to note that due to its open nature, moderation can be limited.
3. Reddit Accounting
Reddit is one of the largest online platforms worldwide, with more than 800 million active monthly users.
One of its prolific subreddits is Reddit accounting communities or r/Accounting, which is dedicated to discussions and sharing accounting-related topics, news, resources, etc.
The upvoting system plays a significant role in shaping Reddit Accounting's user experience. Redditors can upvote or downvote posts and comments based on their relevance, accuracy, and helpfulness.
This system allows the most popular posts to rise to the top, ensuring that members can easily discover the latest buzz around the industry. It's kind of like Twitter in a sense, more engagement translates to higher exposure.
There are a lot of relevant topics worth checking out in this online community: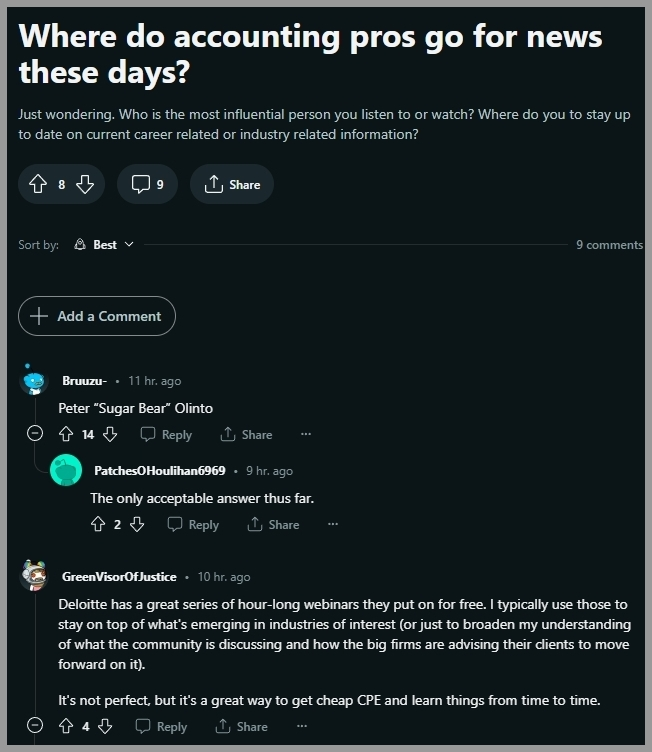 One of the things that jump out is the number of responses, which makes sense as this subreddit has more than 350K followers. You'll also see numerous memes, rants, stories, and various accounting advice and opinions.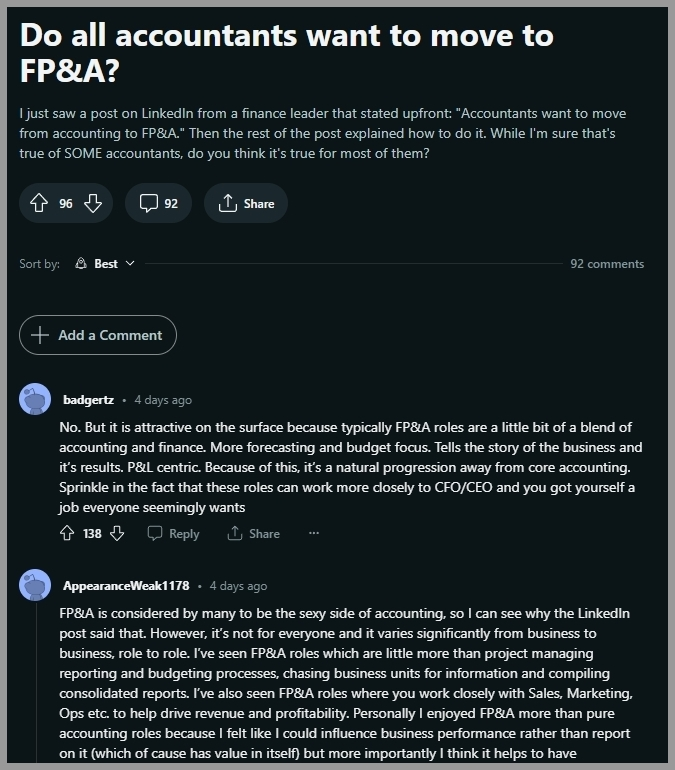 While the community is as prolific as it gets, some topics may not really interest you if you're a firm owner or a pro.
There's a bunch of users sharing their pet peeves, CPA exam tips, investment strategies, and even complaints about certain jobs or the government.
Regardless of that aspect, I think there's a lot of value in joining Reddit Accounting. As arguably the most active community on this list, it won't take too long for you to find it interesting and fun to be a part of.
4. The WorkFlow WateringHole
While Facebook hasn't been as talked about as other platforms recently, make no mistake, it's still the top social media site worldwide. It also houses one of the must-join groups you'll ever encounter as a firm owner, The WorkFlow WateringHole.
With nearly 5K members, this group focuses on discussions surrounding workflows, apps, systems, and best practices for accounting professionals.
Led by Kellie Parks, the group offers a platform to share experiences, learn from successes and failures, and gain insights from workflow and fintech app partners.
Whether you're seeking guidance on where to start, app recommendations, or a deeper understanding of workflows, this community is created for professionals from various industries to engage in different discussions and discover solutions to a myriad of issues.
Since it's a private group, you need to be accepted first before you can post, comment, and interact with other members.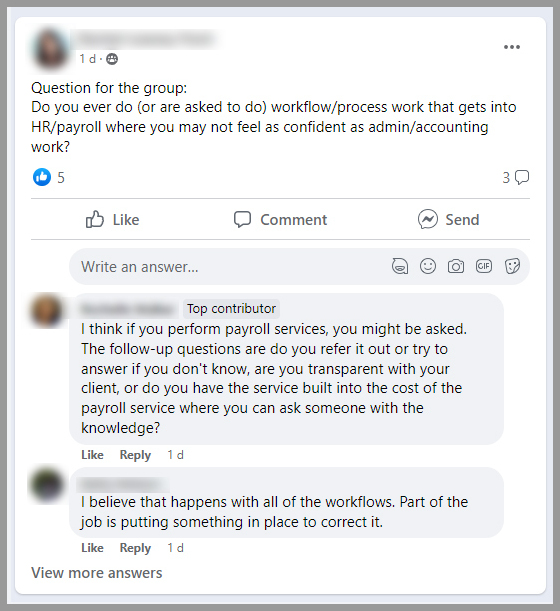 The cool thing about this group is the members are more likely to elaborate, adding more weight to their recommendations or feedback.
Kellie is also very active in the group, eager to share not only her industry expertise but also practices for health and well-being.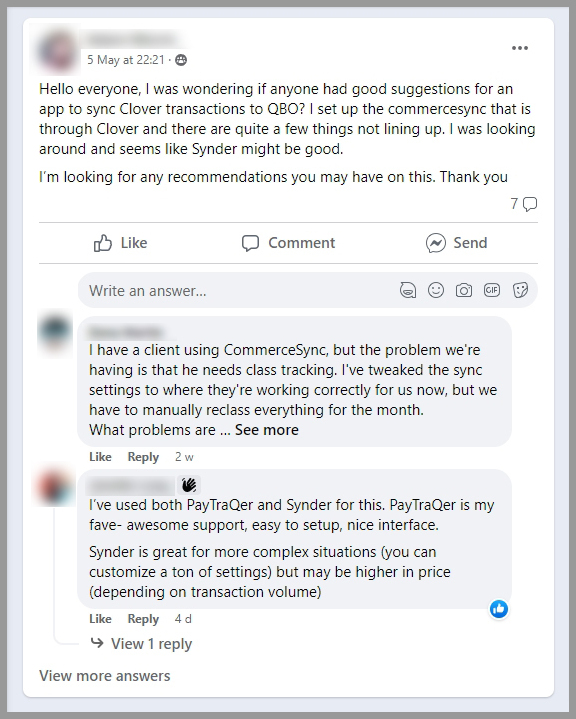 Browsing through the posts can be fun and significantly helpful, but Facebook's user interface may limit your overall experience. Since there are no subsections and almost all posts are in the Discussions tab, you have to search manually for certain topics.
Still, I believe The Workflow WateringHole is one of the best accounting forums due to its engagement rate and response quality.
5. Proformative
As one of the most active communities for people in the accounting industry, Proformative boasts a myriad of decision-makers to talk shop.
Since its inception in 2009, it has steadily gained recognition as a premier digital space for finance professionals.
At Proformative, moderation is conducted diligently to ensure a productive and respectful community.
Dedicated moderators review posts, comments, and discussions before they appear on the site, preventing spam and presenting more meaningful exchanges.
This approach also allows Proformative to regulate the topics, which can be advantageous in certain scenarios.
To help you get a feel for this accounting community, these are some of the subjects you'll encounter: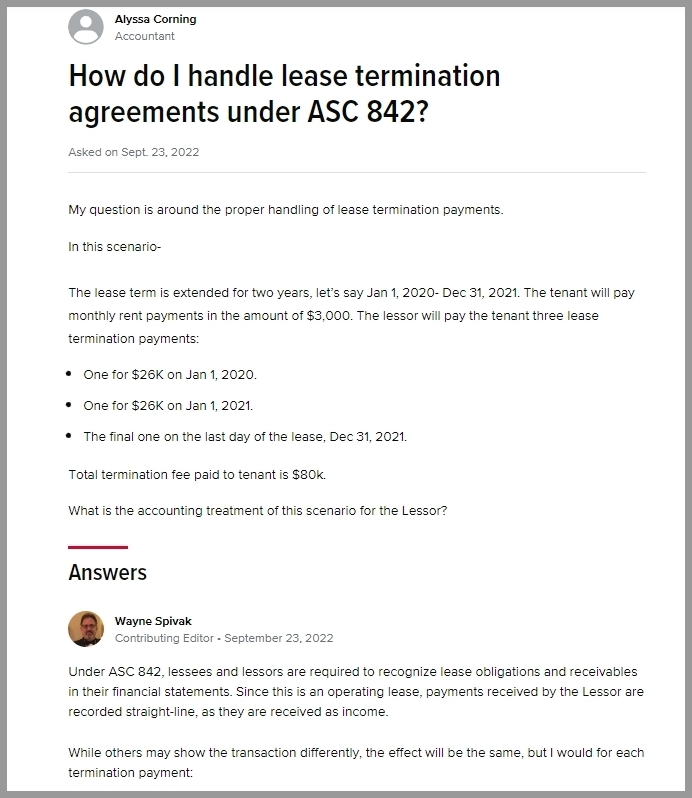 The answers you can get are very detailed and comprehensive, which is always a good thing as some questions can be tricky.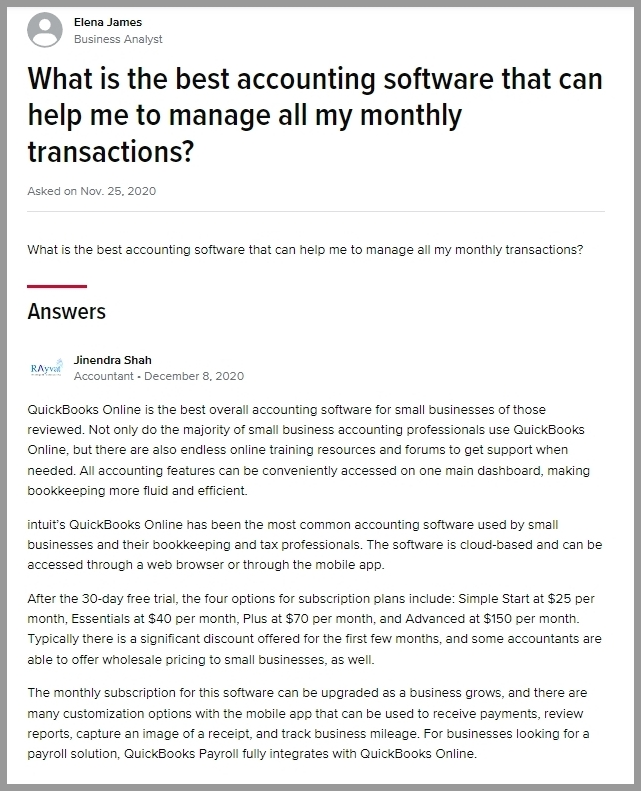 However, one thing worth pointing out is the long gaps between each post. Also, you have to email Proformative to submit questions, and I'm not sure how they filter which ones to feature. These factors can be counter-productive if you want answers as soon as possible.
6. Intuit Accountants Community
Intuit is one of the household names in the accounting software industry, with its series of tools that made a lot of processes easier to accomplish.
Under its Learn & Support tab, users can post different types of queries in the community section, specifically in the Practice Advice space.
What I like about this platform is you can check out what's popular, recent, and unanswered posts easily. It also features Top solvers and Popular authors, which can be helpful especially if you're getting different responses from several members.
As you can see, discussions are not limited to discussing Intuit software products.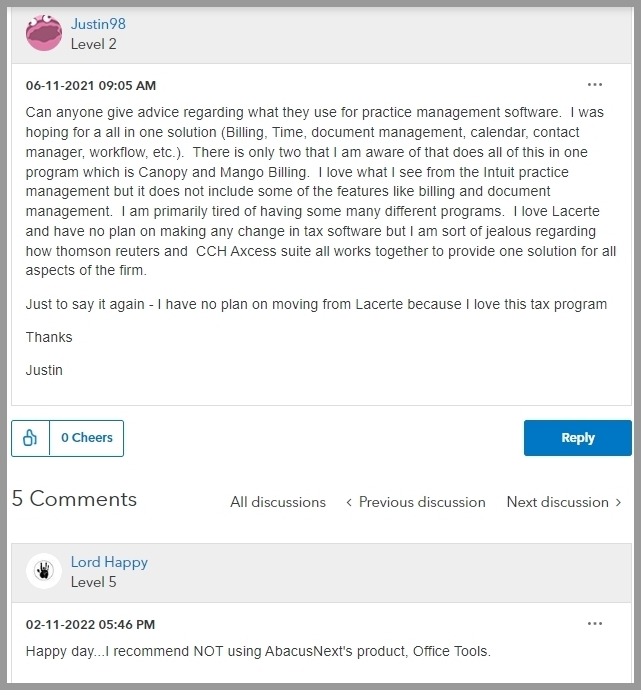 There is seemingly not much moderation, meaning members can post just about anything, from CPA exam questions to technical queries.
Tax professionals may want to check out the other Intuit Accountants Community subsection, Tax Talk.
7. Realize
Realize is an online community dedicated to accounting professionals seeking a platform for discussions, sharing insights, and gaining industry knowledge.
With a focus on fostering high-quality, meaningful interactions, Realize provides a space to connect, collaborate, and learn from one another in a supportive environment.
Founded by Jason Staats, Realize offers its members a number of privileges, including access to a wide range of educational materials, engaging discussions, and keeping up-to-date with the latest industry trends.
It also provides opportunities for networking, career advancement, and professional collaboration through webinars, career advice, and peer connections.
Realize's design is quite different from other forums. Its topics, subsections, and tools are arranged neatly on the left, which is quite similar to most email platforms or Slack.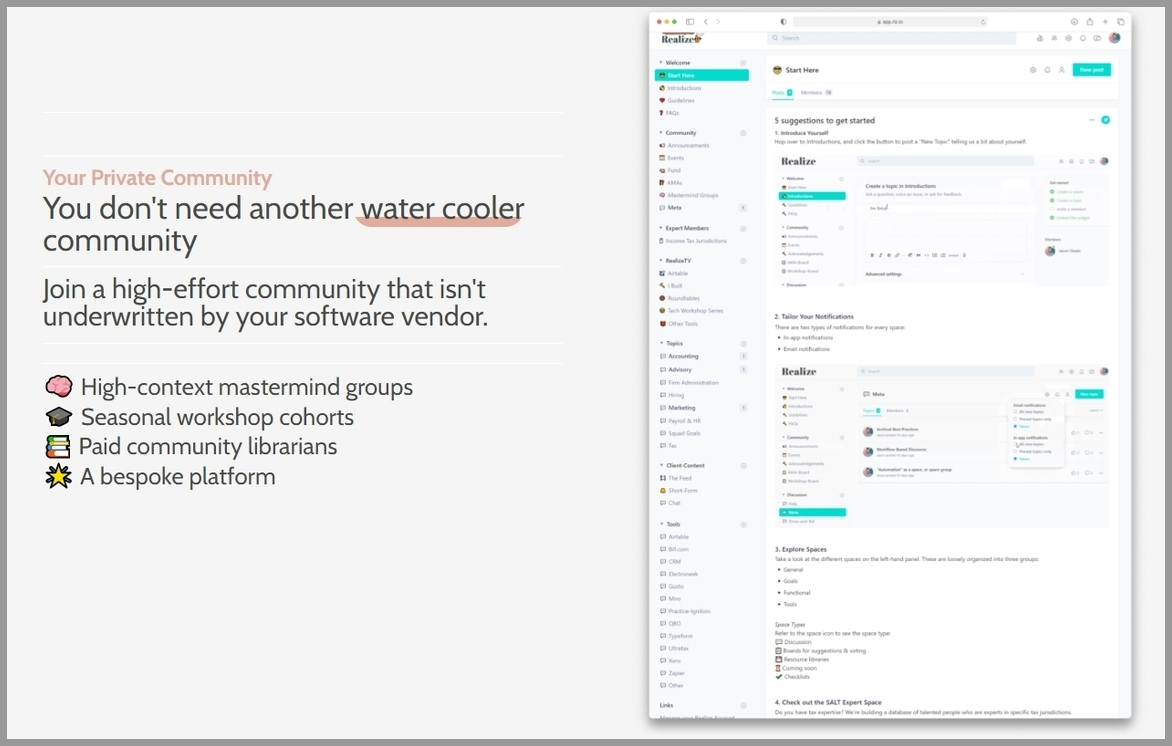 Realize's community is somewhat equally divided between individuals managing accounting practices and those overseeing tax practices.
They are capping membership at 500 members.
8. #TaxTwitter
Yes, Twitter is not just for debating with other people about politics, sporting events, and entertainment. With its vast user base and real-time nature, Twitter has become a hub for professionals to connect, share insights, and participate in industry discussions.
Within the Twitterverse is an active community where professionals use the #TaxTwitter to exchange ideas, debate tax regulations, share updates, and offer valuable insights.
You'll also encounter those who are not only sharing their expertise but also their challenges, experiences, and questions related to the industry.
From discussing complex tax scenarios to seeking advice on client management, #TaxTwitter is a reliable hashtag that you can use to connect with other professionals within the platform.
9. LinkedIn Groups
LinkedIn has evolved into a comprehensive platform for professionals, encompassing more than just showcasing accomplishments and work history.
It has transformed into a hub for networking, exploring career prospects, and engaging in collaborative learning with peers and subject matter experts across diverse fields.
There are several LinkedIn Groups dedicated to the accounting industry, but for this article, we'll have two of the most active communities within the site.
Accounting | Finance | Professionals
This LinkedIn group is a global community of accounting and financial professionals, with over 370K members.
It describes itself serves as a platform for the exchange of knowledge, engaging discussions, networking opportunities, job exploration, comments, and access to a wide range of information resources relevant to the field.
Accounting | Finance | Professionals is owned by Aldin Beslagic, who has about 33K Followers on LinkedIn. There are several active contributors, which usually share upcoming events, job postings, productivity tips, and motivational posts.
CPA Trendlines
With over 51K members, CPA Trendlines is one of the more prominent groups for accounting, tax, and financial professionals on LinkedIn.
Founded by Rick Telberg in 2008, it has provided members with the latest in actionable intelligence, insights, data analysis, and other helpful information related to the industry.
You can also get advice on different topics, including hiring practices, how firm owners transform their business models, and tech suggestions.
CPA Trendlines also features news about corporations, financial institutions, and other updates that may concern business owners and industry professionals.
10. Quora Accounting
Quora is a widely-used online global platform that allows users to engage in a diverse range of discussions, ask questions, and receive answers from a large community of users.
Established in 2009, it has become a popular hub for seeking knowledge and participating in information sharing. Its accounting topic is just short of a million followers.
Here is a screenshot of the discussions posted on this platform:

At a glance, its aesthetic and interface are similar to Reddit's, but there are a few key differences.
Quora is primarily focused on questions and answers. You'll also see Q&A on Reddit but it also features memes, opinions, and other types of content.
Unlike Reddit, Quora encourages users to create profiles with their real names and credentials, aiming to build a community of knowledgeable individuals.
Another distinction is that Quora also allows users to follow specific topics or individuals to curate their feeds.
11. AAT Discussion Forums
The AAT Community Forum serves as an interactive hub for members of the Association of Accounting Technicians (AAT) and individuals interested in UK accounting and finance.
This forum provides a platform for discussions, knowledge-sharing, and networking among accounting professionals, students, and industry experts primarily for those who are based in the UK.
Members often seek advice and share their experiences on accounting principles, taxation, financial reporting, bookkeeping, and auditing. You'll also find discussions on career development, exam preparation, and study tips.
Despite the forum discussions being primarily UK-centric, it garners a decent level of activity with numerous members actively contributing their insights, sharing their expertise, and supporting one another.
This engagement rate reflects the forum's effectiveness in fostering a collaborative environment and offers some value as a platform for accounting professionals.
12. The Forums SA
If you're based in South Africa, you should check out this online accounting forum. It's a hub of discussions ranging from tax intricacies and financial reporting challenges to auditing practices and bookkeeping tips.
From discussing the latest updates in accounting standards to sharing practical tips for effective financial analysis, the forum provides a platform for SA-based professionals to exchange insights, seek guidance, and learn from one another's experiences.
Additionally, members explore topics related to career development, professional certifications, software and technology in accounting, and industry trends.
The diversity of discussions ensures that there's always something valuable for accountants at all levels of expertise and across various sectors.
13. TaxPro Talk
This forum on TaxProTalk is a vibrant online community where tax and accounting professionals gather to exchange insights and knowledge.
The General Accounting sub-forum focuses on accounting-related discussions, providing a platform for members to share their expertise and seek advice from others in the field.
Topics range from accounting principles and practices to financial reporting and analysis.
Whether it's discussing the latest accounting standards, sharing tips for streamlining bookkeeping processes or exploring tax implications on financial statements, the forum offers a valuable space for professionals to stay updated, collaborate, and enhance their accounting knowledge.
Joining TaxProTalk allows you to tap into the collective wisdom of experienced accountants, engage in meaningful discussions, and expand your understanding of accounting principles and their practical application.
14. The Entrepreneurial Accountants
You may want to check out this Facebook group I found. It has a good following (over 14,000 members) with several contributors. Since it's a private group like the WorkFlow WateringHole, you have to be accepted as a member before you can see the posts.

Founded by Ben Brown, this group was formed to help connect self-employed accountants and help them attract quality, high-paying clients while building highly-profitable firms.
The focus of the community is to guide accountants, bookkeepers, and tax professionals in effective marketing and sales strategies.
Here is an example of the discussions inside The Entrepreneurial Accountants community:

Members of this group also have access to Ben's Firm Builder Challenge Course. If you're looking for a community that offers high-quality discussions and impressive engagement rates on Facebook, The Entrepreneurial Accountants should be on your list.
Which Accountants Forums Do You Find Worth Joining?
I hope this list has given you an idea about accounting forums and the value it can bring to your firm.
Which forums do you think are the best for your specific needs?
Is there anything you disagree with or would like to add?
Have I missed any noteworthy forums that deserve a mention?
Share your thoughts and recommendations by leaving a comment below!
---
Ryan Lazanis
Hi! I'm Ryan. I'm an entrepreneurial CPA that founded Xen Accounting, a 100% cloud-based accounting firm, in 2013. Following its acquisition in 2018, I started Future Firm to help accountants fast-track the growth of a modern, scalable accounting firm of their own.
Here are 3 ways for how you can fast-track your own modern, scalable firm:
1) Get my weekly newsletter that gives tips & trick to scale your firm.
2) Subscribe to the Future Firm Accounting Podcast for bite-sized, actionable lessons on how to scale your firm.
3) Join Future Firm Accelerate, my online coaching program that helps modern firm owners quickly scale.