Many have relied on Canopy as their accounting project management solution to streamline their firm's financial operations.
In this review, let's find out what sets Canopy apart from the others, spotlighting its functionalities, benefits, drawbacks, and more.
Let's get into it!
Table of Contents
What is Canopy Accounting Software?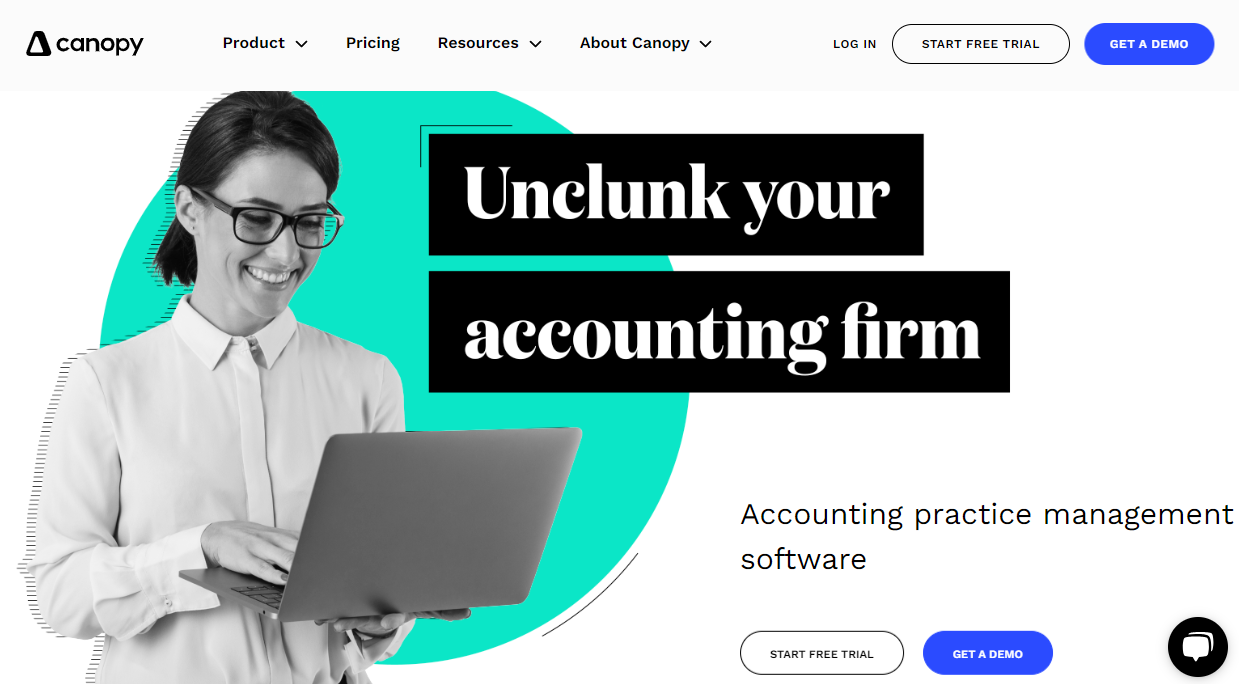 The accounting practice management software by Canopy is designed to streamline and consolidate essential functions for accountants.
With its number of functionalities, the tool allows an accounting professional or firms to select and integrate necessary components in their operations, ensuring seamless compatibility with other software solutions.
Canopy Features
As one of the most comprehensive practice management software solutions out there, Canopy has more than enough features to take your productivity to a whole new level.
Overview
There are 6 primary components offered by Canopy. You'll have client management, document management, workflow, time and billing, payments, and insight features.
After you log in, you have a prominent display of the tasks you're working on, and the tools arranged vertically on the left side. Refer to the screenshot below: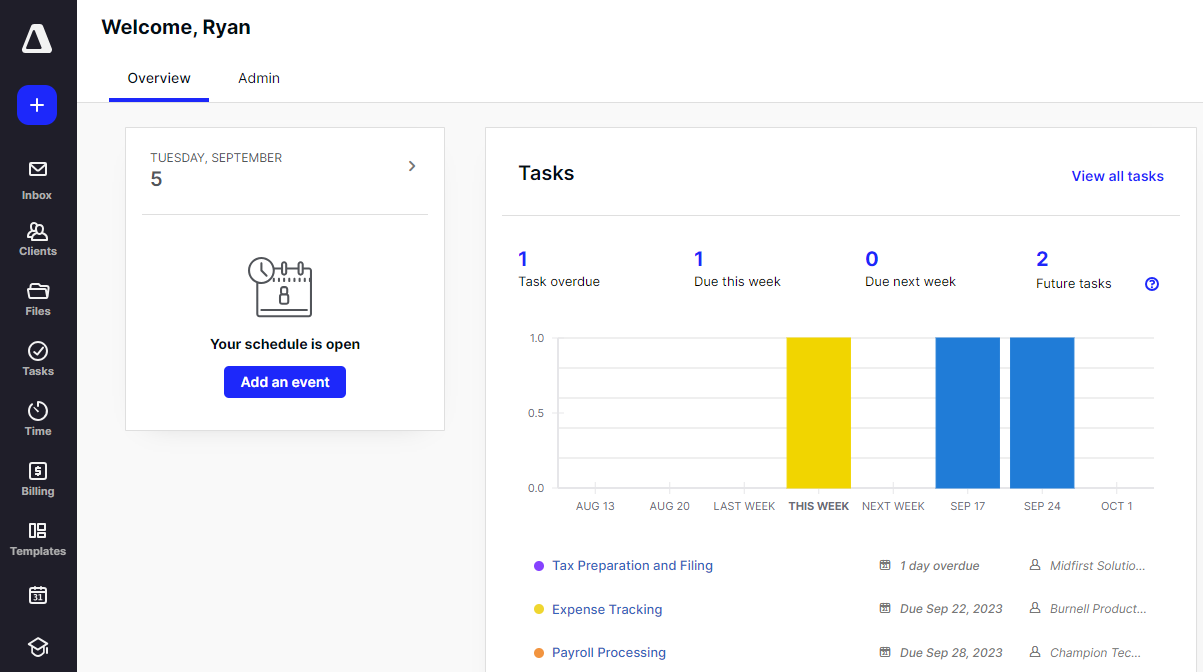 Plus icon: Lets you create a new task, add a new client, send email, etc.
Inbox: Contains the messages of the email account you added
Clients: Where you can see your clients and access to client portal
Files: All the documents uploaded and received are available here
Tasks: Go here to manage your jobs, engagements, and tax organizers
Time: Records duration for the tasks and provides reports
Billing: For invoices, statements, and payments
Templates: Create new templates for client requests, tasks, notices, and more
Calendar: Displays your tasks for the day
Help Center: Knowledge base, tutorials, and other guides are here
One of the first things that pop out in the overview is the "Add an event" button right beside the tools.
Adding a schedule in Canopy is easy, but you need to connect your Microsoft or Google calendar first to make it work.
The other tab on the home page, Admin, gives you a bird's eye view of your tasks and contact growth, which provides growth rate percentage and net new contacts.
Task & Project Tracking
Canopy's Task Management Software Tool is designed to help your team members enhance their productivity, contributing to revenue growth with its streamlined workflows.
You have access to features such as assigning team members to client records, setting deadlines, tracking task progress, and facilitating internal collaboration for upcoming tasks.

Similar to other project management tools, you can arrange your tasks in order of priority, from high to low, ensuring that the most critical items are addressed first.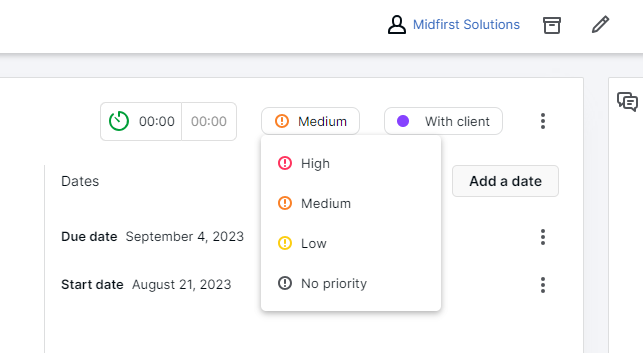 By prioritizing tasks from high to low, you can effectively manage your workload, allocate resources efficiently, and achieve your project goals more effectively.
Adding subtasks is intuitive. Scroll down on a task and you'll see the Add a Subtask button. Fill out the details, add as many as needed, and you can get something like this: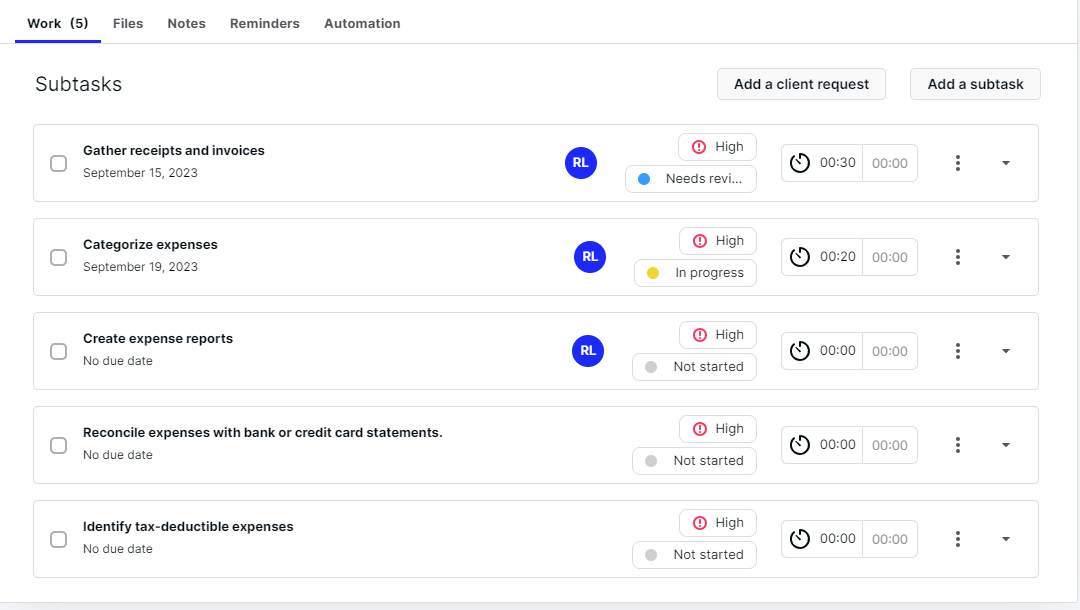 The convenient part is that you don't need to open each subtask to adjust their priority and status. Just click on the buttons and set the appropriate labels fast and easily.
Collaboration
One of the more prominent features of Canopy that any accounting and tax professional will appreciate is its collaboration features. You can communicate with your team members effectively without relying on an external tool.
For every task, the comments tab is available on the right side of the workspace.
Using comments is the quickest way to collaborate. It allows you to tag your team members and start a thread immediately.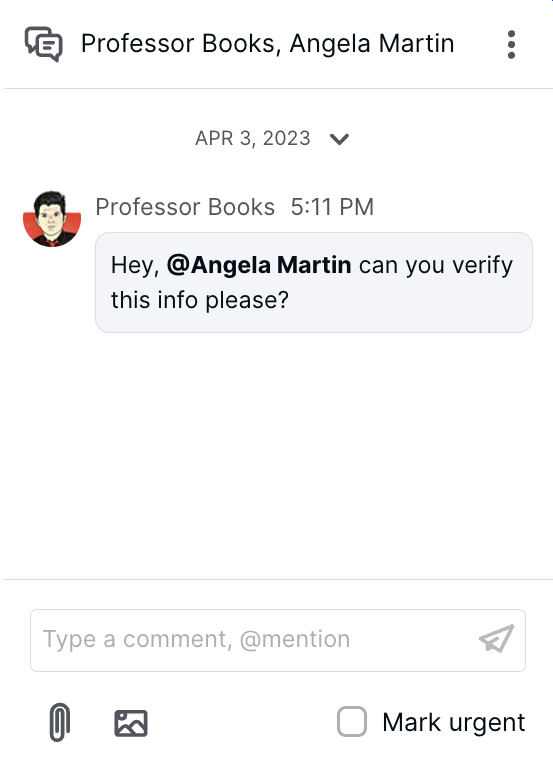 To tag and mention other team members or teams, use the @ symbol. Start typing a colleague's name to filter or click from the list. You can also @mention teams, if you want to call their attention all at once instead of tagging each member individually.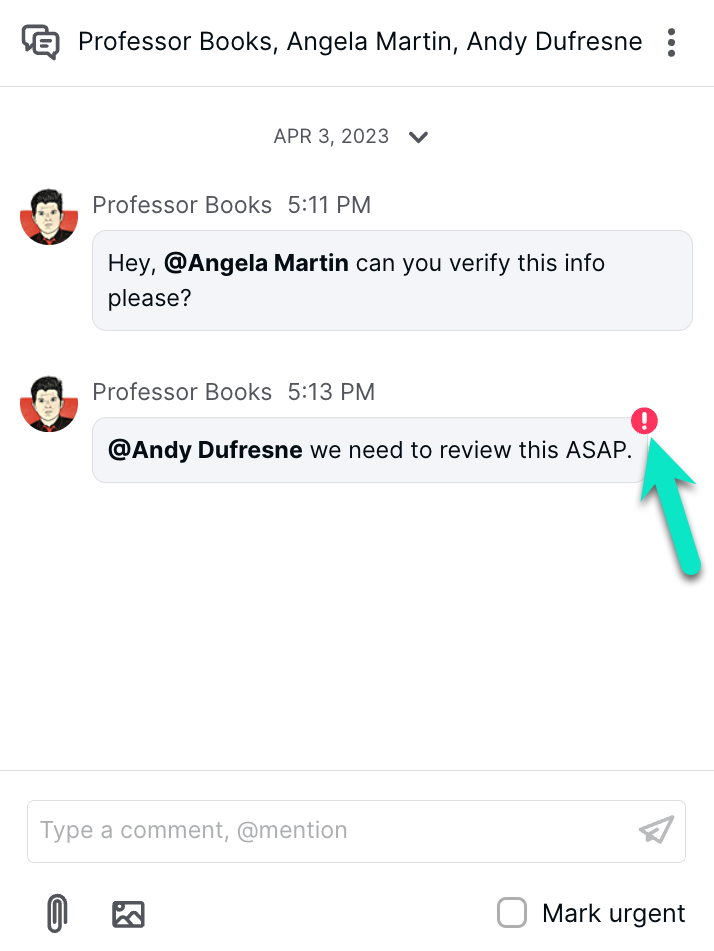 If necessary, you can mark a message as urgent using the "Mark Urgent" option located below the send button. This action adds an exclamation icon to your message and notifies all team members in the chat thread.
As you can see on the previous screenshots, the paperclip icon is available just below the type box. Use this to upload documents and share files internally.
Email
Once you synced your inbox in Canopy, you can immediately send email correspondence to your clients and other parties inside the app.
For added convenience, you can apply a template to an email by clicking the icon pointed below.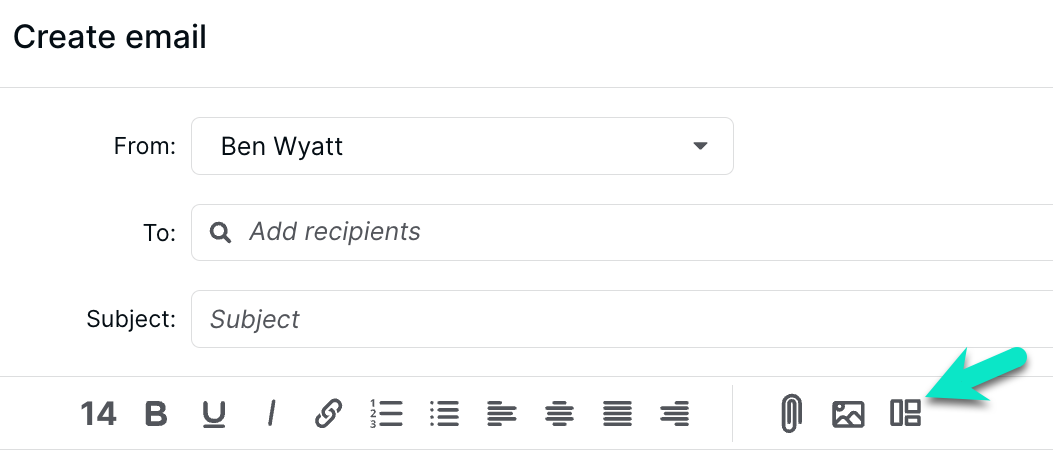 Applying an email template to a bulk email is also possible. Just go to your Contact List and click the checkbox for the clients required.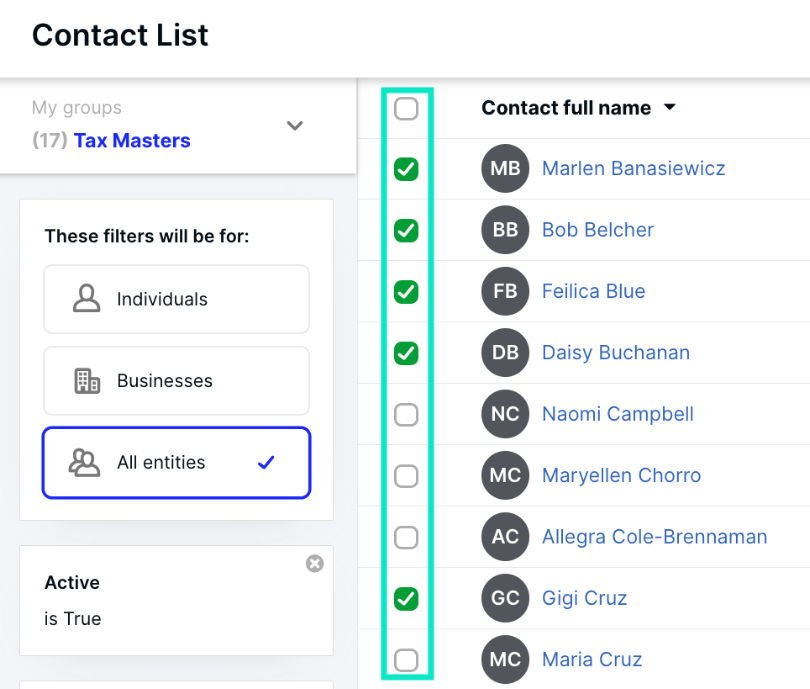 One of the recent additions to Canopy is the AI Assistant. Powered by ChatGPT, enables users to compose emails effortlessly by inserting keywords and adjusting the message's formality level with a single click.
It also facilitates message rephrasing and provides quick spelling and grammar corrections.
To use this feature, click the AI Assistant icon and select the action you need.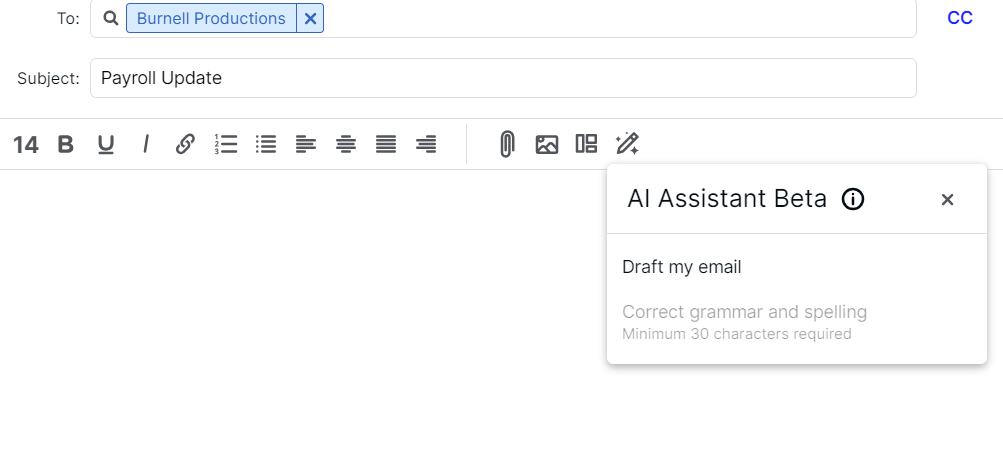 If you want a particular writing style and tone, you have some options to choose from to make your email more appealing.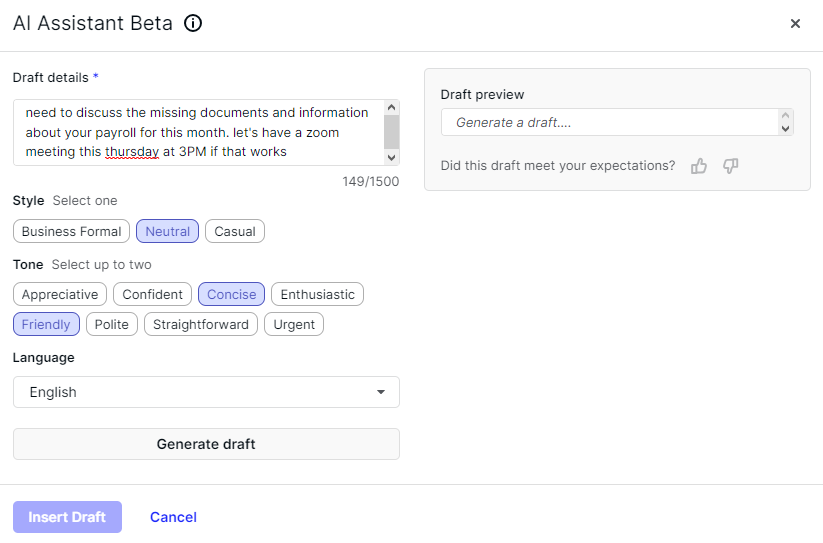 You can regenerate the draft as many times as you play around with different styles and tones. After you're satisfied with the result, you can also use the "Correct grammar and spelling" if you want to be more thorough.
Notes
Files can be conveniently annotated directly within Canopy, allowing users to add notes, comments, and even images to documents without the need for external tools or software.
To begin, simply go to the File Previewer of the necessary files you'd like to put notes on and click on Annotate.

There are several tools available in annotating your documents. Some of them are:
Note: Make a note or comment
Free Text: Add a text box
Highlight: highlight text
New Image: Insert a new graphic
Eraser: Delete any annotations you made
Check: Place different colored check marks
Putting notes on tasks is also available in Canopy. To put notes, open the task, scroll down, and click on the "Notes" tab. After hitting Add note, a pop-up window will appear and you can start filling out the details.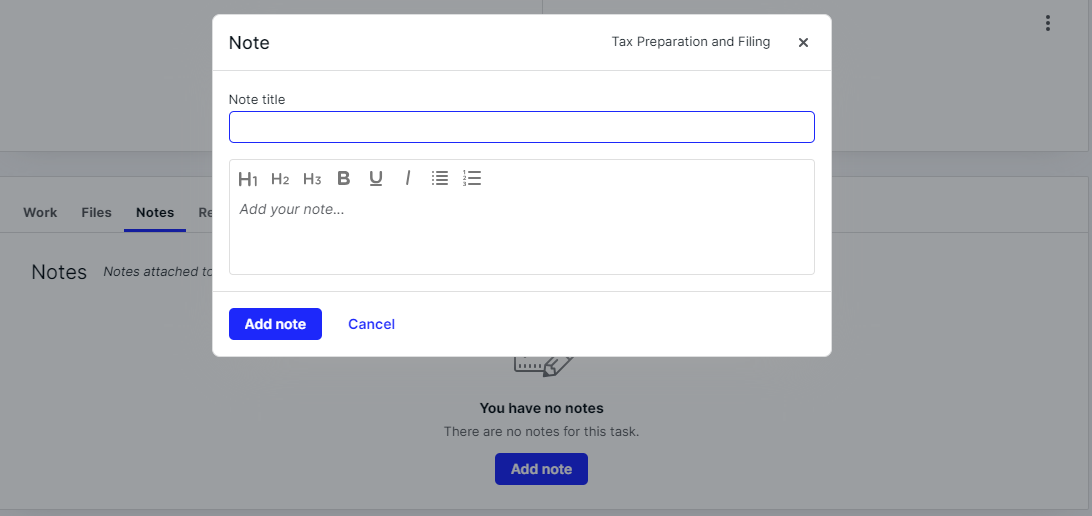 With these features, it's easier to work asynchronously, facilitating better collaboration and communication among team members, even when they are not working in real time.
Notifications
Canopy offers three notification types in your settings:
Banner Notifications: Slide in from the top-right corner and link to the associated content
Badge Notifications: Appear as counters on your profile picture, with details accessible in the notification center
Email Notifications: Sent to your registered email address, including a link to the specific content
To ensure privacy and data security, Canopy designed the contact-related notifications to be visible only to relevant team members.
What I like is that you can customize the notifications based on your personal preferences.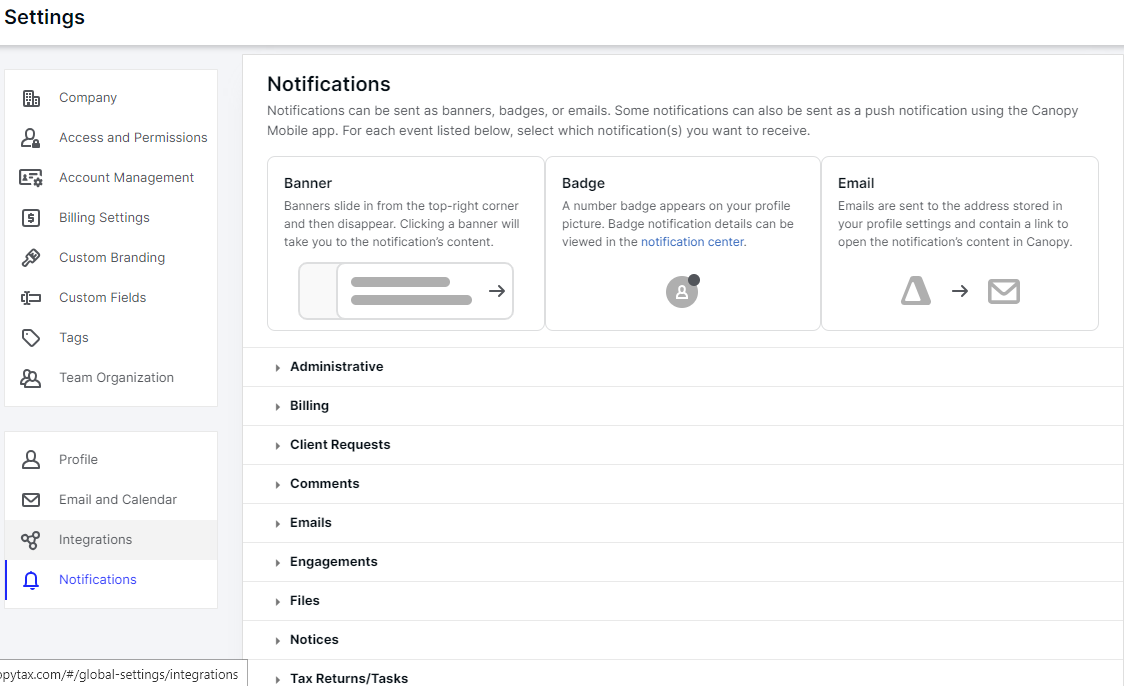 For instance, you don't want to receive email notifications for non-urgent comments and prefers to only get them while you're using Canopy.
You can do that by unchecking these boxes:

This level of customization you to stay informed in a way that suits your workflow and prevents unnecessary interruptions, helping you work more efficiently and effectively.
Client Collaboration
The Canopy client portal provides a number of great features that will help you streamline communication, exchange information, and more.
Inside the app, clients can easily access and electronically sign the documents you've prepared for them. They can securely send signed documents without using external apps.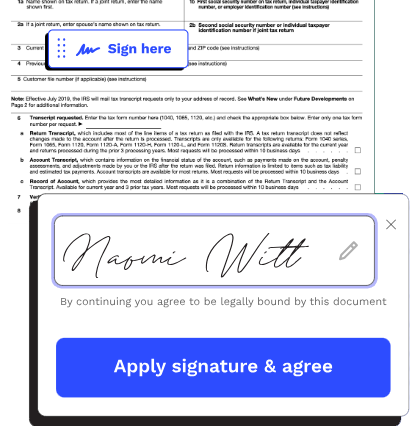 The document automatically opening to the precise location for their signature, simplifying the process and cutting down on time-consuming steps.
Clients can capture document images using their phone's camera. Canopy converts these images into standardized PDF files, removing the need for screenshots, photographs, or unconventional file formats.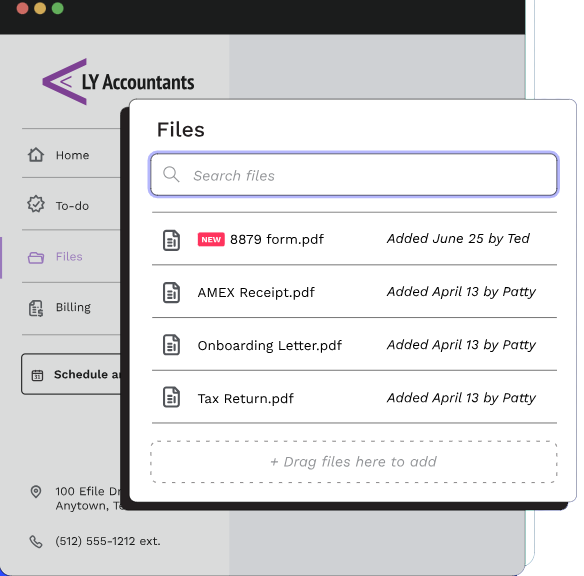 Furthermore, they can easily upload files individually or in groups from their preferred mobile device, computers, or popular cloud storage platforms like Google Drive.
Requesting files is also made easier with Canopy. This client portal enables you to send comprehensive to-do lists that clearly outline the specific documents required and their respective deadlines.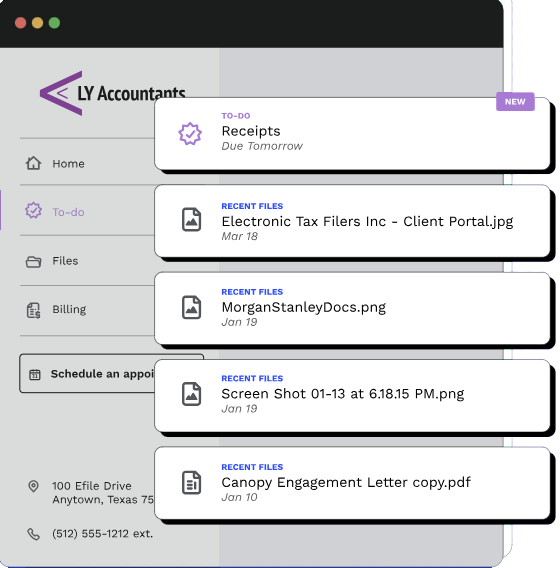 You won't have to send reminders if you haven't received anything as the app is programmed to take care of reminders automatically.
Time & Billing
Canopy has a dedicated accounting time and billing software to make tracking and management easier.
The platform allows users to send both one-time invoices and recurrent invoices, including those scheduled for future dates.
This allows you to be more flexible to different billing scenarios and business requirements.
Automated invoice reminder is also available, which can free you from pestering your clients about unpaid invoices.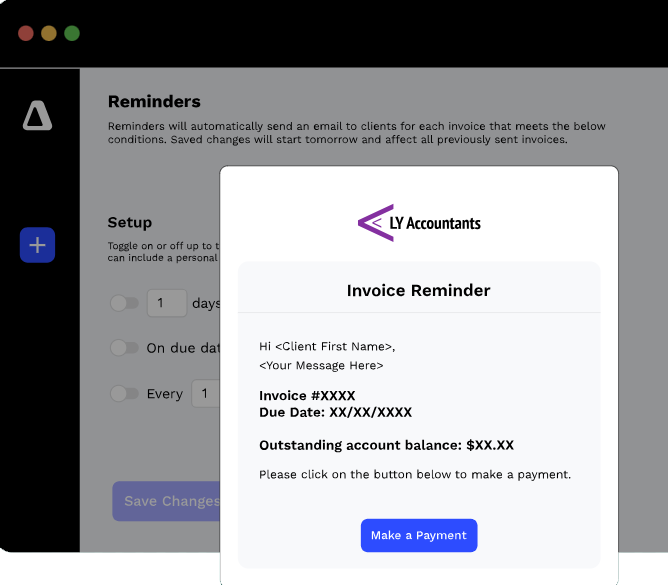 With this feature, you can make your follow-ups crystal clear. You can also send a courteous email reminder before, on, or after a specified number of days from the invoice due date.
Reporting
Check out time and billing reports with just about two clicks. Select the tab and choose Reports, which will have these options.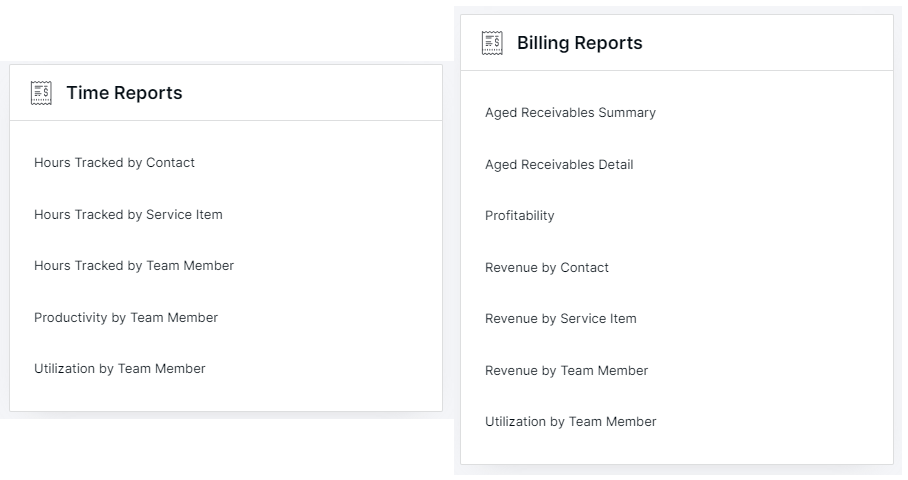 Certain reports offer the option to display a breakdown based on various time intervals and date ranges.

You have the option to export reports as a CSV file, which provides added flexibility in managing and analyzing the data.
Recently, Canopy added more features to provide a more comprehensive reporting experience.
The Liveboards feature allows you to create a collection of Answers that update in real-time. You can utilize tabs and custom tags to enhance the organization of your data.
To get richer insights, you can add a custom formula. You can perform mathematical functions, check for and replace null values, or incorporate IF-THEN-ELSE logic. In case you didn't notice, it's similar to what you can do in Excel.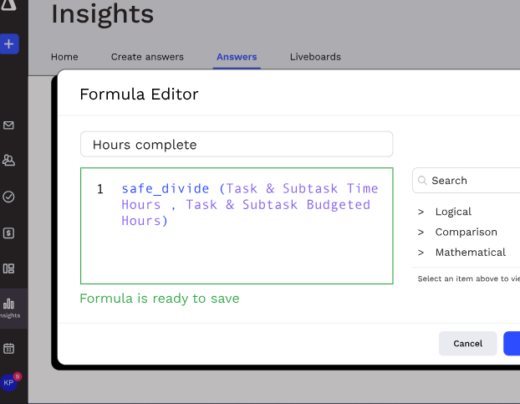 With Canopy, you can send reports automatically to relevant parties with either a CSV or PDF file containing the Liveboard visualizations that are being shared.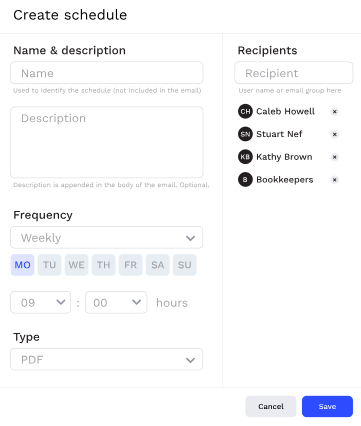 Additionally, Liveboards are convertible to presentations without much effort. Each visualization will have its own slide, making it easier for everyone to understand the numbers you're sharing.
Integrations
There's a decent number of apps you can integrate with Canopy to make your tasks more streamlined. Here are some tools you can incorporate with it:
Gmail
Google Calendar
Microsoft Outlook
Odrive
QBO
IRS
Intuit ProConnect Tax
Public API
Zapier
It's also recommended to download the Canopy Desktop Assistant. Whether you're working tax professional's office or at home, it allows you to facilitate tasks such as uploading documents, scanning files, and transferring data to new file structures.
Additionally, it allows for seamless file editing in preferred applications, with updates automatically synchronizing with files stored within the platform.
User-Friendliness
I think one of the greatest advantages Canopy tax offers is its intuitive workflows and overall user-friendliness.
If you're unsure of how to set up something, click on this icon at the bottom of the toolbar to open the Help Center.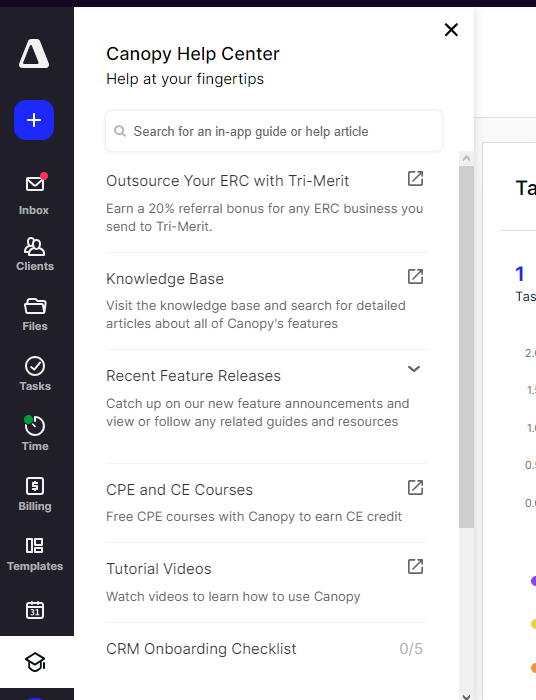 From there, simply type in the feature or topic you'd like to learn more about, and it will display the most relevant guides and resources to assist you in understanding and configuring that specific feature.
Canopy Accounting Software
Canopy allows you to tailor the package to fit your firm's specific requirements.
The good thing about the free trial is that it's limited by time, so you're free to fully utilize its features without having to worry about expiry. Canopy also won't require you to input your credit card details, which simplifies the trial process and ensures a hassle-free experience.
For the Practice Management Suite, here is a breakdown:
Document Management: $40 per user/per month
Workflow: $35 per user/per month
Time & Billing: $25 per user/per month
Additional services are also available. You can opt for Transcripts and Notices, Tax Resolution, Collection Cases, and KBA ESignature for an extra cost.
Accounting Software Alternatives
As comprehensive as Canopy appears to be, it's still worth checking out other practice management software before you decide. With that in mind, here are a few alternatives to consider:
Karbon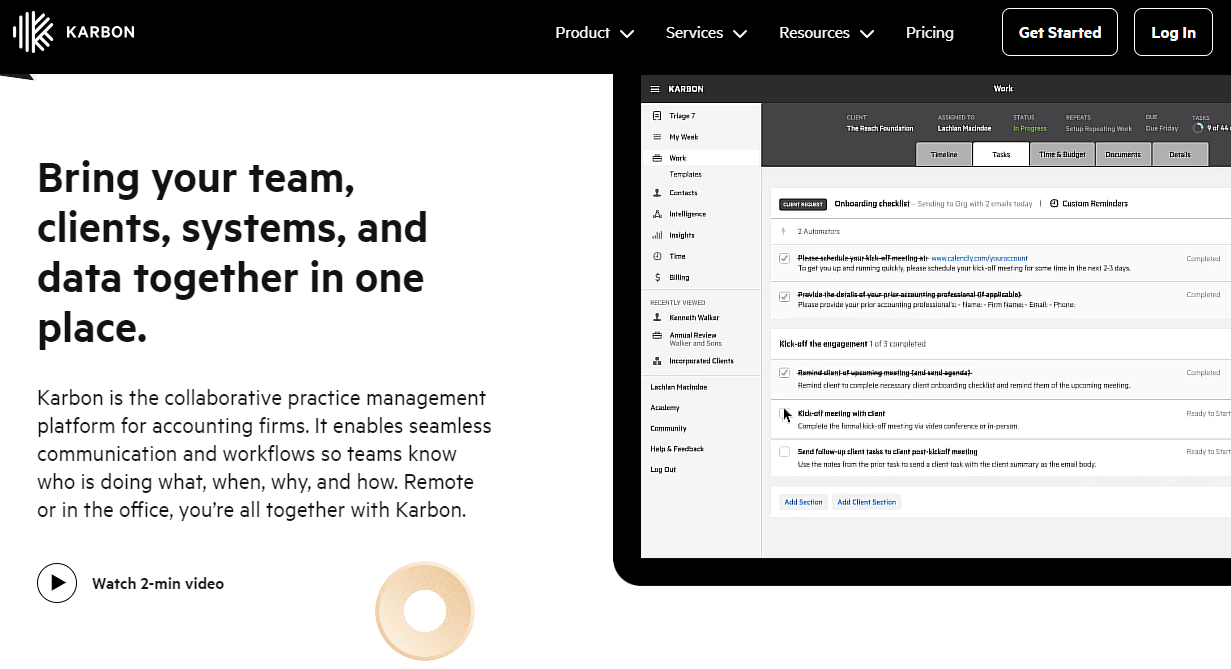 If you prefer to have Kanban workflow dashboards and workflow template library, Karbon is the better option as Canopy doesn't currently offer such features.
Karbon also has the edge in advanced analytics, as it can analyze firm profitability, track employee performance, uncover workflow bottlenecks, and create capacity planning dashboards.
Check out our detailed review of Karbon here.
TaxDome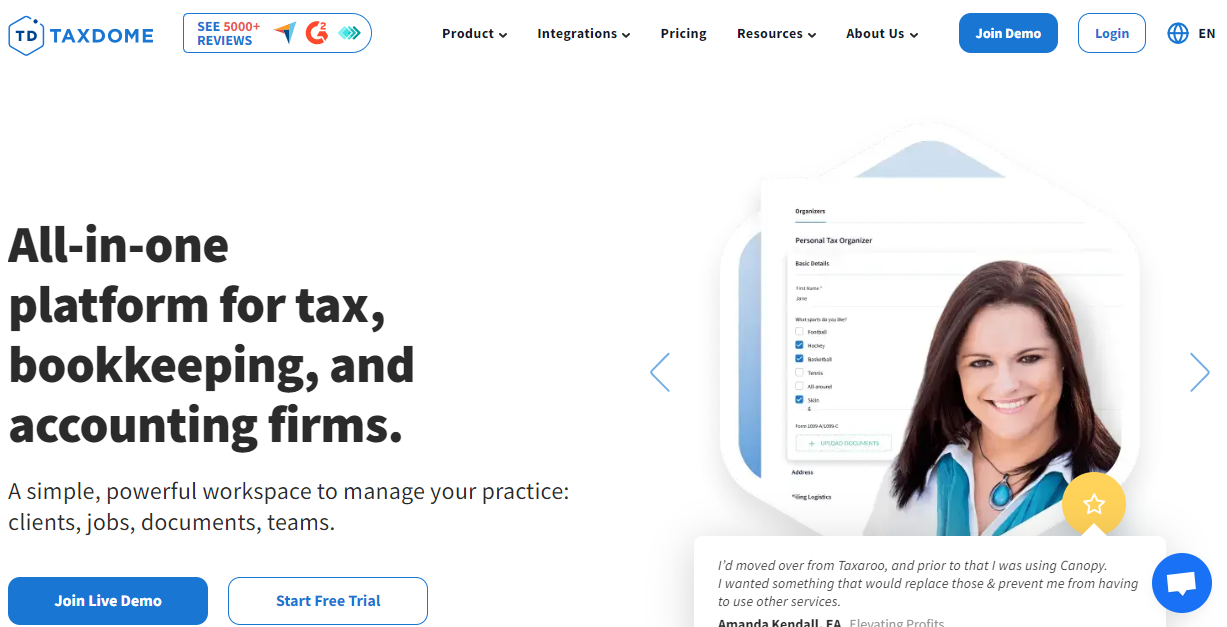 While Canopy and TaxDome share several features, there are a couple of aspects where the latter is superior.
You can have unlimited contacts, storage, and projects with TaxDome compared to Canopy where you have to pay more if you want to have more capacity.
TaxDome also has a Website Builder feature, which is convenient for firms who have yet to design their website.
Financial Cents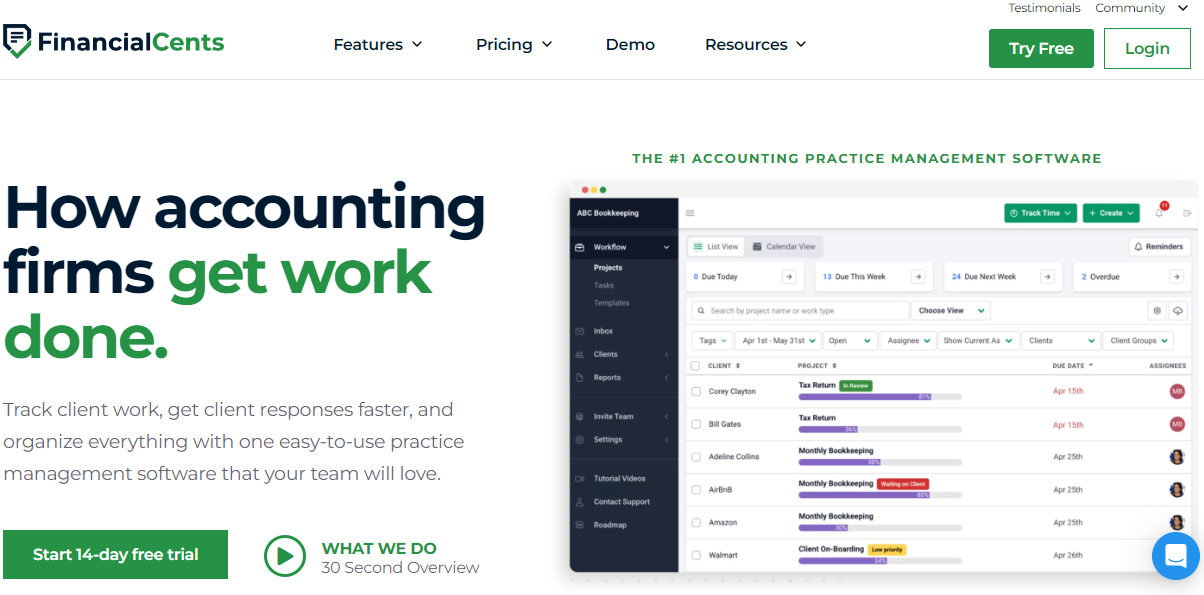 One of the most popular accounting practice management software by firms is Financial Cents. It can do many of what Canopy has to offer but at a lower price.
I also think that Financial Cents has better capacity management features. For example, you can set and limit work hours for certain team members, which is something Canopy can't do.
Conclusion
Canopy Accounting offers a comprehensive suite of features designed to streamline your firm's operations, enhance productivity, and simplify your practice management.
I'm curious about what you think about Canopy.
Can you see your firm using this tool?
Which features of Canopy do you think are impressive?
Feel free to share your thoughts below!