Karbon practice management software helps you manage your accounting firm's client work, planning, and communications all in one place.
In this in-depth review, we'll take a look at what makes Karbon stand out from other workflow management software and its features.
Let's go!
Table of Contents
What is Karbon?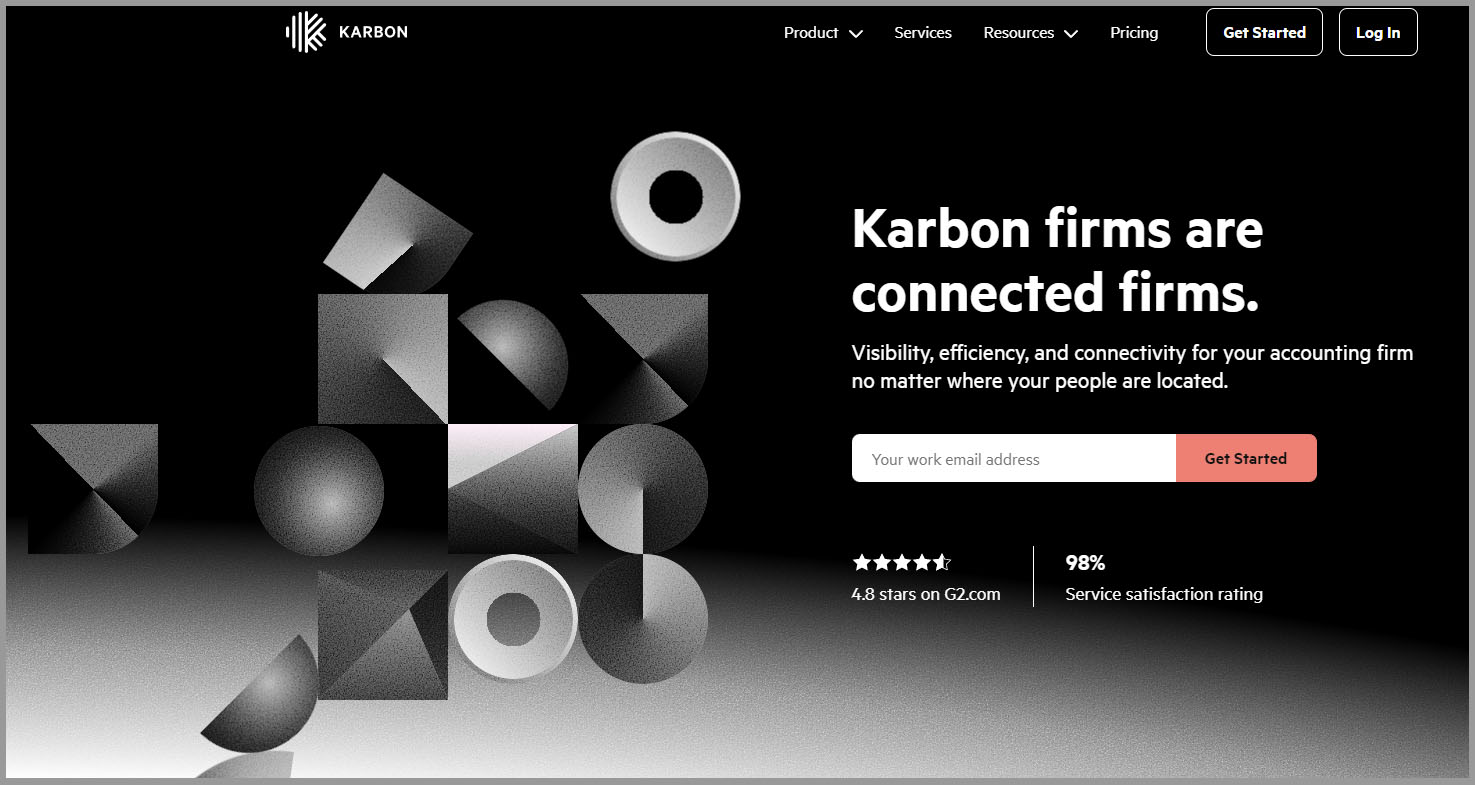 Karbon is a collaborative practice management platform developed for accounting firm owners. It helps you manage your firm's planning, client work, and communication, standardizing common processes.
You can manage your accounting firm from a single consolidated platform with Karbon.
Karbon Features
Karbon sets itself apart from other similar platforms by offering a unified workspace that integrates client work, communication, and workflow planning into a user-friendly interface.
It clear overview of work progress, allowing team members to easily determine the job's current stage and next steps.
Some of the key benefits that make Karbon stand out include:
Advanced Collaboration Tools: Karbon provides for teams to collaborate effectively by centralizing client communication, work, and files.
Task Management: Karbon offers a system that allows users to create, assign, and track tasks across the entire team.
Workflow Automation: Karbon's automation features allow users to streamline repetitive tasks and workflows, freeing up time for more valuabe work.
Email Integration: Karbon integrates with popular email providers, allowing users to manage all their client communication in one place.
Time Tracking: Karbon offers a robust time-tracking system, making it easy to track billable hours and monitor team productivity.
An Overview of Karbon
As soon as you log in to Karbon, you'll be faced with their standout feature, Triage: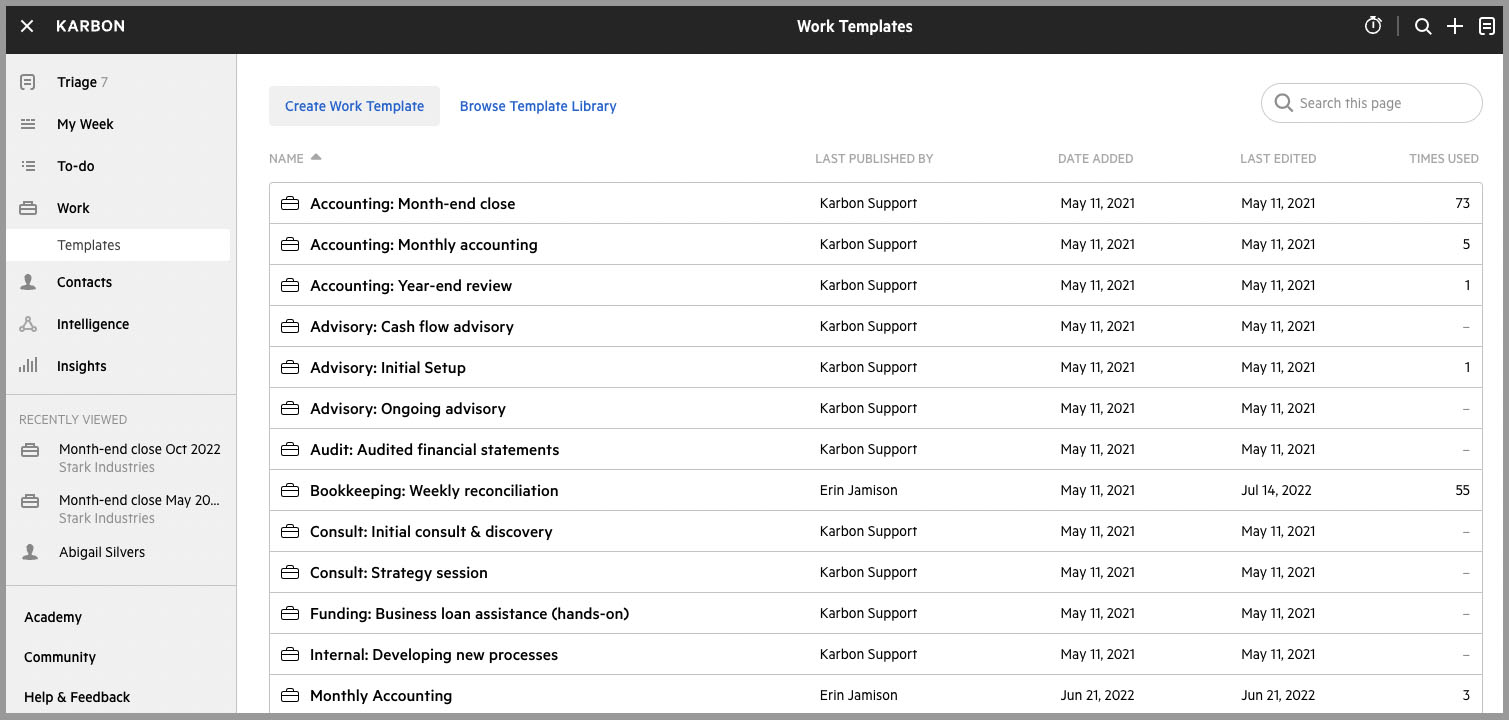 Triage centralizes your emails from Gmail or Microsoft 365, enabling you to respond to them from a single location and delegate email tasks to team members.
Another one of their signature features includes setting reminders for tasks, deadlines, meetings, and other events.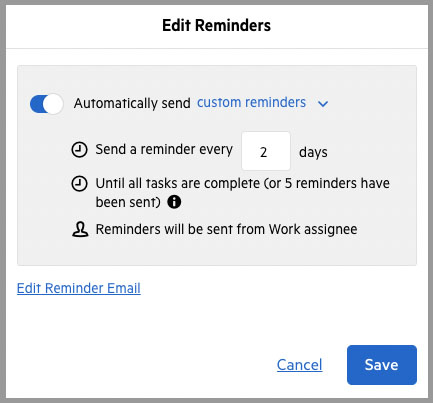 You can set reminders for yourself, assign them to your team members, or even assign them to clients.
Here's a brief overview of other essential features and elements, including:
Assignments: Items assigned by an individual and used by a manager
My Week: integrates with calendar (Google or Outlook), and is a planning tool for work
Work: This area contains all projects which consist of emails, notes, tasks, documents, client work, etc.
Contacts: This is the CRM part of Karbon
Insights: The real-time reporting area of the cloud-based app
Time: Estimate time and budget, and track actuals including utilization
Billing: Ability for customers to invoice and accept payments via Karbon
What's neat is that Karbon comes pre-loaded with a variety of workflow templates for you to choose from instead of creating your own from scratch: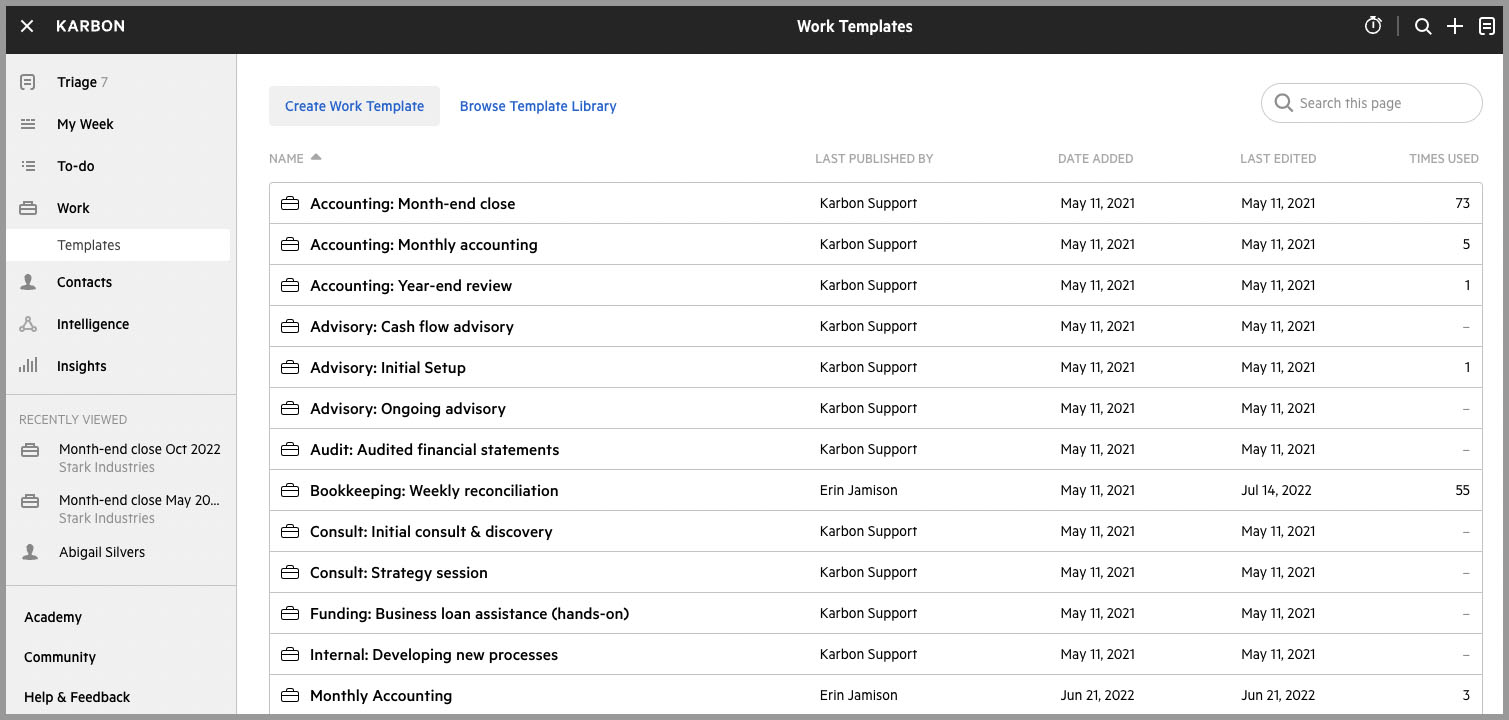 Karbon also provides a Workflow feature which are a visual representation of the status of a particular job or client work in a Kanban board view.
This provides a clear and concise overview of the progress of each task, enabling team members to easily identify which stage a task is at and what needs to be done next.

Task & Project Tracking
If you're considering Karbon to manage your firm's work, modifying the work templates and workflows to match your specific requirements should be your priority. In one of my podcasts, I discussed the importance of using accounting software to track, delegate, and deliver work on time.
This can be done by going to the settings section.
Once you have selected a particular work template, you have the ability to personalize the process and automated features to match your firm's operations.
For instance, consider a section of the "accounting month-end close work" template: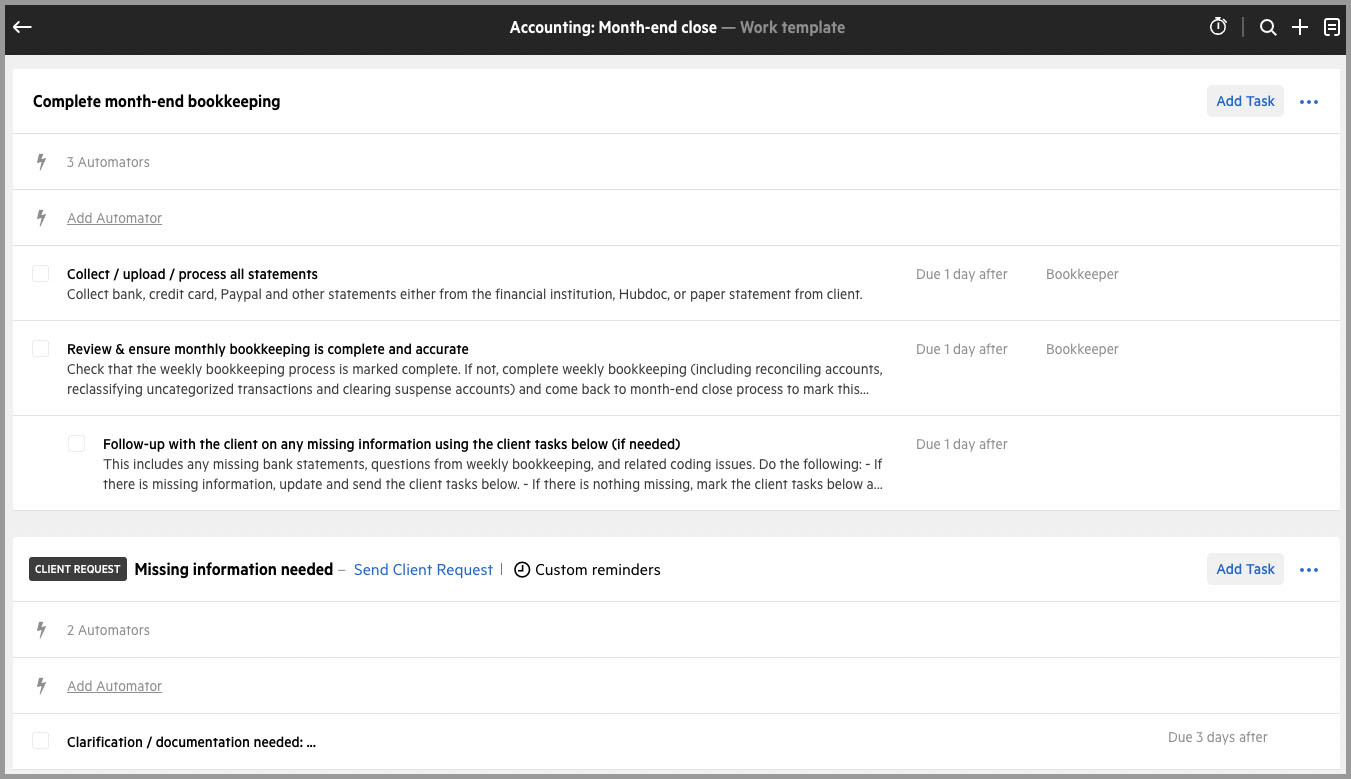 You can tailor the procedure according to your firm's practices, ensuring that it aligns with your business objectives.
Within this given template, I'm able to:
Modify the list of required tasks as needed
Assign each task to a team member or the client
Implement an automation tool to handle repetitive tasks
Set due dates for each task to meet the overall project deadline
The automator feature can assist in moving tasks through a predetermined workflow.
It's a great tool that helps me complete my work efficiently.
For instance, when I select the "complete month-end bookkeeping" task from the list, I can easily access an "add Automator" screen that appears like this: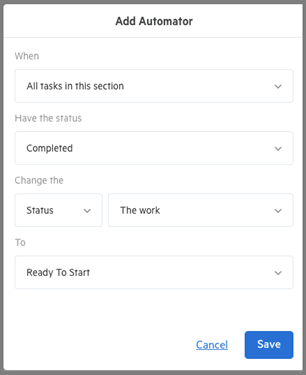 By using automators in Karbon, you can help push the work (in this case "Accounting: month-end close") into different:
Workflow statuses
Due dates
Assignees
One great thing about using Karbon is that it improves efficiency by automating tasks with workflow automation.
For example, when the bookkeeper finishes month-end bookkeeping, the automators can automatically reassign it to the manager, change the due date, and set the status to "in review," streamlining the process.
Below you'll notice that I have added the "Accounting: Month-end close" template to a Test client. And you can toggle between 3 tabs:
Timeline: This shows a timeline of all activity (tasks, notes, emails, etc) on the work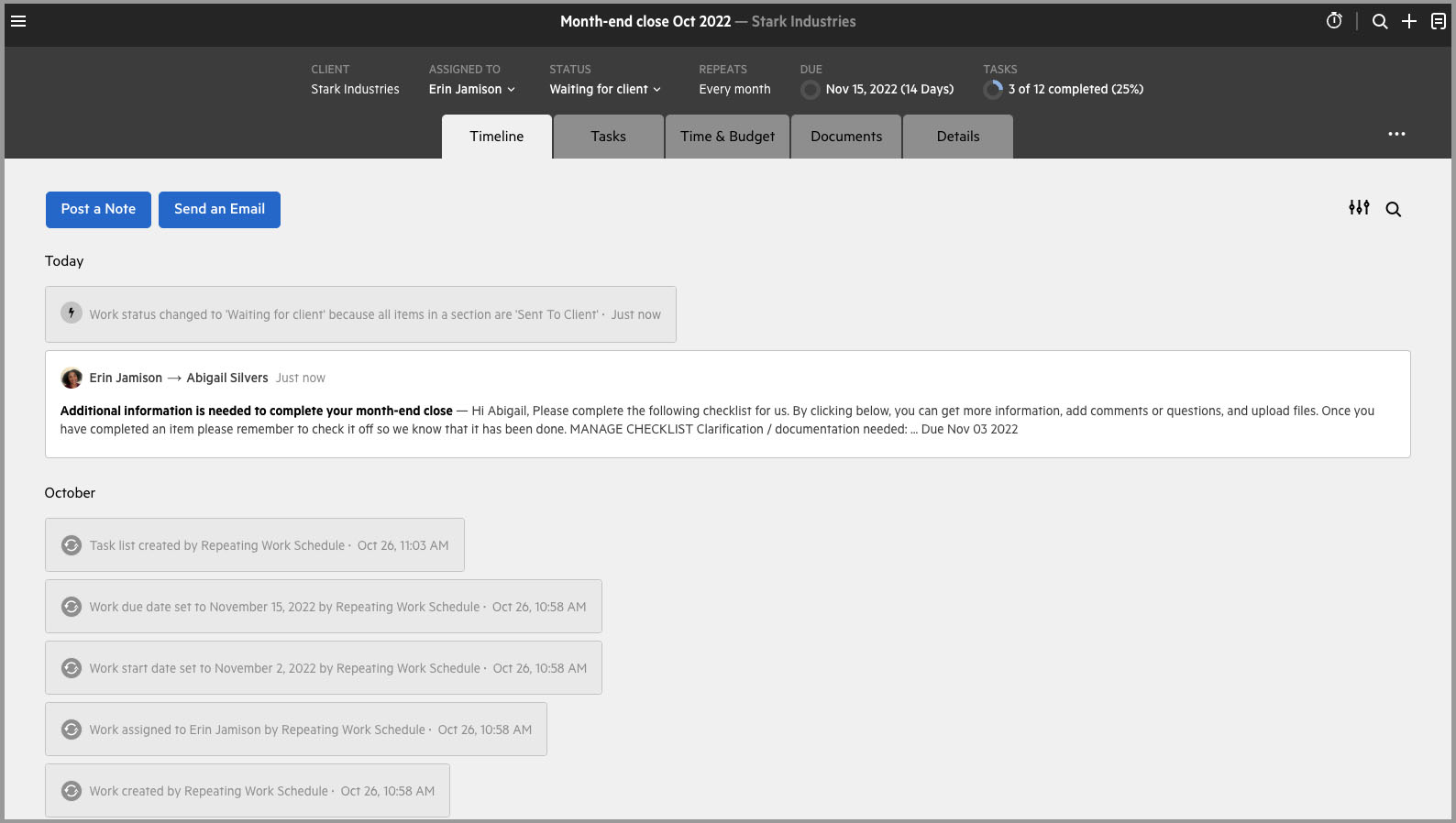 Tasks: This will show you the tasks outstanding on the work
Details: This will show you additional details about the work (ex: estimated time, people on the project, privacy settings, uploaded documents, etc)
By aggregating all work items, you can view all outstanding tasks at a firm level or different levels, using filters, in a list view:

Alternatively, you can also view the outstanding tasks in multiple Kanban views: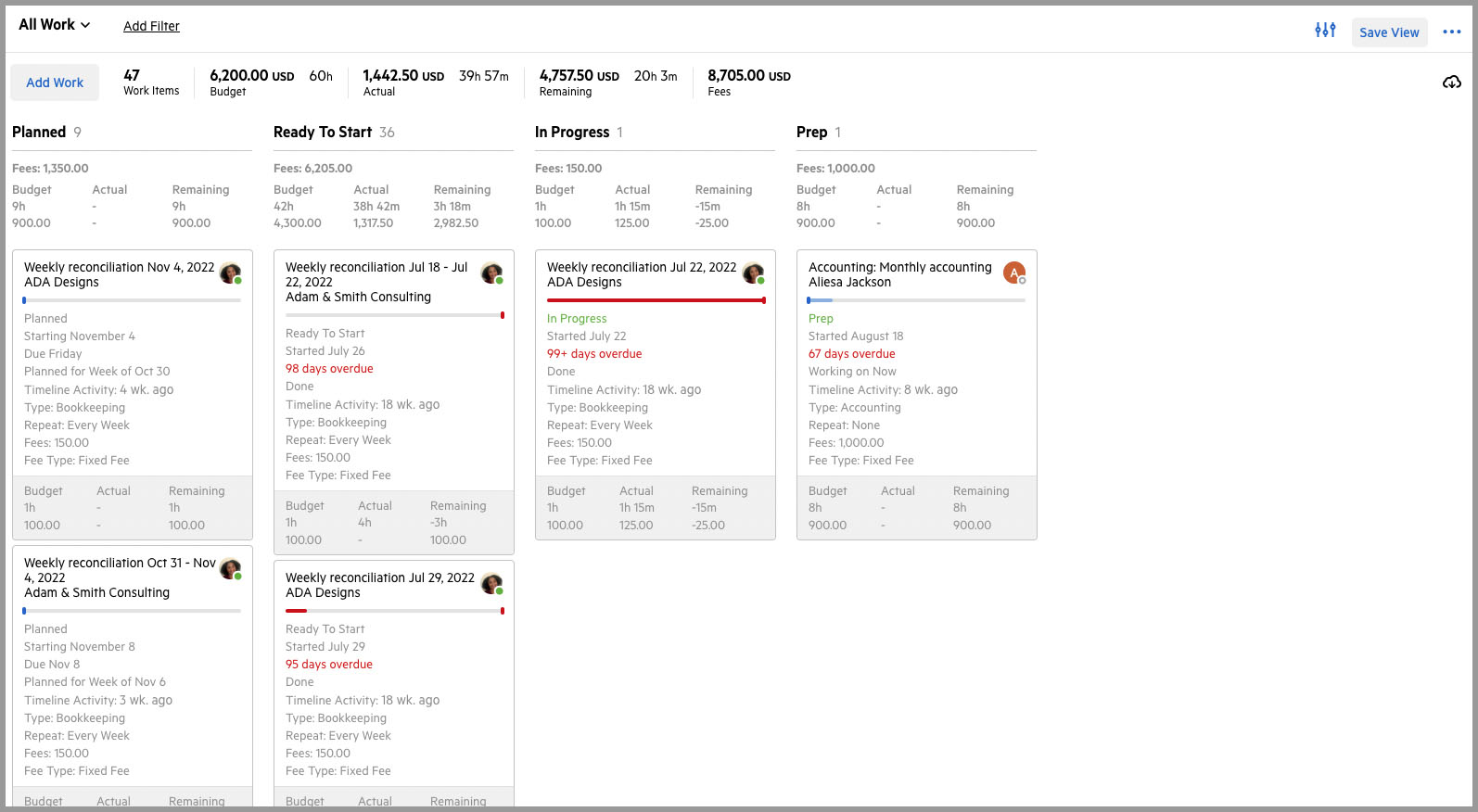 Keep in mind that with Karbon's automators, tasks on the Kanban board can be automatically moved from one column to the next based on specific actions.
Collaboration
Karbon does include some awesome collaboration features:
Client Collaboration: Karbon allows you to collaborate with clients in a single platform. You can share files, assign tasks, and communicate with clients in real-time.
Team Collaboration: Karbon makes it easy for team members to work together on projects. You can assign tasks, set deadlines, and track progress.
Time Tracking: Karbon not only allows you to track your team's time on projects but also facilitates scheduling data collection on the amount of work completed on each task.
Reporting and Analytics: Karbon provides detailed reports on your team's performance. You can see how much time is being spent on each task, and identify areas for improvement.
Integration with Other Tools: Karbon integrates with other tools like Xero, QuickBooks, and Microsoft Teams.
Karbon AI
With Karbon's AI feature, users can leverage the rich contextual information available within the platform to automate tasks and streamline workflows, ultimately improving the client experience.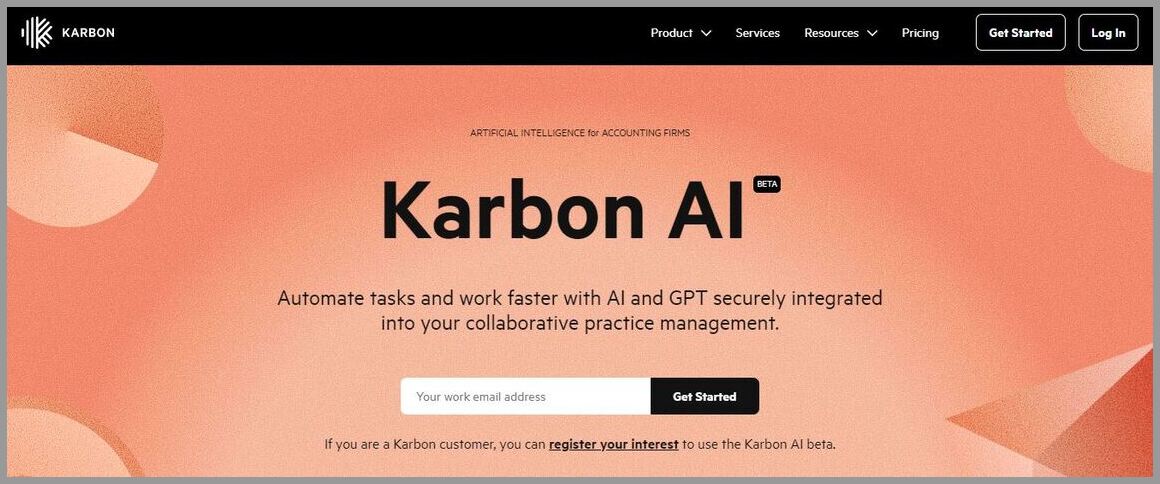 Here are some key features of Karbon's AI:
Create concise summaries of lengthy email conversations and internal discussions to quickly understand the key points and actions
Karbon AI generates an initial email draft using brief prompts or keywords, which you can review and modify before sending
Automate personalized client updates by setting a task to draft progress emails based on prompts you provide
Prioritize your inbox. Karbon AI assesses urgency, sentiment, and tone to show you which emails need your attention first.
Improve your writing. Improve outgoing client emails by making them more conversational, direct, apologetic, or neutral. With one click you can adjust the tone to suit the situation.
Time & Billing
Karbon has been improving its time tracking and budgeting features, which are particularly useful for accounting and tax practice management.
It's also possible that Karbon's capacity planning could become a strong competitor in the future with further improvements.
Reporting
Karbon also offers an "insights" tab that contains several widgets that provide key performance indicators (KPIs) in a few critical areas.
These widgets look fantastic, and some of them give KPIs on essential metrics such as the average number of times due dates have been changed, average days overdue, and percentage of work completed on time, among others.
In my opinion, these metrics are more relevant to firms than time-tracking metrics
Here's a quick snapshot:

Integrations
Karbon offers integrations with Ignition, QuickBooks Time, GoProposal, Liscio, & Zapier to automate common processes, and supports QuickBooks Online and Xero accounting software.
User-Friendliness
Karbon Practice Management is a user-friendly software designed for accounting practices. It's well-designed with polished features that strike a balance between simplicity and functionality.
It helps accounting firms to be efficient in managing their work with its smart set of features.
Karbon Pricing
With a monthly price of $99/month on their Business plan, pricing is not the cheapest but you generally get what you pay for.
I would recommend taking advantage of their free trial to see the unique capabilities that Karbon has to offer.

Karbon Alternatives
There are several alternatives to Karbon that are similar and can help accounting firm owners.
Financial Cents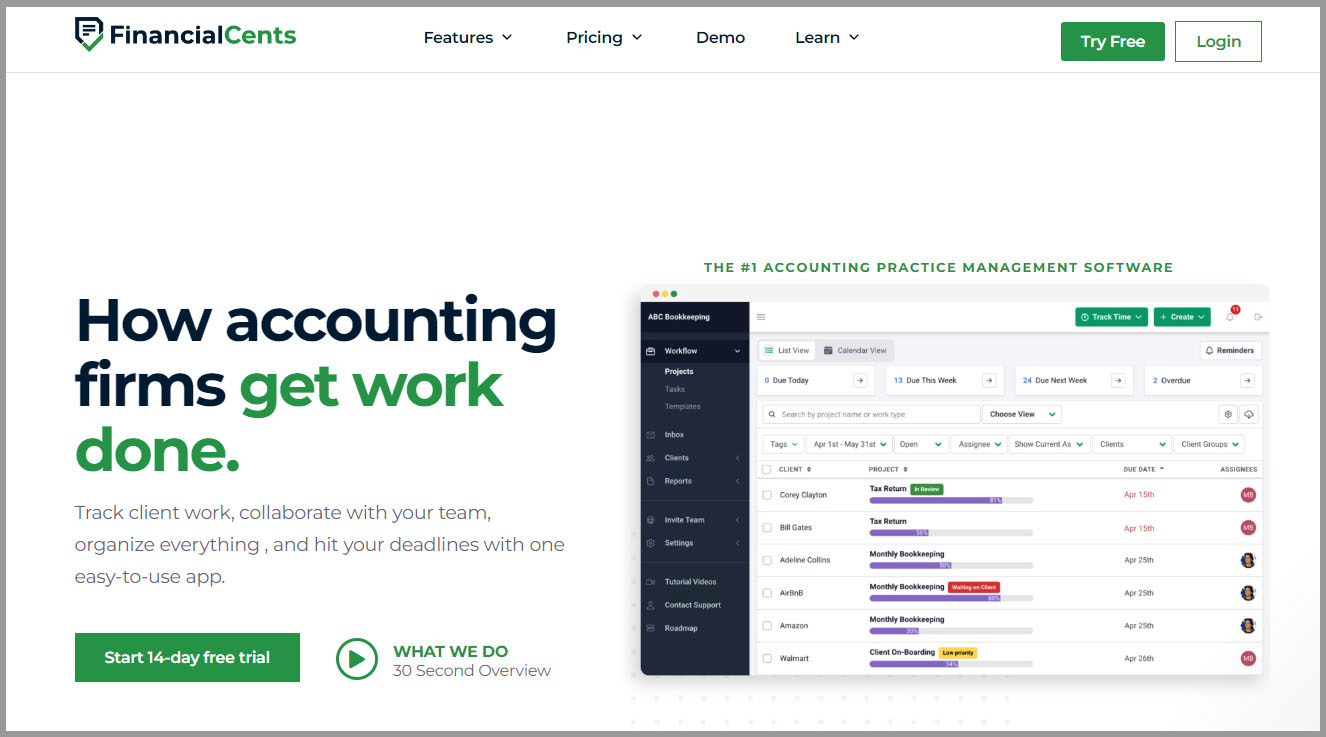 Financial Cents aims to streamline workflows and increase efficiency for accounting professionals.
While it shares some similarities with Karbon Practice Management,
Financial Cents may offer different features and user experiences, so it's important to compare and evaluate both options to determine which one better fits your needs.
Canopy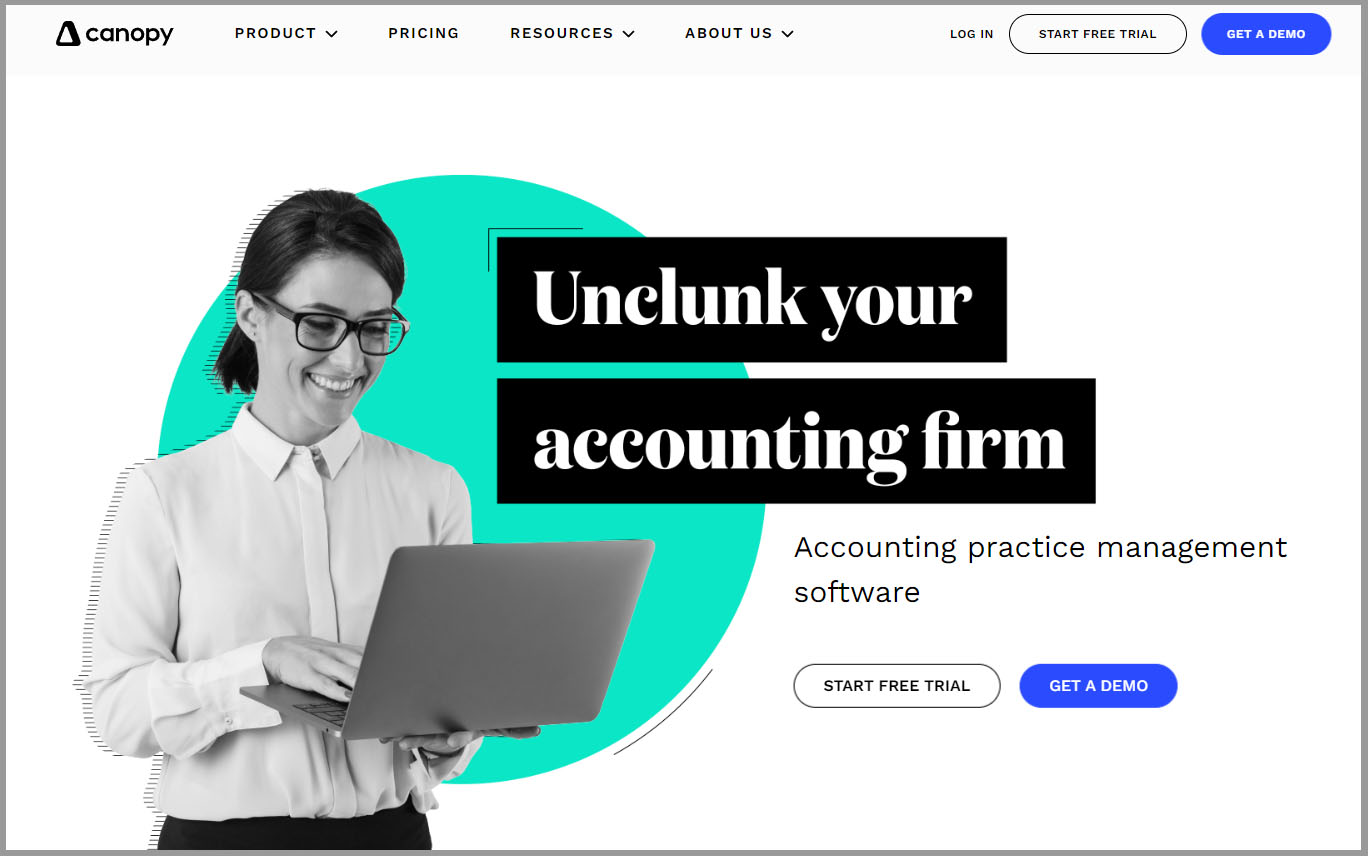 Canopy Practice Management is a cloud-based solution designed to help firms streamline their workflow, manage projects and tasks, and collaborate with team members and clients.
It offers features such as time and expense tracking, document management, automated billing and invoicing, and client communication tools.
TaxDome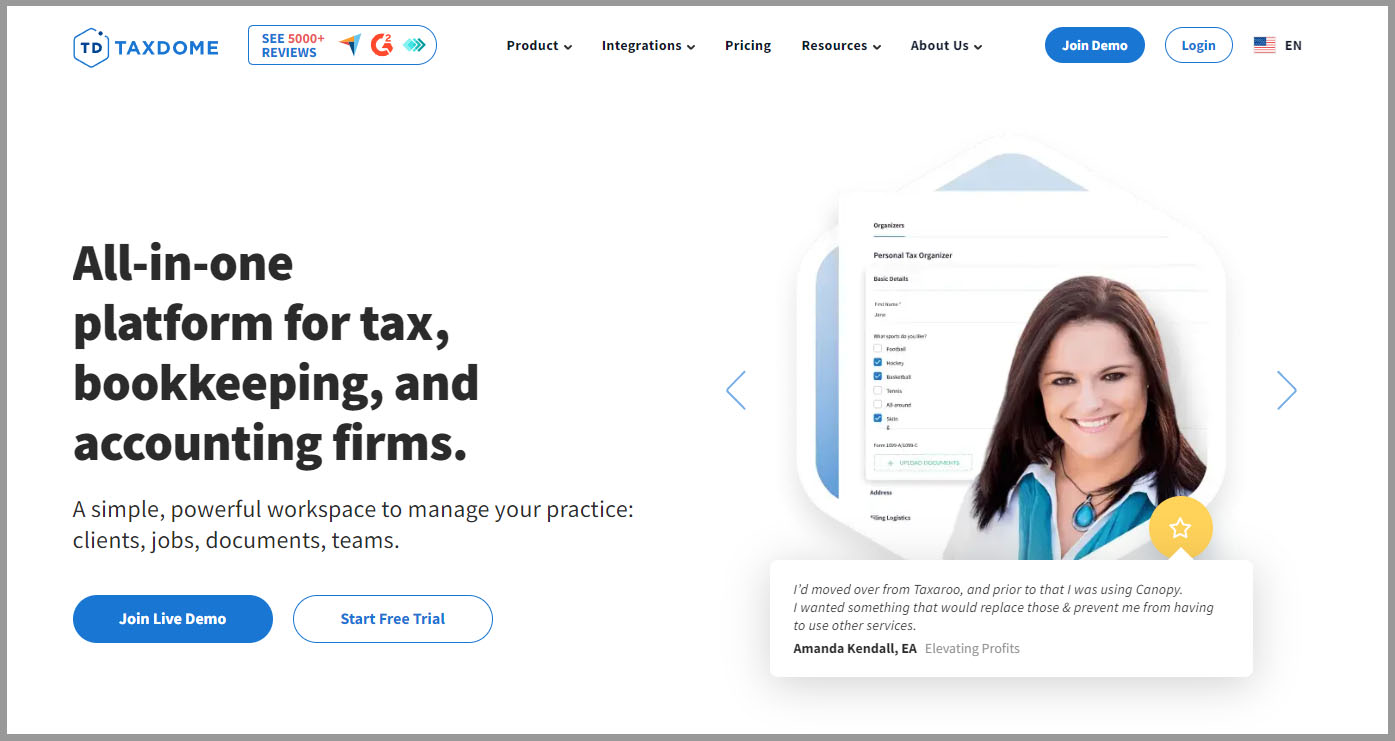 TaxDome aims to help accounting professionals streamline their workflow and automate repetitive tasks.
While both TaxDome and Karbon Practice Management are practice management solutions, they may differ in terms of features, pricing, and user experience.
It's important to compare and evaluate both options to determine which one better fits your needs.
Conclusion
From its intuitive user interface to its extensive collaboration features, Karbon has a lot to offer.
I hope my review of Karbon has helped you find the right project management tool.
What are your thoughts on Karbon? Have you given it a try yet?
Feel free to share your comments or questions in the section below.
---
Ryan Lazanis
Hi! I'm Ryan. I'm an entrepreneurial CPA that founded Xen Accounting, a 100% cloud-based accounting firm, in 2013. Following its acquisition in 2018, I started Future Firm to help accountants fast-track the growth of a modern, scalable accounting firm of their own.
Here are 3 ways for how you can fast-track your own modern, scalable firm:
1) Get my weekly newsletter that gives tips & trick to scale your firm.
2) Subscribe to the Future Firm Accounting Podcast for bite-sized, actionable lessons on how to scale your firm.
3) Join Future Firm Accelerate, my online coaching program that helps modern firm owners quickly scale.