Navigating the ever-evolving landscape of accounting requires efficient client management, and that's where client portals come in.
In this article, I present a curated list of the top 12 client portals available in the market today. Let's explore their features, advantages, and drawbacks to help you make an informed choice.
Let's go!
Table of Contents
What are Client Portals for Accountants?

Client portal is one of the numerous technologies that have transformed how firms handle client interactions.
It provides a centralized and secure space where clients can access relevant documents, communicate, collaborate, and carry out various tasks.
Why You Should Use a Client Portal
Using a client portal offers numerous benefits to accounting firms, including:
Secure file sharing: Ensuring confidentiality and reducing the risk of data breaches
Streamlined communications: Respond to client inquiries promptly and efficiently
Accessibility: Easier for clients to upload and download documents
Overall, using a client portal can improve client collaboration, data management, and operational efficiency.
Why You Shouldn't Use a Client Portal
Considering the reasons I mentioned in the previous section, using a client portal appears to be an essential tool for accounting firms. That's why you might be surprised that a good number of accounting professionals are not eager to implement one into their practice.
To give you an idea, check out this video from Jason Staats:
On the video, you'll hear comments such as "I don't like client portals," "Most clients prefer emailing docs and correspondence", and "It's a hassle to log in."
Matthew May, one of our esteemed members at Future Firm Accelerate, jokingly said that "I don't know why people keep trying to make people log in when they don't want to log in anywhere."
While they might be saying different sentences, it all boils down to convenience.
Clients may find portals cumbersome to navigate and prefer a more widely-used communication method like email.
Regardless if you're a pro or anti-client portal, it's essential to pause and consider potential drawbacks before implementing this service.
What Features Should You Look For in a Client Portal?
When evaluating potential client portal options, consider the features below to ensure you make the most informed decision.
1. Security Features: Makes confidential information remain safe during sharing
2. Document Collaboration: Allows multiple users to work on shared documents simultaneously
3. Integration with Accounting Software: Syncs with your existing accounting software
4. User-Friendly Interface: Reduces the learning curve for both your team and clients
5. Communication Tools: Built-in secure messaging or chat functionalities
6. Client Access Management: The ability to assign different permission levels
7. Customization Options: Allows personalized logo and color schemes
12 Great Client Portals for Accountants
Having gained valuable insights into the essential features to look for in a client portal, let's now explore the top 12 options available for you to choose from.
1. Canopy
As a cloud-based accounting practice management software, Canopy offers a number of tools designed to boost efficiency and enhance client management.
One of the inclusions to its software suite is its Client Portal tool, which provides key features for both clients and accountants, such as:
Built-in eSignature processing
Can process payments directly
Convert images from phone camera to PDF
The video I shared earlier suggests that clients frown upon the use of a portal primarily due to inconvenience. With Canopy, that may not be much of an issue.
You have the option to send them a secure link for a specific task (e-signature, file share, etc.)—eliminating the need for them to log in.
Recently, Canopy added a feature allowing you to send your clients PDFs with preset fillable fields directly in the app. This streamlines the process, eliminating the old-fashioned approach of saving the document and sending it back separately.
2. Karbon
Karbon is a comprehensive software tailored for accounting firms that offers integration of teams, clients, systems, and data, consolidating them within a unified platform.
With Karbon's Client Portal tool, you can engage in effective communication, effortlessly share sensitive information, and foster a collaborative environment.
I also find these features particularly handy and may make a difference in improving client experience:
Scheduling automatic reminders
A full view and history of clients' requests, documents, and communication
A unique URL is generated for each client request
In Karbon, you can collect and manage client communications within the tool, assign tasks, request files, and ensure both clients and team members stay on track. As such, your team can take prompt action to meet your client's requests efficiently.
I also like Karbon's checklist as it's pretty straightforward with no frills.
If you want to know more about this software, check out my in-depth review of Karbon here.
3. Citrix ShareFile
Unlike the first two, which are both practice management software with client portal features, ShareFile is a dedicated file-sharing service.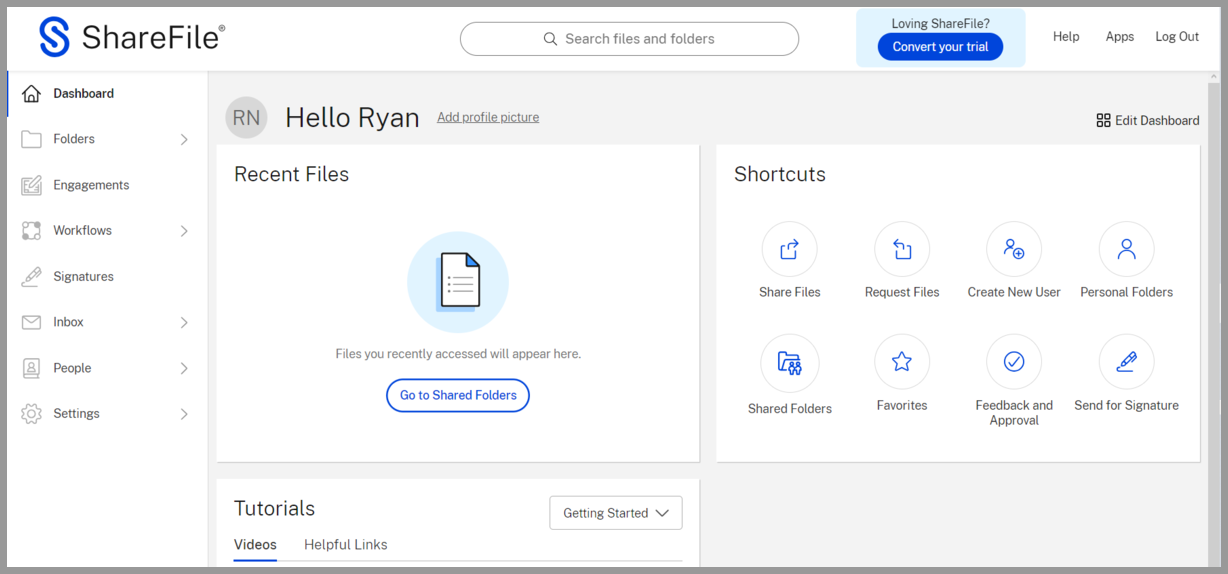 ShareFile's primary selling point is its streamlined communication features within its client portal. It's less likely you or the client will miss out on any updates due to its intuitive interface.
Here are a couple of other advantages that ShareFile offers:
Industry-standard AES-256 encryption for security
Streamlined document review and approvals
Send and receive large files (up to 100GB)
ShareFile also offers custom workflows, which makes it possible to automate manual tasks and requests.
This functionality facilitates the creation of workflow and form templates, optimizing project management and streamlining mobile information requests.
Unlike other client portal software, ShareFile doesn't have a built-in email feature. It only integrates with Microsoft Outlook. So if you use Gmail or other accounts, you have to use the "Get a Link" and paste the URL manually.
If you're interested in apps with client portal features and more, I recommend you to see my top accounting practice management software compilation.
4. SmartVault
SmartVault offers an online document storage and secure file-sharing solution that includes a built-in client portal.
It simplifies the process for accounting professionals to securely collect, manage, prepare, and share all business and client documents online.
These are a few of the more noteworthy features you'll find convenient when you opt for this client portal software:
Unlimited storage
Files lock for editing when you open them
Automated alerts when files are uploaded or downloaded
With its bank-level security, the data and documents you collaborate on internally and with clients are protected from breaches.
SmartVault's document automation software, Docdown, allows you to create and edit forms with a simple drag-and-drag interface.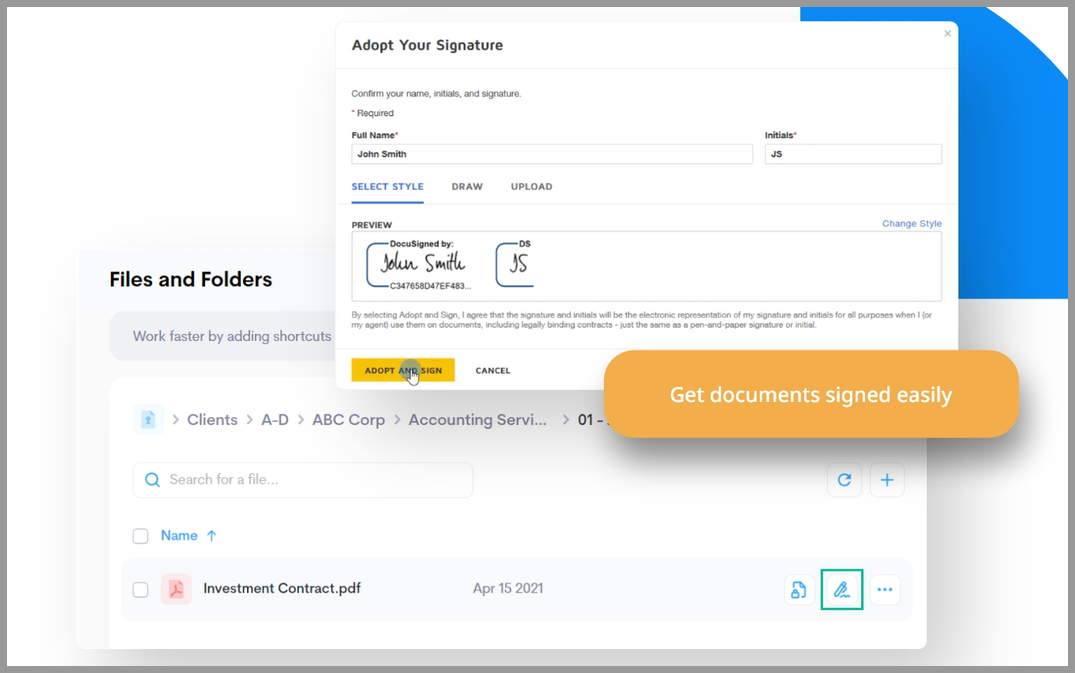 Docdown is also equipped with automatic activity tracking. This makes it easy to determine who is accessing the documents inside your client portal.
5. Client Hub
Marketed as built specifically for cloud accounting and bookkeeping practices, Client Hub promises an all-in-one solution to your client portal needs.
You'll see that it shares many similar features that other client portal software options on the market have.
That being said, choosing Client Hub has some distinct benefits that you might find useful, including:
Resolve uncategorized transactions with Xero clients
Automated QuickBooks reclassification
Zapier integration
Your team will also find Client Hub convenient as it allows images and video files when you give details about the tasks. Setting up recurring tasks is also possible with a few clicks.
Consolidating client communications and an intuitive interface are among the best aspects of Client Hub.
As you can see in the screenshot, details such as chat history, ongoing tasks, links, and resources are on display.
This makes it easier to collaborate with your client on what you need to do and will be less likely to miss out on anything.
6. Onehub
Onehub is a cloud storage platform designed to help firm owners store and share business files securely.
It offers specialized client portals that prioritize information security while also allowing customization.
The features enumerated below make Onehub a distinctive solution:
Generate watermarks across your documents
Agreement implementation for users trying to access your content
Can preview most major file types
With its security features, encompassing role-based permissions, audit trails, session timeouts, and two-factor authentication, Onehub offers you seamless control over safeguarding your content.
One aspect of Onehub I like is you can add simultaneous collaboration via Google Drive or Microsoft Office Online integration.
This functionality enables the creation and editing of files directly within your Workspaces. Any modifications performed on these files are automatically and seamlessly saved back to the platform.
7. TaxDome
As workflow automation software designed for tax, bookkeeping, and accounting firms, TaxDome has a lot to offer, including a client portal tool.
As you might expect, this accounting client portal software also focuses on secure communication, document sharing, e-signature, invoicing, and various other functions.
You'll also get convenient features such as:
Automate new client onboarding
One-click activation for your clients
Schedule automated messages
You can simplify the experience by streamlining login processes for busy clients by enabling access to multiple accounts (e.g., personal, business1, business2) using a single email login.
The communication features are also impressive.
Employing secure messages is as intuitive as texting on SMS or WhatsApp, yet fully IRS-compliant. With this, you can request sensitive data securely through user-friendly client tasks. Every submission or upload is systematically associated with their account.
8. Liscio
Liscio is a secure client portal tailored for accounting firms, facilitating client communication, document exchange, and messaging.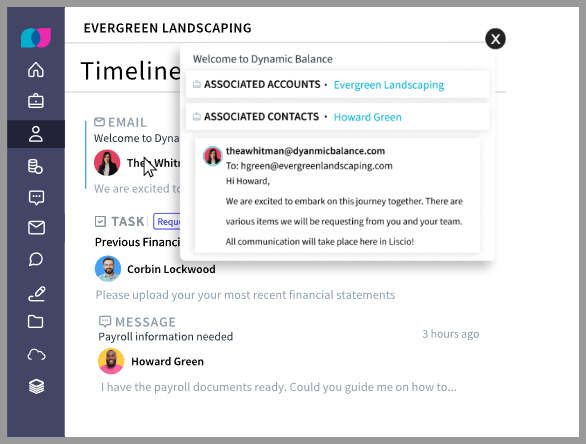 The portal is strategically designed to enhance client organization and punctuality by providing task management, due date reminders, and efficient tools for streamlined progress.
Among its distinct features are:
Two-way texting

Sync client emails within the portal

Face ID login for clients
Liscio provides a secure file transfer solution, enabling seamless requesting and receiving of large files, each with a capacity of up to 5GB. Tools such as document scanner and eSignature are also included.
One notable aspect of Liscio is its integration with other accounting software apps.
Some of these apps are also featured in this blog post, such as Karbon and SmartVault.
This means, whether your considering changing portals or adding Liscio to your arsenal, importing data won't require too much manual data entry.
9. Content Snare
Content Snare is a software designed for the secure collection of content and documents.
It simplifies the process of obtaining data by serving as a structured client checklist, accompanied by automated reminders, to eliminate the challenges of managing emails, fragmented systems, and complex shared documents.
A few of its noteworthy functionalities include:
Manage change requests without email notifications
Colored labels for easy recognition
One-click client access
Your team will find the Content Snare convenient as it allows easy location of the required information through instant search functionality. They can establish folders for categorization, be it by months, years, or project types.
While its features are mostly similar to others, there is a distinct attribute of Content Snare that is worth highlighting.
Irrespective of the nature of the information required, Content Snare offers a diverse range of question types to suit your needs. Request text input, file uploads, or table completions from your clients without typing your request manually.
10. TitanFile
TitanFile is a file-sharing and collaboration solution crafted to assist businesses across various sectors such as legal, financial services, and accounting.
The platform offers a comprehensive framework that caters to a wide array of use cases and workflows.
Besides the usual shared mailboxes, group collaboration, and file-sharing features, you'll also get:
Support for 30+ file types
Upload speeds up to 150Mbps
Switch between mailboxes without leaving your account
Every subscriber of TitanFile is equipped with access to an audit log, which records their account activity. These audit logs offer comprehensive insights into your account usage, including timestamps for accessing your account and channel-related actions.
One of the unique features of TitanFile is metadata scrubbing.
Metadata may include privacy-sensitive details like file authors, creation dates, GPS locations, comments, and recoverable deleted data. You can use the Secure Send add-in for Outlook, integrated with PayneGroup's Metadata Assistant, to eliminate metadata from files prior to sending.
11. Ideagen Huddle
Ideagen Huddle is a secure SaaS document collaboration platform for your team and clients.
Providing an extensive suite of tools and functionalities, Ideagen Huddle facilitates project collaboration, secure file sharing and editing, along with effective team activity management within a shared space.
Some of its notable features are:
Allows up to 20GB in file size
Security covers administrative, technical, and physical safeguards
Can request up to 500 files at a time
Ideagen offers three editions: Essentials, Professional, and Enterprise. The good thing is that the platform offers a free demo.
Like most of the client portals on this list, Ideagen lets you customize the workspace with company logos, links, and HTML content. You can also rearrange the folders and manage accessibility.
The level of customization allows you to not only restrict clients but also members of your team. This way, you can limit access to some of your employees, which adds another layer of security for sensitive information.
12. Google Drive, Dropbox, Microsoft OneDrive, or iCloud
If you want to keep things simple and technically free, you can always opt for these widely used platforms for file storage and sharing.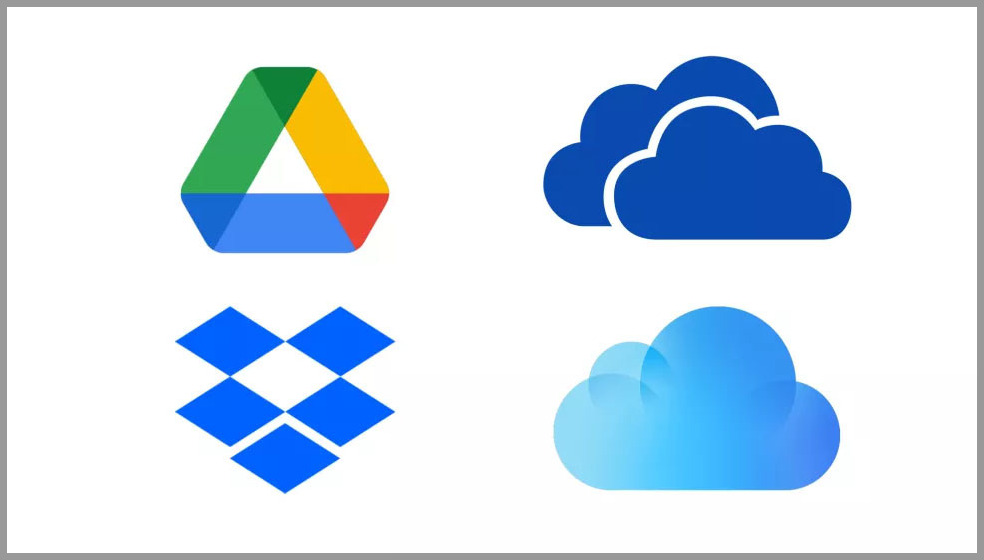 The positive about using them is that they are popular, and chances are, your clients are already using them for their businesses. As such, there would be fewer to no issues in getting familiar with their features.
Regardless of which of these four you prefer, expect that they have mostly similar functionalities, and well, limitations.
They are designed primarily for general file sharing and collaboration. However, the lack of essential and convenient features that dedicated client portal solutions offer may be not ideal for firms with a large number of clients.
Are You Ready To Implement a Client Portal Software in Your Firm?
Choosing the right client portal solution can significantly elevate your firm's efficiency.
And now I'd like to hear from you.
Which of these 12 did you find worth considering?
Did I miss anything worth mentioning?
Feel free to comment below!
---
Ryan Lazanis
Hi! I'm Ryan. I'm an entrepreneurial CPA that founded Xen Accounting, a 100% cloud-based accounting firm, in 2013. Following its acquisition in 2018, I started Future Firm to help accountants fast-track the growth of a modern, scalable accounting firm of their own.
Here are 3 ways for how you can fast-track your own modern, scalable firm:
1) Get my weekly newsletter that gives tips & trick to scale your firm.
2) Subscribe to the Future Firm Accounting Podcast for bite-sized, actionable lessons on how to scale your firm.
3) Join Future Firm Accelerate, my online coaching program that helps modern firm owners quickly scale.